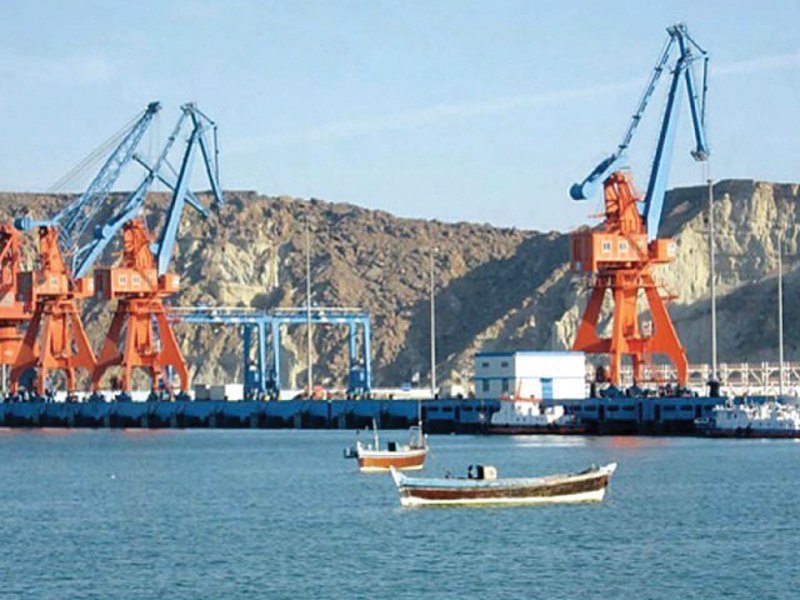 ---
ISLAMABAD: Over the years, there have been much more stress on connecting regional countries through road, rail and pipelines in order to defeat the threat of global economic recession. European countries followed this model by laying a gas pipeline from Russia to meet their energy needs and support the economy despite US pressure.

In the same way, the US wants to link Asian countries including Central Asia, Afghanistan, Pakistan and India through a gas pipeline and power transmission lines originating from Turkmenistan. This runs contrary to the Gwadar Port plan that will connect Pakistan to regional states in a way that does not suit US and Indian interests.

Gwadar Port, situated in Balochistan, will create a nexus between Pakistan, Iran, China and Central Asian States that will generate billions of dollars in revenues.

Earlier, the US played a key role during Pervez Musharraf's government in handing over the development of Gwadar Port to the Port Authority of Singapore (PAS), denying China a chance to run a warm water, deep-sea port on the Arabian Sea just opposite the Gulf of Oman, an important route for oil tankers going from the Gulf to Japan and western countries.

The port can serve as a gateway to the Strait of Hormuz and can compete with UAE ports by improving existing links to the Caspian region and providing a better trade route to the landlocked region.

According to Arthur D Little, the main consulting firm for Gwadar's development, the port is expected to generate billions of dollars in revenues and create at least two million jobs.

The handover of port operations to PAS did not only hold back planned multi-billion-dollar investments by China, but PAS also failed to make the port operational, causing a loss of billions of dollars in port and cargo handling charges as well as freight on import and export of goods.

Later, the control of Gwadar Port was given to China and an agreement was signed with China Overseas Ports Holding Company on May 16, 2013 to transfer operational rights from PAS.

Energy projects

After taking over, China decided to revive its investment plan and make massive capital injection into expansion of the port and energy projects.

Under the Early Harvest Programme, China will pump $50 billion up to 2017 into a host of projects including coal, solar and wind energy units.

An investment of $35 billion is anticipated in energy schemes, which will generate 23,000 megawatts. Lahore-Karachi Motorway, expansion of Gwadar Port and integrated infrastructure development in Gwadar will bring further investment of $11 billion.

The development of Gwadar Port could provide some relief to the under-developed Balochistan, where the ranks of unemployed are increasing in the absence of infrastructure development, sparking unrest in the region.

Balochistan is the first major gas producing province, but despite that it is a deprived region where poverty runs high and several areas are denied access to gas.

Many countries are eying the province, which is rich in oil, gas, copper and gold reserves and has an important geopolitical position. Of the planned Chinese investment, Balochistan has a share of 38%, aimed at generating economic activities including infrastructure development, creating jobs for the locals and bringing an end to anti-state activities.

For importers, the Gwadar Port will help save millions of dollars in demurrage cost. At present, oil suppliers and other companies have to pay hefty demurrage charges to shipping companies as ships have to wait for several days before getting a berth due to port congestion.

Iranian investment

After the Chinese came to Gwadar, Iran unveiled plans to set up the world's largest oil refinery with capacity of 400,000 barrels per day at a cost of $8 billion. It also expressed interest in establishing power plants at the port.

However, the US pressure against the Iran-Pakistan pipeline stalled the refinery project, which could have met not only Pakistan's oil needs, but also provided the surplus for export to China.

According to officials, China meets 50% of its oil demand from the Middle East, from where the supply line to China travels over 10,000 km through the Dubai-Shanghai-Urumqi route.

On the contrary, the crude oil processed and refined at the Gwadar oil refinery can be exported to China through the shortest possible route – Dubai-Gwadar-Urumqi – spanning about 3,600 km. For this, an oil pipeline has been proposed through the energy corridor up to western China via Karakoram Highway and Khunjrab Bypass.

As part of the Pak-China Economic Corridor that will turn Pakistan into a hub of regional cooperation, the Gwadar Port will be connected through road, rail and fibre links to China to enhance trade between the two countries. Oil and gas pipelines are also part of the corridor over the long run, which will boost economic activities in Balochistan, officials say.

So far, work on the port has been slow because of poor condition of roads. This underlines the need for the government to lay railway tracks from Gwadar to other ports of the country, which will save freight and encourage importers to bring cargoes through Gwadar.

Published in The Express Tribune, June 23rd, 2014.

Like Business on Facebook, follow @TribuneBiz on Twitter to stay informed and join in the conversation.

 
COMMENTS (2)
Comments are moderated and generally will be posted if they are on-topic and not abusive.
For more information, please see our Comments FAQ