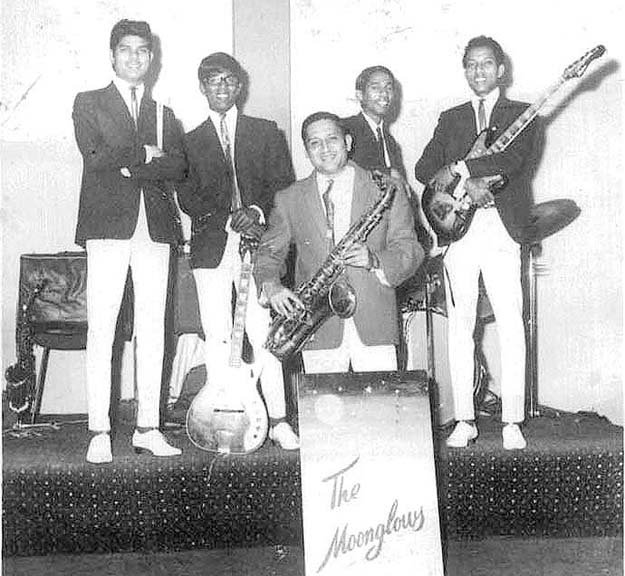 ---
If you live or have lived in Karachi at some point, it is hard not to have been party to nostalgic conversations recalling the heydays of the city when music spilled late into the balmy evenings and the broadness of worldviews matched the bell-bottomed hemlines of its proponents. There was ample space for art, culture and music to thrive and at the centre of all the action was the city's Goan community that has long since faded into the shadows. 

Tracing the Goans of Karachi

The Goan community traces its origins from the state of Goa, located on the west coast of India, which was captured by the Portuguese in the early 16th century. In the 18th century, a large part of the state's population migrated to other destinations in search of better economic prospects. The port city of Karachi, which showed great promise of developing into a business and trade hub under British rule, also attracted a significant proportion of Goans. While Karachi has always been the centre for the Goan community, with a population of 15,000 to 18,000, some families have also settled in other cities such as Lahore, Rawalpindi and Quetta.


(Top) A group of cabaret dancers outside the Taj Hotel in 1975. (Bottom) The band Blackjacks during a performance. PHOTOS COURTESY GOANS OF PAKISTAN

In 1947, Karachi's demographics shifted significantly with an exodus of Hindus to India and consequently a large number of Mohajirs coming and settling into the city. At the time, Goans and Parsis formed a key part of the diverse social fabric of the city. According to Goans of Pakistan, an archival resource for the community, "While the generous Parsis built and gifted magnificent city-landmarks, including water-troughs for horses, Goans in particular were in the limelight of everything, from municipality to customs, judiciary to policing, sports, music and stage plays to ballroom dancing, and of course cuisine."

Goans and Music

"Music was always at the heart of Goan culture, with a piano or some musical instrument in every household," shares Desmond Vas, a senior member of the community and a patron of music. However, as the city grew and consequently families moved to smaller houses, the instruments lost their central place in households.


Talismen performing at one of the venues in Karachi. PHOTOS COURTESY GOANS OF PAKISTAN

"Bands would get together in the neighbourhood and community events to play music. It was from there that the bands of the 1950s, 1960s and 1970s emerged," elaborates Roland deSouza, who was a part of a 1960s band called The Young Ones.

But Karachi at the time was a very different city.

"Some people called it Paris and some called it the New York of the subcontinent," says 62-year-old Ralph Daranjo, who has been religiously playing with his jazz band at the Pearl Continental Hotel, Karachi, for the past 35 years. "If you walked from the seaport to the airport, it was common to hear bands playing into the night."

"The city could show you a good time," says 65-year-old Rafique Ahmed, who could often be spotted at the many nightclubs and discotheques in the city during the late 1960s and early 1970s. "It was the kind of place where you could pop in during the weekend and always find something to do." Social life was thriving and it was normal for the city's educated urban elite to go out for an evening of music and dancing.


The Drifters. PHOTOS COURTESY GOANS OF PAKISTAN

The best music and the crème de la crème of the city could be found at places like the Nasreen room (currently the Taipan restaurant at Pearl Continental), Samar discotheque, Julianna discotheque (current Suzie Wong restaurant at Marriott), Midway House, Club 007 at the Beach Luxury Hotel and the Horseshoe. The tunes played at these venues were borrowed, mostly Western pop, with a little bit of rock and country on the side. The audience comprised primarily of locals but it was not unusual to spot foreigners in the crowd either. "Places like the Midway House, which was near the airport, had a lot of foreigners in the crowd, especially airline crews," says Allan Goveas, who played the piano for a 1960s band called The Drifters, among a few others. "They understood the kind of music we were playing, so I enjoyed playing there more."

But the musicians who breathed life into these melodies were local, belonging mainly to the Christian community — a majority originated from Goa; others belonged to various areas of Punjab along with a few Anglo-Indians. Muslim band members were rare and hard to find, with The Bugs of the 1960s being one of the most prominent Muslim bands that most musicians from the time could recall. Once in a while, foreign bands would also touch down upon the port city and jam for a local audience. While most bands were predominantly male, the music scene was by no means a boys club. Bands like The Xavier Sisters became the first Pakistani all-women band to play for live audiences. Other bands such as The Keynotes also had a female vocalist, Cesca Dominga, for several years. "But most of them eventually got married and left music," shares Vas.


(Top) Talismen — one of the leading bands that dominated the Karachi music scene.
(Bottom) The 1950s band Rhythm Quintet during a performance. PHOTOS COURTESY GOANS OF PAKISTAN

Neither the men nor the women in these bands, however, had learnt to read or play music at an institutional level. "Most of us had no formal training in music. We picked it up by ear," says Goveas. But talent and familiarity with notes since a young age made up for it. "We all learnt [to sing or play] in the bathroom but most of these bands could hear any tune and play it so well that it would be hard to tell the difference from the original," elaborates Vas.

Hotels and clubs hired the bands on a contractual basis, the duration of which ranged from three months to a year. Life was good and the money even better. "A four-member band would be paid Rs800 to Rs1,000 per month to play six nights a week," elaborates Norman. "It was a lot of money for the time," adds Norman. Most bands had their own uniforms, usually formal attire, complete with a blazer or a dinner jacket. But that did not dampen the 'cool' quotient. Trendy Afros, long unruly hair, or a pair of dark John Lennon glasses were usually spotted on stage, making these musicians' demeanour as expressive of the time as the tunes they were playing.

Like anywhere else in the world, the combination of young blood, music and alcohol, also often led to brawls outside discotheques with Samar being one of the most notorious spots for fights. "There were a lot of fights outside discotheques. It was normal," says Norman. "But there were no guns, only knives and bottles." Goveas recalls a night when former president Asif Ali Zardari, a regular at Karachi's nightclubs, saved him from a thrashing from another audience member. "He told the other guy not to touch me. He didn't know me, but he knew and respected me as a band boy."


Norman D'Souza in action. PHOTOS COURTESY GOANS OF PAKISTAN

While the air outside these venues often got hostile, there was camaraderie between competing band members on the inside. "We would all meet after performances at a place called Jehangir restaurant in Saddar and discuss what we played," says Eddie Mendes, who was also a part of The Drifters. If one of the boys had to miss a gig due to some reason, somebody else from another band would cover up for him. "But we also looked out for the good musicians and tried to get them to join our band on the side," adds Norman.


Norman D'Souza with famous boxer Joe Frazier. PHOTOS COURTESY GOANS OF PAKISTAN

Along with the bustling nightlife, radio also played an important role in promoting music at the time. Radio Pakistan had two shows at 1:30 in the afternoon and at 10 at night that played Western music with RJ Edward Carapiet. "The show played half an hour of Western tunes, often followed by a one-hour live talent show where various people who played and sang in Karachi participated," recalls Norman. Edgar Saville, a versatile pianist, would play with everyone.

But things took a complete U-turn in the 1970s when the overpowering din of religiosity drowned out every other note in the city. "It was not just music that was affected. Every aspect of public life was tainted," says Ahmed. "It was like being part of a silent piety parade." But things were worse if you were a musician and a minority. "Earlier, you never asked anyone if they were an Amir or Anwer or Anthony," says Vas. "No one cared, but suddenly it all became topsy-turvy."

The day the music died

"The country had always had a strong identification with Islam ever since it was formed in 1947," says Norman. However, in 1977, around Zia's time, which saw the end of discotheques and socialising, a lot of these bands packed their bags and left the country.


In-Crowd — one of the bands that Hillary Furtado was a part of. PHOTOS COURTESY GOANS OF PAKISTAN

"Prohibition also played an important role," adds Vas. "If you come to a discotheque, what would you like to have? You like to have a drink! When that stopped, attendance swished." Previously clubs that had an attendance of 300 to 400 people per night could now only pull in a crowd of 30 to 40 people. "Naturally, they couldn't afford the bands and they were given the boot." Those that were left behind had no choice but to switch to private events. "We continued to play music in whatever capacity we could but everything had changed. Our income had stopped," says Norman.

Another change was the shift towards Indian/Urdu music. "The demand for bands that could play eastern music started to grow and they were also cheaper," says Dajango. "But it was very different from the kind of music I knew and played." He switched to jazz permanently a few years before things went downhill and has stayed true to his genre despite the shifts. Technology also played an important role in cutting down business for live bands that were replaced by DJs who were four to five times cheaper.


Members of the band In-Crowd outside a discotheque. PHOTOS COURTESY GOANS OF PAKISTAN

Few bands could survive the massive change in culture that overtook the country after the 1980s. A lot of them migrated to Canada, Australia, the US and UK. Some even reassembled outside Pakistan, especially in Canada.

For those who stayed back, there were limited options; either play at private gigs and events or to adapt to the eastern tunes and become part of the mainstream bands. This is precisely what one of the leading musicians of the time, Hillary Furtado, did. After being a part of leading live bands such as the Talismen, The In-crowd and Keynotes, Furtado switched to eastern melodies and provided music for leading names like Alamgir, Mohammed Ali Shehki and Junaid Jamshed. Malcom Goveas, who was the lead drummer for the band Junoon in the 1990s, also followed this pattern later on. Furtado admits that even though back-up musicians don't usually get the recognition they deserve, it is a good deal as it ensures a stable source of income and includes perks like international travel. But not everyone had an equally smooth transition. "As I said, I didn't study music so my mind could never register these tunes," says Goveas.

Future

Even though the younger generation includes examples like Giles Goveas, a drummer for big names like Kaavish, Aunty Disco Project, Rachel and Zoe Viccaji and Alicia Dias, the voice behind the soundtracks of several dubbed Turkish serials, who have skillfully adapted themselves to the requirements of the local market, the Goan community's dominance in the music arena seems to have concluded with the end of live music. The decline has been further magnified by the community's rapid migration to other countries.





(Below) The Xavier Sisters, the first Pakistani all-women band to play for live audiences. PHOTO COURTESY: RALPH DAJANGO




Few optimists such as Menin Rodrigues, a senior member of the community, feel that things look positive for musicians over all. "Previously, the only non-Goans who played music were part of film bands. Now people from all kinds of backgrounds are entering this field and they have so many more opportunities." Younger musicians such as Giles echo the same sentiment. "Agreed that if I was in India there would be a lot more opportunities, but there is immense potential in the market here too."

The senior generation, however, seems to have made peace with the fact that even though they didn't change much, the world around them had been turned on its head. As one of them croons the notes to Sinatra's 'My Way', suddenly the lyrics seem strangely befitting. Karachi may continue its musical journey but it will never be the same again.

Sarah Munir heads the magazine desk at The Express Tribune. She tweets @SarahMunir1

Published in The Express Tribune, Sunday Magazine, June 22nd, 2014.