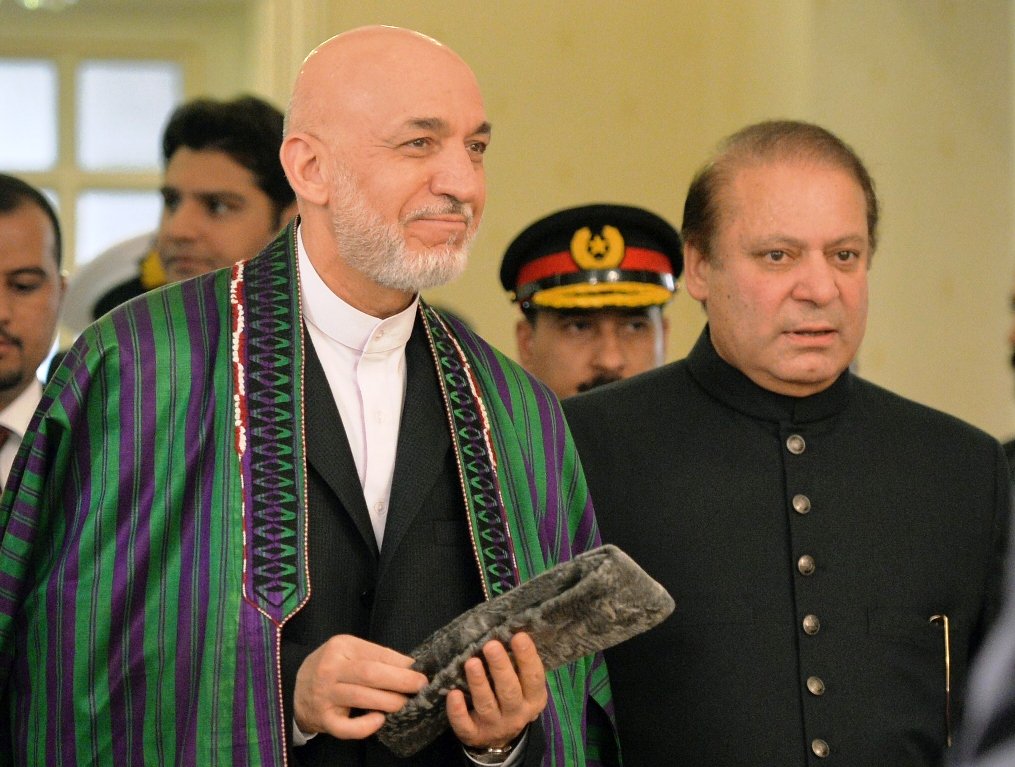 ---
BANNU: Prime Minister Nawaz Sharif has urged Afghan President Hamid Karzai to help stop insurgents from escaping a major military offensive, as residents who fled the area anxiously awaited news from those left behind Tuesday.

Nawaz asked his Kabul counterpart to seal the porous Pak-Afghan border where the Pakistani army has deployed troops and tanks.

Fresh air strikes early Tuesday targeted three Taliban militant strongholds in Mirali, North Waziristan and killed 13 alleged militants, three security sources said.

The Pakistan army launched the offensive on Sunday, a week after an attack on Karachi airport killed dozens and marked the end of a troubled peace process.

An exodus of militants from the area had been a concern ahead of the operation, with residents and officials reporting that the majority of Taliban and foreign fighters had fled to the porous border area.

Foreign Office spokeswoman Tasnim Aslam said Nawaz had requested Karzai to help stop the flow of people.

"Prime Minister Nawaz Sharif called Hamid Karzai last night to request him for the closure of Afghan border to avoid exit of militants to Afghanistan from Pakistan during the military offensive," she told AFP.

Karzai's office later issued a statement asking Pakistan to take all steps to reduce civilian casualties, adding that Nawaz would soon send a "special envoy" to discuss the issue.

"Afghanistan is ready for any cooperation so that terrorists' sanctuaries that exist on the other side of the Durrand line be eliminated and that attacks on Afghanistan stop," the statement added.

Thousands of people have fled across the border into the Gorbaz district of Afghanistan's Khost province, according to provincial government spokesman Mobarez Mohammad Zadran, and are being provided with food and aid.

Others have made their way to the ancient town of Bannu which lies 10 kilometres to the east of the North Waziristan tribal area in Khyber-Pakhthunkwa.

Temperatures there are soaring to 48 degrees celsius with up to 15 hours of power-cuts owing to an ongoing national energy crisis preventing residents from using air conditioners or electric fans.

The town's bazaar was packed by tribesmen waiting for their relatives along the single road that connects Bannu to the tribal area and is currently dominated by military convoys.

Rents in the town have gone up five-fold, residents reported, while two camps built on the outskirts lie almost unused because of the soaring heat, lack of electricity and running water.

Nawaz has said the offensive will usher in peace but militants vowed revenge and warned foreign firms to leave the country.

The army has deployed tanks, ground troops and jets in the area but has encountered relatively little resistance so far, with the majority of alleged militant deaths resulting from air strikes.

Pakistan's army has so far lost eight soldiers, according to officials.
COMMENTS (1)
Comments are moderated and generally will be posted if they are on-topic and not abusive.
For more information, please see our Comments FAQ