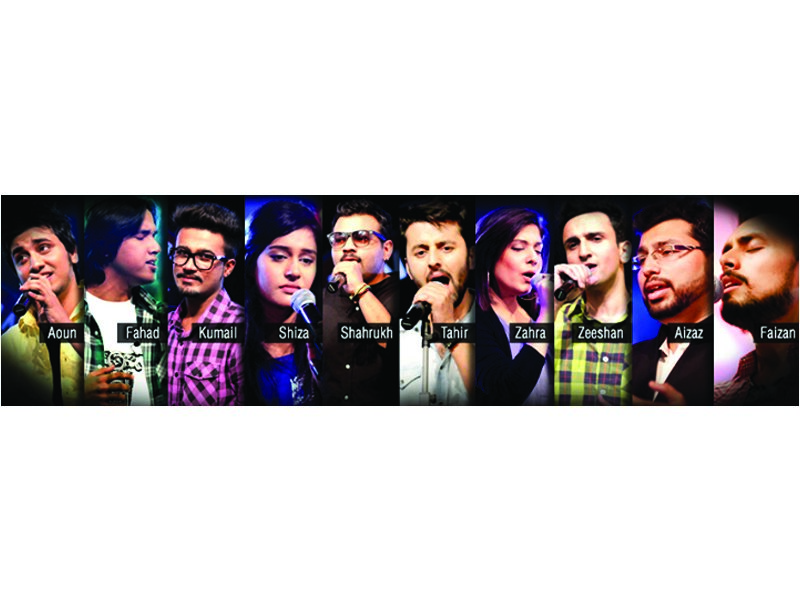 ---
LAHORE:



As phase one of the country's first-ever digital music reality show Pakistan Superstar reaches fruition, it unveils budding singers, many with a high star quotient. With gripping cover performances by participants, the show is testament to the fact that people are still aspiring to make music like Pakistani industry heavyweights Nusrat Fateh Ali Khan and Sajjad Ali.




One of the contestants Aoun Ali Khan, who sang Kishore Kumar's timeless hit Roop Tera, is a talented 21 year old who has been searching for avenues to make it big in the music industry. He claims that he had been selected for Pakistan Idol, but was deprived of the opportunity as he was told that all spots had been filled.  He is the son of local musician Muzakat Ali Khan, and says this is his time to scale the heights of the music industry.

"Through this platform, I have been able to connect with a wide array of people. I have been trying to get hold of a platform that would launch my career as a mainstream artiste," he shares. "To be in the running for winning the chance to record with Universal Music India [at Pakistan Superstar] has driven me [to prove my mettle]."




The initiative has been a stepping stone in the lives of upcoming musicians who used to promote their music through word of mouth and their personal Facebook pages. Zahra Haider Shah, one of the contestants, is a professional in marketing and has a small band with her brother. She feels that the show will provide long-term benefits to the music industry since it has been designed to engage people through the virtual space.

"For a lot of us, the opportunity is unique. The songs have been recorded live with no auto-tuning. Facing the camera has been an interesting experience and the competition has been quite intense," says Shah. "Pakistan has a lot of talent; Pakistan Superstar is a good space for new musicians. It is the first programme in the country that is being carried out via social media, and being from the marketing sector, I feel that this space had not been utilised as much as its potential allows it to be."

The first round, which included a song each by 10 singers, offers unique renditions of both Pakistani and Indian songs. Perhaps the most engaging performance of the round is that by Bahawalpur singer Shahrukh Rajput, who sang a quirky version of AR Rahman's Hamma Hamma. A performance of String's Sar Kiye Ye Pahar by Tahir Naeem was pleasing to the ears. Contestant Shiza Naseem's cover of the song My Immortal by Evanescence was a melodious addition to the show's round.

Other notable performances include Aizaz Sohail's soulful version of Kahay Cher Cher by Kavita Krishnamurthy. Sohail has been trained by musician Ustad Abdul Rauf. 21-year-old Fahad Ali's rendition of Junoon's Yaar Bina is a fresh take on a 90s classic.

The show is backed by a house band comprising veteran underground musicians such as Kami Paul on drums, Amir Ajmal on bass guitar, Ravail Sattar on percussion, Rufus on keyboard and Waqar Ahmed on guitar.

The team at Walnut Studio, which includes social media entrepreneur Muhammed Adnan Butt as executive producer, and SYMT band members Hassan Omer as music producer and Farhan Ali as project manager, has been successful in riveting music enthusiasts towards it.

Accessibility of the videos and the programme's production value has certainly made it worthwhile. So far, it seems clear that the project will not be a flash in the pan initiative.

Published in The Express Tribune, June 7th, 2014.

Like Life & Style on Facebook, follow @ETLifeandStyle on Twitter for the latest in fashion, gossip and entertainment.