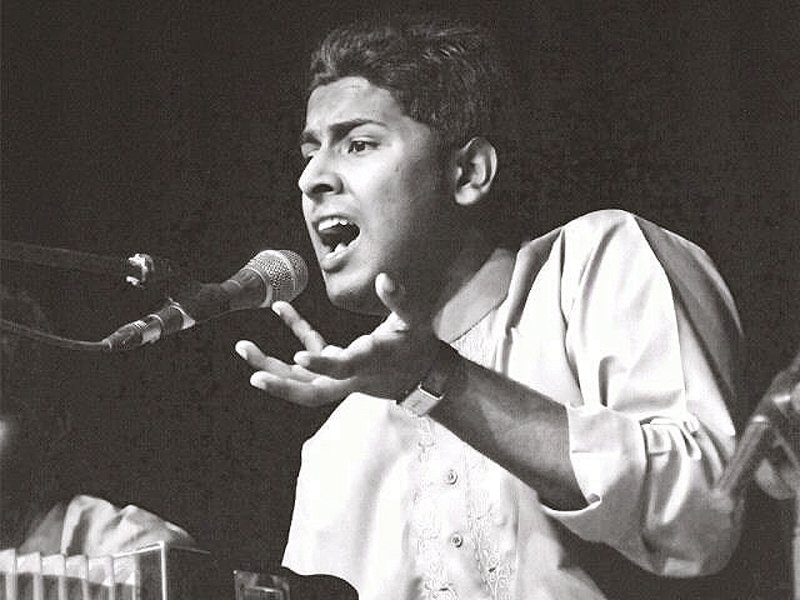 ---
KARACHI:



"Nazar jiski jahan tak hai, wahin tak dekh sakti hai" is usually one of the first phrases that Fareed Ayaz Qawwal shares with his audiences. This serves as a wake-up call for the audience to open their minds, seek riddance from myopic thinking and gain a broader perspective on things.




A progressive approach towards understanding qawwalis is essential, for the more you restrict yourself in terms of understanding the poetry, the lesser the purpose they serve. This is probably the reason why Ayaz's nephew, Hamza Akram Qawwal, has planned to offer a more modern, interpretive form of qawwali.

Akram started off at the age of 10, rhythmically clapping and lending backing vocals to Ayaz's Qawwal party, which comprised four brothers, Ayaz, Abu Mohammad, Ghulam Akram (his father) and Ali Akbar. Simultaneously, he was taking lessons in classical singing from Ustad Naseeruddin Saami, but he developed an understanding of how people interpret qawwalis when he began touring the world with his uncle's party.




The 22 year old represents the 26th generation of 'Qawwal bachon ka gharana', which can be directly traced back to one of the closest disciples of Amir Khusrau. It is fitting that Akram is soon to formally launch his 'Hamza Akram and brothers Qawwal party' with a music video of Aaja Moray Nainan Mein Saajna by Amir Khusrau.

"Keeping the family tradition alive is a necessity, but catering to the modern-day listener is the need of the hour. Qawwali loses its purpose if more and more people don't get the message," Akram tells The Express Tribune. "We have to dilute qawwali a little and by diluting, I mean keeping the essence of qawwali alive, but offering a more relatable choice of poetry and musical arrangement," he says.

"It's interesting that the western audience wants to listen to qawwali in its purest form with a minimalistic arrangement, but the local audience wants a more synthetic version of the same" he shares. The local audience's detachment from the pure form of qawwali is a warning sign for him and he credits the impact of Bollywood music with ruining the standard of music choices in Pakistan. "What is saddening is that the land of Sufis is running away from the essence of Sufi music. This probably represents the worst of times," Akram says, expressing his disappointment.




Stressing upon his aim of keeping the soul of qawwali intact in his new project, he shares that understanding Ishq-e Majazi (the love for God's creation) falls first to embracing Ishq-e Haqiqi (the love of God). "If you try to achieve Ishq-e-Haqiqi before Ishq-e-Majazi, then the purpose is lost. The journey you experience is more important than where it takes you," suggests Akram.

Tere Ishq Nachaya and Mera Piya Ghar Aaya are a few examples that he suggests could get the modern listener hooked to qawwalis. He feels that it is only after getting accustomed to easier forms of poetry that the listener will be able to understand the intricacies of Sufi thought and poetry. There are no shortcuts.

After looking at Akram, one is reminded of Shafqat Amanat Ali who turned out to be the rebellion within the Patiala gharana and chose not to pursue traditional ghazal singing. There is still a fair chance that Akram's new project can prove to be for him what Fuzön was for Ali. "These days, Pakistani pop musicians have a very short lifespan [in the industry]; they come, they rule for a maximum of five years and then, they disappear" says Akram.

So, he wishes to hold onto his roots. "Qawwals are timeless and age doesn't apply to their work, which is why I will never leave traditional qawwali. It is something that I have inherited from my family and which will always define me."

Published in The Express Tribune, June 6th, 2014.

Like Life & Style on Facebook, follow @ETLifeandStyle on Twitter for the latest in fashion, gossip and entertainment.
COMMENTS
Comments are moderated and generally will be posted if they are on-topic and not abusive.
For more information, please see our Comments FAQ