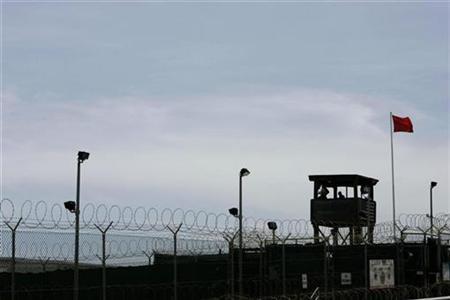 ---
KABUL: The release of five Afghan detainees from Guantanamo in exchange for that of American soldier Bowe Bergdahl, held for five years by the Taliban, was welcomed with "great happiness" by the militants on Sunday.

The decision to release the prisoners, who are currently in Qatar, brought "great happiness and pleasure to (the) Afghan nation and particularly to the Islamic Emirate Mujahideen," a Taliban statement said.

The statement named the five prisoners as Mohammad Fazl, Norullah Noori, Mohammed Nabi, Khairullah Khairkhwa and Abdul Haq Wasiq. A US State Department official also confirmed their identities.

A Taliban source in the Pakistani city of Quetta told AFP that the men had all been officials in the Taliban regime driven out of power in the US-led invasion of Afghanistan after the 9/11 attacks, and that they were influential among the Taliban ranks.

"They were released as a result of indirect contacts by the Islamic Emirate of Afghanistan and the United States, and with the help of the Qatar government they have joined their families in Qatar," the Taliban statement continued.

A senior administration official confirmed that, "in connection" with Bergdahl's return, the United States had transferred five Afghan Guantanamo detainees to Qatar.

The group is now in custody and under control of Qatar, and will be subject to restrictions on their movement and activities, the official said.

The men's release had long been the main condition imposed by the Taliban to launch peace negotiations with the United States.

Contacts between the two sides were broken off several times by the Taliban after Washington refused to release the prisoners, with the rebels saying the US refusal meant the United States was not serious about negotiations.

But secret talks nevertheless took place during the past year that led to the exchange, a Taliban official told AFP.

The official was careful, however, to avoid any speculation that those contacts could soon lead to peace negotiations.

A total of 149 detainees now remain at Guantanamo Bay prison. Among them, there are 12 Afghans, including four currently approved for transfer.

Bergdahl disappeared in June 2009 from a base in Afghanistan's eastern Paktika province, with the Taliban later saying they had captured him.

The Idaho native was the only American soldier held captive by the militants in the nearly 13-year war.

"Today, the American people are pleased that we will be able to welcome home Sergeant Bowe Bergdahl, held captive for nearly five years," US President Barack Obama said in announcing his release.

Obama's announcement came as Pentagon chief Chuck Hagel said he had informed the US Congress of the decision to transfer five Guantanamo detainees to Qatar.

"The United States has coordinated closely with Qatar to ensure that security measures are in place and the national security of the United States will not be compromised," Hagel said.
COMMENTS (10)
Comments are moderated and generally will be posted if they are on-topic and not abusive.
For more information, please see our Comments FAQ