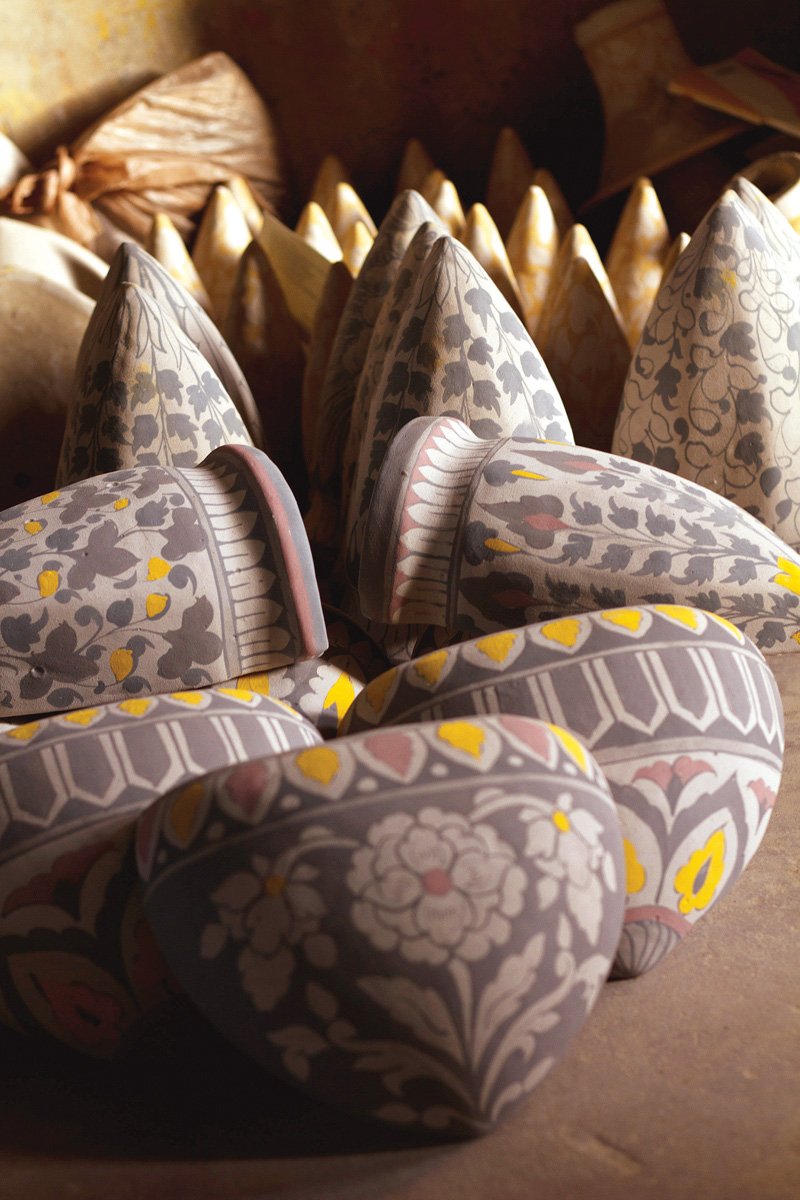 ---
Kaka Ghulam Soomro claims he has spent almost every single day of the past 40 years of his working life at the Kashi centre in Hala, Sindh. "There are no off days for us. I can't live a day without working." He sits in his familiar spot on the floor hunched over a ceramic pot, a pair of glasses perched on his nose as he paints masterful strokes with the brush and dye. Soomro is an expert in the ancient art of Kashi Kari — the traditional glazed form of mosaic art that has decorated tiles, fabric and pots in this part of the world for centuries.



Kaka Ghulam Soomro painting a clay vase. PHOTO:  DANIAL SHAH




Soomro practices an art that was historically so robust it thrived for centuries across Persia and the subcontinent, perhaps starting 5,000 years ago in its elementary form in Mohenjo Daro, where painted earthen toys and vessels have been recovered from the ruins. In its present glazed form, Kashi Kari emerged somewhere around the beginning of the 13th century, primarily Persian in style, and made inroads into the subcontinent from Persia, Iraq, Egypt and Syria. The Mughals took the art form to new heights by using intricate Kashi designs to beautify their mosques, tombs and palaces, making it synonymous with Muslim art.





A potter shapes clay on the wheel. PHOTO:  DANIAL SHAH




There is plenty of confusion around the origin of the word 'Kashi'. It could have possibly been derived from the Persian word 'Kashi', meaning 'tile', or its name may have been derived from the town Kashan in central Iran, which is notable for its decorative tile work. And since Persian art was influenced by Chinese art centuries back, 'Kashi' may have borrowed its name from Kashghar in China. It could also be a blend of all these influences that has evolved into what we know today as Kashi.





An artisan at work. PHOTO:  DANIAL SHAH




Like all things passed down with time, Kashi Kari is now at the risk of losing its patrons. Today, you will find splendid specimens of this art in the arid landscapes of Sindh and South Punjab, such as the shrine of Shah Abdul Latif Bhitai in Bhitshah, the shrine of Sachal Sarmast in Khairpur, the Shahjahan Mosque in Thatta, the mosque of Wazir Khan in Lahore, the tomb of Shah Rukn-e-Alam and the shrine of Shaikh Bahauddin Zakariya in Multan. But gone are the days when people mostly used handmade stuff and bulk industrial manufacturing was not as common. "Everyone now wants computerised designs," says Soomro. "No one gives priority to the craftsmanship. The materials we now get from the market, including the clay, is of low quality and adulterated. It's hard to find pure clay these days."





An artisan displays a finished glazed plate.  PHOTO:  DANIAL SHAH




Soomro works at one of the eight surviving Kashi centres in Hala, the hub of glazed pottery and ceramics in Sindh that is situated at the west bank of River Indus, 35 miles north of Hyderabad. The owner of the centre, Allah Buksh Soomro, is carrying on his family tradition despite its limited prospects now. "This workshop has been passed on to me by my father and to him by his father," he says. Allah Baksh has 12 labourers working under him, and he pays each according to his artistic skill, experience and the type of technicality involved in the work.

The making of a Kashi specimen goes through a series of 20 processes. Initially, clay is formed from fine-grained soil and water, and a labourer works on removing impurities. A skilled potter then throws a lump of moist clay at the wheel, which he rotates using his foot and moulds the clay with his hands into the desired shape. The moulded clay is then baked in a gas furnace at a temperature of 900°C for 12 to 14 hours. It is then dried under the sun for two days until it hardens. Once the pot is prepared, the artisans start painting and finally glazing it under high temperature. The colours used mainly are cobalt blue, turquoise, mustard, purple, brown and white, while cobalt oxide and copper oxide are used extensively to get the colours blue and green, respectively. The patterns are mostly representations of complex geometrical figures, triangles, pentagons, hexagons, leaves, flowers and calligraphic inscriptions in Arabic, Sindhi, Persian and Urdu.





Clay items being dried under the sun. PHOTO:  DANIAL SHAH




It irks Allah Buksh when buyers haggle to bring down the prices of their goods after such a lengthy and complex process. "They don't appreciate craftsmanship and the hardship behind producing such a piece of art and bargain on nominal prices, which is offensive to the craftsmen," he says. Along with prices, the demand for earthen containers has also gone down. "Clay pots were used to store drinking water and to keep it cool, but now people want plastic bottles and refrigerators," he complains. Hence, his main income primarily comes from bigger orders, such as tiles and minarets of a mosque or a building.

Gas load-shedding is another major issue for potters. "We can't operate if we don't have gas. At times there is very low pressure, which is not enough to achieve the appropriate temperature for the materials to bake," says Allah Baksh. "We then have to rely on burning wood, which is very expensive and of extremely low quality."





The finest examples of Kashi work at the shrine of Sachal Sarmast in Khairpur.  PHOTO:  DANIAL SHAH




Several initiatives for the revival of Kashi Kari have been launched to counter the declining trends. The Pakistan Institute of Fashion and Design has set up a College of Design in Hala to introduce ceramics into mainstream education, which offers a four-year bachelor's degree in Ceramics Design and Glassware. "The tuition fee is subsidised but it still is impossible for us to send our children to the institute," says a local craftsman.

Aik Hunar Aik Nagar (AHAN), another not-for-profit project by the Ministry of Industries and Production, Government of Pakistan, is working to generate non-traditional employment opportunities in rural areas. "We technologically upgrade kashigar workshops by providing them small-scale machinery to increase their production and quality," says Shakeel Abro, regional coordinator of AHAN in Sindh. "Our dedicated designers worked with artisans to introduce new ranges for the contemporary market, and we promote artisans and their work in exhibitions in Pakistan and abroad," he adds.

The Sindh Indigenous and Traditional Crafts Company, a non-profit organisation established with public-private partnership, awards two scholarships to young Kashi craftsmen from Sindh to study ceramics. The executive secretary of the company and co-author of Tale of the Tile: The Ceramic Traditions of Pakistan, Abdul Hamid Akhund hopes this will enable young artisans to innovate and excel at the current practice of the art, which he feels is woefully mediocre compared to the splendid examples of the past. "The generation of master-skilled craftsmen is lost now. The current generation of kashigars has not adopted excellence of this craft and is now only involved in generating business instead of art," he says. "They prefer to use cheap materials instead of quality materials. For instance, Babul wood is expensive and is good for quality baking, but they use Devi wood instead, which is cheap and of inferior quality."





A labourer removes impurities from the clay. PHOTO:  DANIAL SHAH




It takes a lifetime of passion and experience to make up a maestro like Kaka Ghulam Soomro. But in a time where even the children of Kashi artisans prefer white-collar jobs or acquire other profitable skills instead of learning this art, ceramic centres in the country will continue to shrink unless concrete efforts are made for its revival.

Danial Shah is a travel writer and a photographer. He tweets @DanialShah_ 

Published in The Express Tribune, Sunday Magazine, June 1st, 2014.
COMMENTS
Comments are moderated and generally will be posted if they are on-topic and not abusive.
For more information, please see our Comments FAQ