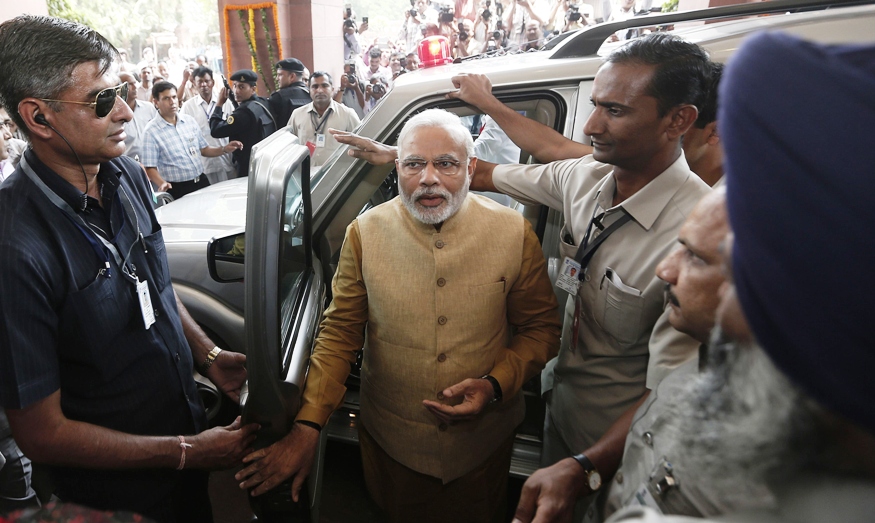 ---
NEW DELHI:



It was a bitterly cold Indian Republic Day in 2001. Most people in Gujarat were glued to their TV screens, watching the armed forces' parade. At 8:40am, a massive temblor, measuring 7.9 on the Richter scale, decimated the entire Kutch area. Nearly 7,900 villages were flattened and 25,000 souls perished. Since the octogenarian chief minister, Keshubhai Patel, would have been unable to tackle the catastrophe, Narendra Modi was brought in to replace him on October 7, 2001.




Modi's first task was to prepare the ruling Bharatiya Janata Party and the government for assembly elections scheduled in December 2002. Even then, Modi was an ardent advocate of privatisation. He was the first BJP chief minister to privatise ports and, when he was criticised for that, his argument was: "The people of Gujarat are very enterprising and they want minimum government."

He also allowed industrial estates to have power plants without applying for permission from the state. It was during this period that Gujarat became one of the few Indian states to demand a nuclear power plant of its own.

But then Godhra happened

A passenger train full of Hindu Kar Sevaks (volunteers for a religious cause) returning from a pilgrimage in Ayodhya was set on fire at the Godhra railway station on February 27, 2002. Fifty-eight people were burnt to death, most of them charred beyond recognition. It was alleged that a Muslim crowd angered by the provocative slogans of the Kar Sevaks firebombed the train.

As Godhra has a large Muslim population, it became the epicentre of the communal carnage that engulfed the entire Gujarat state.

Much later, then prime minister Atal Bihari Vajpayee, also from BJP, was to remind Modi that as chief minister, he had the duty to rule (raj dharma). But Hindu anger was allowed to kill, rape and pillage Muslims under the police watch. There were reports of 'controlled riots' – but they soon went out of control. More than 2,000 Muslim men, women and children were hacked, stabbed and burnt to death.

The world watched and said they were only seeing what they already knew: India was ungovernable and not a country to be trusted with the arsenal of power, especially nuclear weapons that the BJP had tested for India. Post-Godhra events were described as ethnic cleansing and genocide and the European Union, Britain and the US said Modi was not welcome in their countries.

Modi's actions did not have unreserved domestic backing either. Senior BJP leader LK Advani called the Godhra riots a 'blackspot' in the National Democratic Alliance's regime.

An attack on the Akshardham temple in Gujarat resulted in more religious polarisation.

In December 2002, the BJP increased its strength in the Gujarat assembly. Gujarati Hindus had a new hero in Narendra Modi, and thus began his second term as chief minister.

Take two

This time, Modi resolved to do something different: the accent was not on Hindutva or Hinduism; it was on Gujarat.

It was during this period that the Rajiv Gandhi Institute of Contemporary Studies ranked Gujarat among India's best-administered states on an index of economic freedom. It could be argued that given the state's history of entrepreneurship, this had little to do with Modi's efforts.

Nevertheless, there was sufficient anecdotal evidence that corruption had significantly decreased in the state. The results of the 2007 assembly elections were a slightly different from before. In 2002, he had 125 seats, this time Modi bagged 117 out of 182 seats, becoming chief minister for the third time.

Final countdown

As the Western world mulled over continuing to treat Modi as a perpetrator of genocide, and thus denying him a visa, it was conscious of the fact that it was losing the game to Southeast Asian countries, which were treating Gujarat as an investment destination.

The next challenge was to win the 2013 assembly elections as convincingly as the ones in 2007. The night before election results were declared Modi used the rare respite to hold his last cabinet meeting and bid goodbye to the secretariat staff. But he also held a 90-minute meeting to review schemes to provide drinking water in Gujarat. Modi wrapped up his third tenure and got ready for the fourth.

He had nothing to fear as things were looking up. A huge agri-business summit had already been held in Gujarat, bringing in more investment, more prosperity.

Modi ruled the state for 13 years and he tried to prove that he was more business than politics. Whether he sticks to this policy while holding the highest political office in India remains to be seen.

Published in The Express Tribune, May 27th, 2014.
COMMENTS (19)
Comments are moderated and generally will be posted if they are on-topic and not abusive.
For more information, please see our Comments FAQ