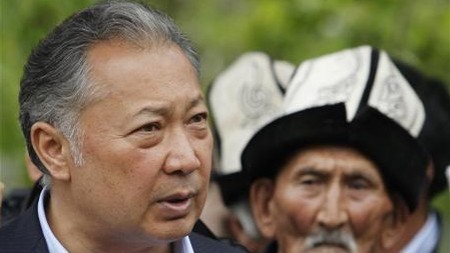 ---
BISHKEK: Kyrgyzstan's new leaders on Friday moved to tighten their grip on power by arresting top allies of ousted president Kurmanbek Bakiyev after he was dramatically flown out into apparent exile.

Officials from the interim government which replaced Bakiyev after he was toppled in deadly protests said they had arrested his former defence minister Baktybek Kaliyev and were seeking to detain another dozen close allies. They were also hoping to secure international recognition, with Russian President Dmitry Medvedev warning them to avoid the faults of their predecessors.

Bakiyev was still believed to be in the city of Taraz in neighbouring Kazakhstan where he was airlifted in a move jointly coordinated by Russia and the United States in a bid to quell Kyrgyzstan's flaring tensions. After arriving in Kazakhstan, Bakiyev formally resigned while bitterly blaming the interim government for the bloodshed that left 84 dead in protests against his rule.

"In these tragic days for the Kyrgyz people, I am resigning in accordance with the Kyrgyz constitution, taking into account my responsibility for the future of the Kyrgyz people," he said in a statement. Bakiyev was still believed to be in Taraz on Friday morning, the Interfax-Kazakhstan news agency reported, but it was not clear where he would head from there.

Some reports have suggested Turkey as a possible destination. As well as arresting Kyrgyzstan's ex-defence minister Baktybek Kaliyev, the interim government also launched an operation to arrest his brother Janysh Bakiyev previously the head of the state guards service. Officials said it will ask Kazakhstan to extradite his son Murat Bakiyev former prime minister Daniyar Usenov and former security services chief Murat Sutalinov, who all took refuge there amid the protests.

Bakiyev himself came to power in a popular uprising known as the Tulip Revolution in 2005, but in recent years he came under increasing criticism for authoritarianism and corruption as the country lurched into economic disaster. A poor and mountainous ex-Soviet Central Asian country bordering China, Kyrgyzstan's treasury has been reduced to zero by the plundering of Bakiyev's cronies, interim government officials said this week.

As well as losing the confidence of his people, Bakiyev also failed to win the trust of world powers and his departure was partly masterminded by the United States and Russia. Kazakh Foreign Minister Kanat Saudabayev said the agreement for Bakiyev to leave was the result of "joint efforts" by Kazakhstan's President Nursultan Nazarbayev, US President Barack Obama and Medvedev.

Medvedev, who earlier in the week had applied huge pressure on Bakiyev by warning that Kyrgyzstan was on the brink of civil war, indicated that the new rulers still had some way to go to win Moscow's full backing. "We will see, the current leaders have yet to agree among themselves, sometimes that is not easy," Medvedev said. "I would very much want the new authorities... to be free from these faults," Medvedev told reporters during a visit to Brazil.

UN chief Ban Ki-moon welcomed the deal that led to Bakiyev's departure as "an important step toward the peaceful, stable, prosperous and democratic development of the country and its good governance," a UN statement said.

In Washington, the State Department confirmed that US, Russian and Kazakh leaders had discussed Bakiyev's departure during this week's US nuclear summit. Washington is keen to maintain influence in Kyrgyzstan because the country hosts the Manas air base, which US forces use to support military operations in nearby Afghanistan.

The interim government, which promised to honour past accords, announced on Friday that it would extend the US air base agreement by one year.
COMMENTS
Comments are moderated and generally will be posted if they are on-topic and not abusive.
For more information, please see our Comments FAQ