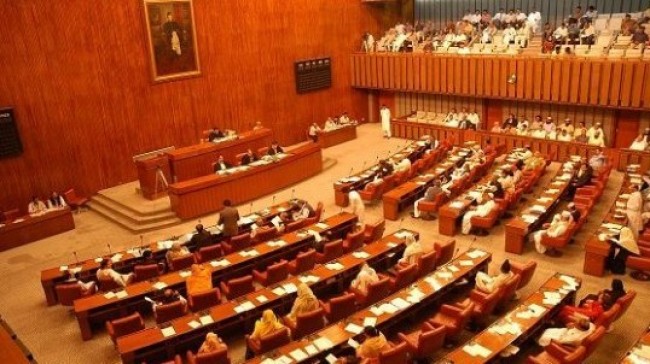 ---
ISLAMABAD:



Short of the magic 104-number, the upper house of parliament is all set to resume functioning at full strength as a number of vacated seats will be filled by new senators.




The upper house has been short of full strength for more than a year.

Taj Haider, a Pakistan Peoples Party (PPP) stalwart, elected unopposed on a technocrat seat vacated by Hafiz Sheikh, is set to take oath as senator during the upcoming session.

Earlier this week, Taveerul Haq Thanvi of the Muttahida Qaumi Movement (MQM) was elected to replace outgoing senator Mustafa Kamal.

Similarly, Dr Qayyum Soomro was elected on a technocrat seat vacated by Hafeez Sheikh but his election was declared void by election authorities in March last year. The ECP stated that Soomro, a close associate of former president Asif Ali Zardari, did not meet the criteria for a technocrat.

Soomro, however, has made his way to the Senate on a general seat that was vacated after the PPP leadership forced Faisal Raza Abedi to quit.

In 2010, eight more seats were added to the 100-member upper house following the 18th amendment.  According to the procedure, half of its members step down after every three years and new members replace them.

With Haider's election, the PPP, which is the largest political party in the Senate, now has a total strength of 40 members.

Despite PPP's dismal performance during the general elections, the party will act as a significant force in the Senate even after the next Senate polls slated for March 2015.

According to rules enshrined in the Constitution, the new senators are elected by the members of their respective provincial assemblies. The Ruling PML-N is expected to add a few senators mainly from Punjab- the party's main power base.

Other parties, including the Pakistan Tehreek-e-Insaf, which has no representation in the Senate, are expected to force their way in following next year's elections.

Similarly, Jamaat-e-Islami and other opposition parties are expected to bag some representation in the Senate next year in proportion with their membership in the provincial assemblies.

Without a clear majority in the Senate, the PML-N government will face daunting challenges in the house where the opposition is likely to dictate its terms.

Published in The Express Tribune, May 25th, 2014.
COMMENTS
Comments are moderated and generally will be posted if they are on-topic and not abusive.
For more information, please see our Comments FAQ