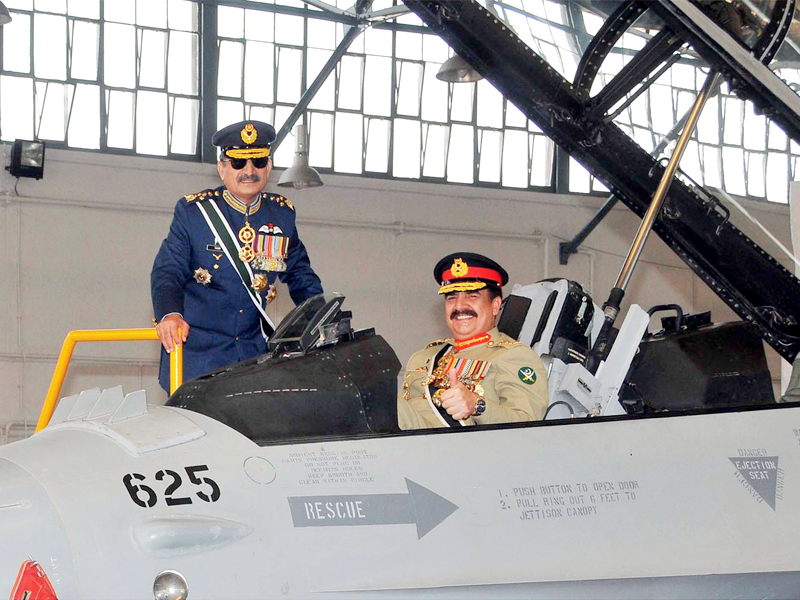 ---
ISLAMABAD:



As Pakistan Air Force (PAF) on Wednesday formally inducted a new batch of F-16 fighter jets purchased from Jordan, Chief of Army Staff General Raheel Sharif assured continued collaboration between the army and the air force.




Pakistan had purchased 13 jets from Jordan to bolster its F-16 fleet. The state-of-the-art aircraft were formally inducted into PAF's No. 19 Squadron at a ceremony held in Mushaf airbase in Sargodha. The induction of the 13 jets brings the total number of F-16 aircraft in PAF's fleet to 76.

Talking to The Express Tribune, officials said the new F-16s were in a good condition as they had received the Mid-Life Update (MLU). They added that the planes were good for another 3,000 flight hours and were expected to serve in the PAF for the next 20 years.

The country's military has used F-16s to target militant hideouts in the tribal regions along the border with Afghanistan in the past. The aircraft is considered to be the backbone of the PAF.

Addressing the ceremony, Gen Raheel acknowledged that air power had assumed greater significance in modern warfare and was vital for any country's security. A strong and capable air force provided a great advantage over other forces in achieving military objectives.




The army chief hoped that the new induction would further strengthen PAF's capabilities. "This day will be remembered as a landmark event in [PAF's] history," he said. "The induction will also further strengthen bilateral ties between Pakistan and Jordan."

Gen Raheel also lauded the PAF for its professional excellence. "The PAF has always maintained the highest state of preparedness and has repeatedly proven equal to the task even in the most difficult times," he added.

In his remarks, Air Chief Marshal Tahir Rafique Butt said the induction of F-16s will help PAF deal with both internal and external challenges more effectively. He thanked both the Royal Jordanian Air Force for providing the aircraft and Prime Minister Nawaz Sharif for giving the induction the go-ahead despite financial constraints.

Published in The Express Tribune, May 22nd, 2014.
COMMENTS (4)
Comments are moderated and generally will be posted if they are on-topic and not abusive.
For more information, please see our Comments FAQ