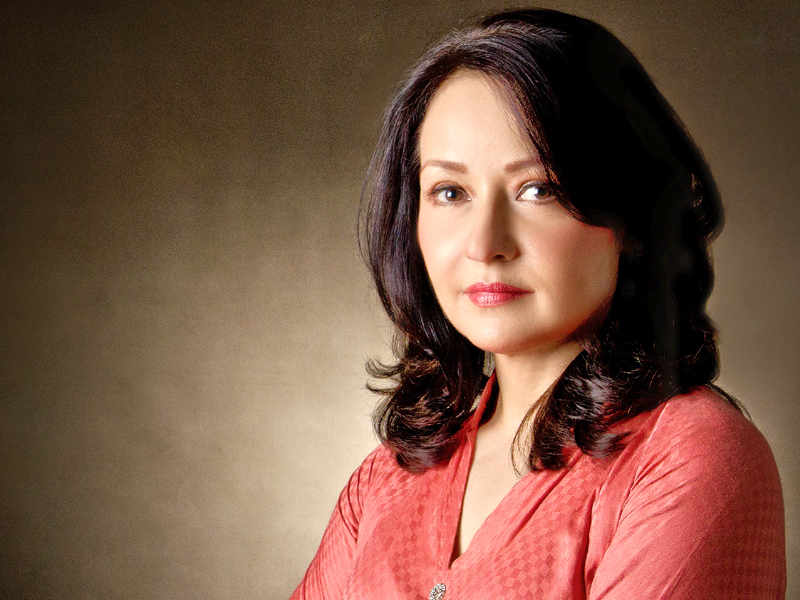 ---
The entertainment industry in Pakistan is replete with many talented singers, actors and artists trying to carve a niche for themselves in the rapidly-changing media landscape. Zeba Bakhtiar is one such individual who has managed to excel at everything she tried her hand at. So, one can imagine how surreal it felt as I headed to her home for an interview.

Trying to remain calm, I made my way inside where I was greeted by her colleague Ashraf Kalim, who had arranged this meeting for us. He led me through a hallway and into the living room where the interview was scheduled to take place. As I walked down, I noticed some picture frames hanging on the wall and realised they were snapshots from her Bollywood movie Henna, in which she starred with another legend Rishi Kapoor. This is a reminder that Zeba isn't just any run-of-the-mill actor: her beauty, intellect and acting prowess have not only earned her national recognition but also made her a national icon in Pakistan and abroad.




The room I was seated in was filled with beautifully hand-woven carpets and bookshelves; the perfect mix of minimalism and class that hints at how effortlessly Zeba combines modernity with her traditional Balochi roots.

We exchanged pleasantries and sat down to speak about her journey into acting and the troubles she faced initially. Her career began 30 years ago when she approached PTV as a playwright. "PTV was not prepared to take a 20-year-old, convent-educated girl with a foreign mother seriously. They said that your mother is of foreign origins so how can you write Urdu?" she recalls. Zeba was then approached by renowned producer Iqbal Ansari for her debut acting position in the hit PTV drama serial Anarkali. "I enjoyed it but there were many things I didn't like about it," she admits. "However, people seemed to like it so I guess it just worked."




But it wasn't just her desire to be a playwright that drew her to the entertainment industry. "It was curiosity," shares Zeba. "Back in the 1980s, not many girls from my kind of background could enter the profession because it was a huge taboo. They could become doctors, teachers, lawyers etc, but I was curious as to why people say it's wrong to be in this profession. People can be good or bad but not professions." So it was her curiosity that encouraged her to take up acting? "The environment at my home was intellectual and grounded. My upbringing was very sincere but on the other side, I saw a hypocritical society. I began to question more and thought that since everyone in our society acts anyway, why not make a profession of it? Curiosity drove me, rather than ambition. Had it been ambition, I would've accomplished far more than I have."




Life after Anarkali saw exponential growth for Zeba, who went from one successful project to another. "I did my first play, Anarkali, on TV, followed by some films," she says. "Whether it was in Pakistan or India, I didn't really have a choice as Pakistan didn't have films. I made one film here but realised how bad things were. TV was the only option. Other than that, I would've loved to do theatre but it didn't come my way much."




Despite her vast experiences, it is obvious that Zeba remains a keen learner, especially when it comes to her profession. "The day you stop learning or think you have learnt enough, you are finished as an artist," she suggests. "It really shocks me to see these kids who have started out in the field today. After doing one odd project, they think they have learnt and achieved it all! They are so arrogant, it is scary." It was for this reason that she conducted a training seminar in cooperation with an American colleague from Broadway recently. According to Zeba, new actors put boundaries on learning and so, they do not conduct their careers the way they should.  "Since my colleague was in Pakistan, I thought it was a great opportunity to hold a learning seminar," she explains, cheerfully. "I called a few people and places to come meet him and take advantage of an acting coach from Broadway. Unfortunately, very few people turned up. It would have been good to see more people taking interest in such a great opportunity."

But being a veteran of the industry, Zeba had much more to say about its current state of affairs. She admits that the media has undergone significant positive and negative changes over the years. "Today, the exciting thing about film is that there is no 'industry' and so, there are no film stars. We have to create new ones." And create is exactly what Zeba does. Her next project, a thriller film Operation 021, is a collaboration between Zeba and her son Azaan Sami Khan, all set to release this year. She says the masses seek character-driven stories and hopes to give them just that.

As for working with her son, Zeba couldn't be more excited. "He used to observe my work as a producer when he was young. He was always surrounded with this form of art and has a good eye for what was happening. Sometimes, during a project, he would come up with a very different angle which amazed us. He produced his first film at just 13 and it was shown at the SAARC Film Festival! So yes, I am extremely proud of Azaan." The mother and son also run their own production house known as One Motion Pictures.

As I go up to leave, Zeba generously shared advice for those looking to make a mark in the field. "The best thing about acting is that you're doing something different every day. But you must not misbehave or have an obnoxious attitude. You should refrain from arrogance and above all, be honest to whatever you are doing." She explains that in her experience, she has seen many aspiring actors who are seeking fame, not a career. "Be an actor if you actually want to play different characters, not just because you want to be famous." And her own career is a living testimony to these words.

Published in The Express Tribune, Ms T, May 18th, 2014.