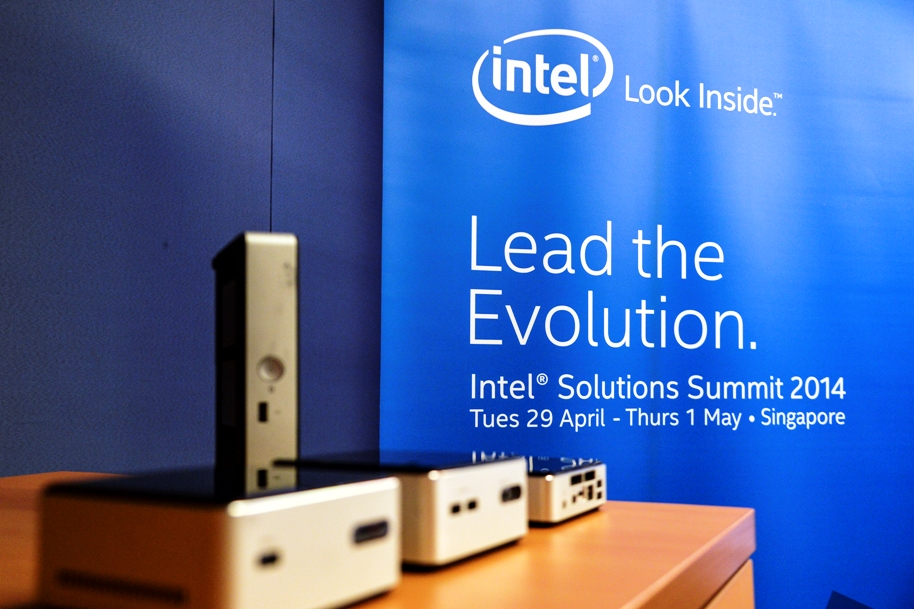 ---
SINGAPORE: "There were never more opportunities to grow" technology giant Intel said at its annual Intel Solutions Summit (ISS) held in Singapore from April 30 to May 1.

With the computing industry undergoing rapid transformation, Intel pushes to keep itself well positioned in the game by tapping the markets of tablets, 2 in 1s, re-imagined desktops, servers and the Internet of Things.

ISS, the company's largest partner event was held at the Resorts World Sentosa's Convention Centre and saw the convergence of 500 Intel technology partners from Asia Pacific and Japan (APJ) region.

New NUC




The summit saw the unveiling of Intel's latest offering in its Next Unit of Computing (NUC) product line powered by an Intel Atom processor.

Designed with thin client applications in mind, the product features onboard eMMC memory, 4x4 motherboard with the ability to directly power a LCD monitor through an onboard eDP connector.

"The cool part is – pun intended – the new NUC is fanless," said Intel's John Deatherage as he displayed the new computing kit.

With low-cost and low-power solution, the latest NUC also includes serial ports header for peripherals, watchdog timer and inter-integrated circuit (I2C) and pulse width modulation (PWM) signals for interfacing with sensors.

Codenamed Thin Canyon, this pint-sized powerhouse with its vertical design and support for Windows and Linux operating systems provides a decent combination of power consumption, performance, affordability, and software compatibility.

Deatherage emphasised that Intel plans to take the desktop PC segment to a whole new level in both consumer and commercial sectors.

With NUC, the technology company aims to provide solution to kiosks, point of sale (PoS), and digital signage, while it also believes the small device will be relevant to the space constraints of modern Asia's urban homes.

Now available to distributors, the latest NUC kit is priced at $S169.

Education 2 in 1




Another highlight of the summit was Intel's first-ever learning tool designed with students in mind – the Education 2 in 1. With the flexibility and mobility of a tablet combined with the performance and productivity of a laptop, the 2 in 1 form factor aims to provide the students with the best of both worlds.

Powered by a quad-core Intel Atom processor, the Education 2 in 1 runs Windows 8.1, provides up to 7.8 hours of battery life and has features such as snap-on magnification lens and temperature lens.

However, the most crucial element of this product is its rugged design. To ensure the device can stand up to hands-on learning inside and outside the classroom, it has been designed to withstand drops of up to 70cm and is water and dust resistant.

With this education initiative, Intel aims to upgrade the learning experience of the younger generation. Theo Kristoris - managing director of Intel's partner company Leading Computers – said the device has the power to change the way students learn.

But the California-based manufacturer of semiconductors is well aware that insolated injection of technology into the education sector will not give the desired results. "Technology in classrooms is not the magic, teachers are," said Sam Al Schamma while explaining how important it is to train teachers to bring about the education revolution.

Internet of Things




With the tech giant's target to put Intel inside everything, the company is actively pursuing the key growth segment of Internet of Things (IoT).

"Intel's strategy is to embrace computing in all its forms and that's why we are taking our architecture into new markets like IoT," said Intel reseller channel organisation director Ferhad Patel.

The IoT is a scenario in which objects, animals or people are provided with unique identifiers and the ability to automatically transfer data over a network without requiring human-to-human or human-to-computer interaction.

Driven by the convergence of connected devices, cloud economics and acceleration of analytics, the IoT is the new reality and according to Intel's Uday Marty the company is "very well positioned for this explosion."

Marty stressed that Intel has the best engine to utilise the IoT segment which is one of the key growth opportunities over the next 12 months.

The company recently announced availability of Intel Gateway Solutions which will enable businesses to reduce costs and offer new services by unlocking valuable data from legacy systems that were not connected to each other or the cloud.

Channel partnership




This year's summit also marked the 15 years of technology partnership between Intel and 27 channel businesses in the Asian region.

With 40% of the Intel business done through channel partners, the company's Maurits Tichelman said the channel is the cornerstone to the company and assured his partners that there are great opportunities for them in the year 2014.

View a slideshow on the Intel's event here.