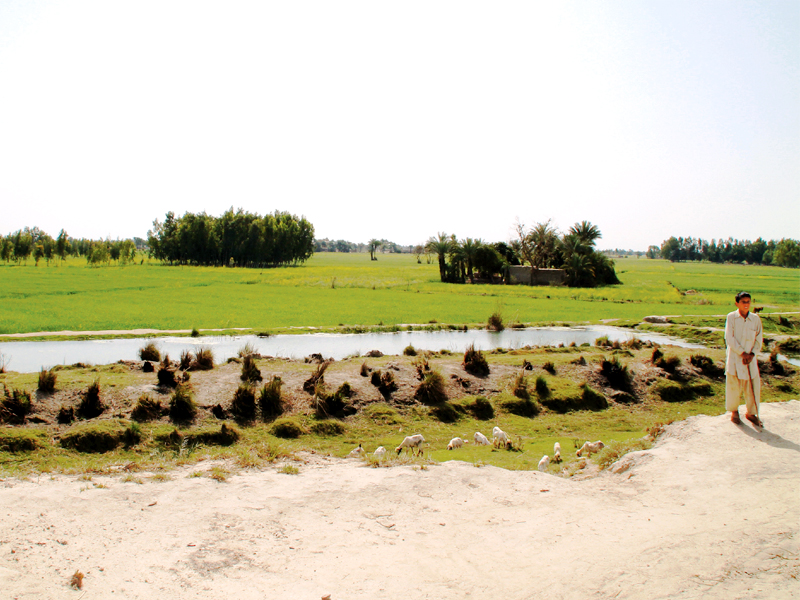 ---
Fame and misfortune have swept across Kot Addu in equal measure. The city that is home to one of Pakistan's most iconic folk singers, Pathaney Khan, and a victim of the 2010 floods that occurred after a breach in the Abbaswala Bund, is currently trying to get back on its feet through organic farming.

Located in the south of Punjab, at a distance of 89kms from Multan and 16kms from the mangled steel structure Taunsa Barrage, the city boasts strawberries that are as plump as their British counterparts. The strawberries are grown in the year-round hot and humid climate by a handful of generational farmers in Basti Sheikhan Wali who refrain from using chemical pesticides and use less water and slurry to ensure a healthy yield. Although the strawberries from their field are tart and green and nowhere near the ripe ones pictured in cookbooks, they are large in size and enticing when presented in neat earthen bowls.

This effective resource management is part of the World Wide Fund for Nature-Pakistan (WWF-Pakistan) project focused on improving the livelihoods of fishermen communities of Central Indus Wetlands complex, a 700-kilometre stretch of land along the mighty Indus River. The project stretches from the Taunsa Barrage in southern Punjab to Sukkur Barrage in Sindh, involving fishermen who have traditionally been ignored by the provincial government and have no stake in development plans.

The project not only educates farmers about sustainability and the environmental impact of farming, but also teaches them ways to minimise the impact by adopting environment-friendly methods without compromising on the yield. According to Umer Waqas, the site coordinator of the project in Kot Addu, the strawberries were just an experiment that succeeded and they be will trying their luck with grapes next. "The most famous grapes in the market are touted as being from Iran or Afghanistan. We're trying to grow grapes here through sustainable methods to try and give the exports stiff competition," he says.


A nursery at Taunsa Barrage.

A flood marker near Abbaswala Bund.

Sanawan, a tehsil of Kot Addu, is already famous for its vegetables in the surrounding areas. The vegetables available in the market are fresh and plentiful due to the right mix of climactic patterns and fertile land. Farmers in the area are always on the lookout for sustainable alternatives to grow traditional water-hungry crops such as sugarcane. Even the cucumbers grown using water-efficient techniques are crisp and fresh. The fresh water often used to grow these vegetables is wasted, points out Waqas. And in case of used water, it is almost always contaminated with household or solid waste. "There is no water treatment plant in this area so people make do. Being so close to the river makes them believe that they will never run out of fresh water," he says wryly. "But that is obviously a false assumption. That's the mindset we are trying to change by persuading farmers and fishermen to use water wisely, whether for farming or fishing."

There is no dearth of inspirational stories in Kot Addu. Right next to the Taunsa Wildlife Sanctuary Information Center, replete with posters, charts, activity wheels and informational signs chronicling local biodiversity, is a small roadside café serving freshly caught and freshly prepared fish in a variety of ways. Fish with rice pilaf, fish kebabs, fish kofta and spicy fried fish are the mouthwatering dishes on offer by Liaqat Hussain, who belongs to a fisherman community and is now involved in sustainable fishing. Overfishing after the 2010 floods has left him seeking other ways to maintain a steady income.

Without proper governmental support and reforms and the age-old contract system of fishing still in place, Hussain sees little hope of sustaining a regular livelihood. Although he manages to earn Rs80,000 in the winter season, because of the influx of domestic tourists and city dwellers who enjoy the delicacies of the Indus in colder months, he cannot say the same when the days become warmer.


The Abbaswala Bund also acts as a makeshift road for locals.

His concerns are echoed by Haseena Bibi, a stout, bright-faced mother of five who started a kitchen garden on a 10-marla plot she inherited from her father. Her entrepreneurial spirit saved her family from many health complications caused by the consumption of contaminated vegetables. She shares her harvest with neighbours and anyone who comes looking for organic vegetables. "My children love salad vegetables, but so do pests," she says. "I have made an organic concoction out of bitter gourds that repels them. No chemical goes into my plants."

Haseena's seasonal vegetables are the talk of the town as she grows a wide variety to suit a diverse palate. She is one of the many women who have partnered with Waqas's organisation in Basti Sheikhan Wali and Basti Allah Wali to run their kitchen garden. While some keep the vegetables for themselves and others sell them for a small sum, the fact remains that each household with a kitchen garden saves Rs6,000 on average per month by not buying vegetables from the market.

The dream of sustainable agriculture resonates with many including Javed who has dedicated his life to bringing local communities together to fish sustainably and find alternative livelihood options in low-catch season. While translating Haseena's lilting Seraiki, he informs that he started working to conserve local plant and fish species at a young age and relies on his own strength to do the conservation work since there has been little official support for the cause. He currently runs his own community-based organisation and heads a small network of community-based projects under Umer's project. "There is no money in what I do. But my father told me he would support me to do good work that helps others," he says. "When he sees our success, he smiles and says he is proud of us all. I want my fellow countrymen to be proud of us as well." Such is the conviction of people in and around Kot Addu who have wholeheartedly embraced the organic life.

Published in The Express Tribune, Sunday Magazine, May 4th, 2014.