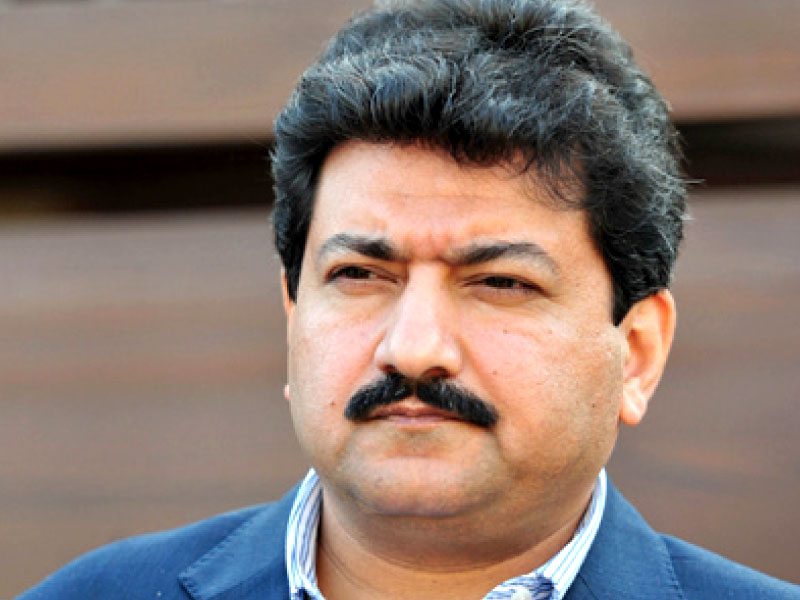 ---
KARACHI: Unknown assailants shot at senior journalist Hamid Mir on Saturday, leaving him severely injured, Express News reported.

Mir was transported to a hospital for treatment, following the shooting which was carried out by four assailants on two motorcycles.

Khalid, a shopkeeper at Falaknaz Tower said that a man wearing shalwar kameez, standing on the road, shot at Mir's car and then his accomplice picked him up and followed the journalist's car.

A guard at the scene fired back at the assailants, but they fled.

Police official Shahid Hayat said that Mir was shot at thrice and he is out of danger now.

A statement from the Aga Khan university read that after an operation lasting 150 minutes, Mir was stable and will be kept under observation overnight.


Three bullet wounds, thigh, pelvic area and one more says Karachi police chief and adds: Hamid Mir is out of danger.

— Abbas Nasir (@abbasnasir59) April 19, 2014
According to doctors Hamid Mir is out of danger, says police chief Shahid Hayyat. #Karachi #Pakistan #AttackOnMedia

— Faizan Lakhani (@faizanlakhani) April 19, 2014


Mir was on his way to his office from Jinnah International Airport when the incident happened on main Shahrah-e-Faisal, under a bridge near the airport.

Forensics team is now investigating the spot.

SSP Pir Mohammad Shah said that nine bullet casings/shells were found from the firing.

Hamid Mir is a renowned news anchor and is the host of the popular talk show on Geo TV, Capital Talk.

Both the President and the Prime Minister condemned the attack.

Later, the army condemned the attack prayed for his well being and quick recovery.

According to a statement of Inter-Services Public Relations spokesperson, an independent inquiry must immediately be carried out to ascertain facts. The spokesperson added that allegations against ISI or head of ISI without any basis is highly regrettable and misleading.


Hamid Mir never steps back from speaking out. May this braveheart recover fast from cowardly attack. #Prayers

— BilawalBhuttoZardari (@BBhuttoZardari) April 19, 2014


https://twitter.com/sherryrehman/statuses/457502710687100929

https://twitter.com/ImranKhanPTI/statuses/457503127101792256

Muttahida Qaumi Movement (MQM) chief Altaf Hussain and information minister Pervaiz Rashid condemned the attack.

In 2012, Mir escaped an assassination bid when police defused a bomb planted under his car in Islamabad, police and his channel said.

"It's a message to me as well as Geo and the journalist community in Pakistan," Mir told the television channel. "They want to stop us from speaking the truth but I want to tell them that we will not be deterred."