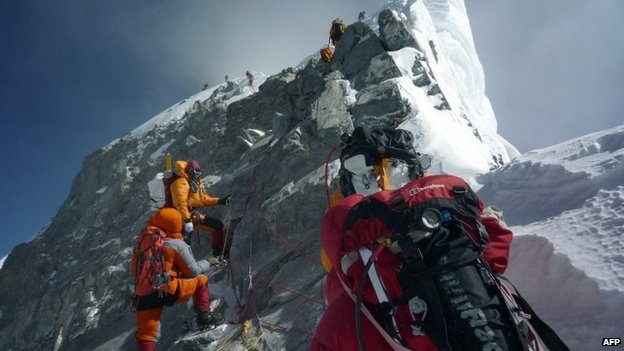 ---
KATHMANDU: At least 12 Nepalese guides preparing routes up Mount Everest for commercial climbers were killed Friday by an avalanche in the most deadly mountaineering accident ever on the world's highest peak, officials and rescuers say.

The men were among a large party of Sherpas carrying tents, food and ropes who headed out in bright sunshine in an early morning expedition ahead of the main climbing season starting later this month.

The avalanche occurred at around 6:45 am at an altitude of about 5,800 metres in an area known as the "popcorn field" which lies on the route into the treacherous Khumbu icefall.

"We have retrieved 12 bodies from the snow, we don't know how many more are trapped underneath," Nepal tourism ministry official Dipendra Paudel told AFP in Kathmandu.

Assisted by rescue helicopters, teams of climbers are still searching for survivors with at least seven people plucked alive from the ice and snow, Paudel told AFP.

A rescue team official working at the base camp of the 8,848-metre peak, Lakpa Sherpa, told AFP that the death toll could rise as high as 14.

"I have seen 11 bodies brought to the base camp, we have been told to expect three more," the member of non-profit Himalayan Rescue Association said by telephone.

Kathmandu-based expert Elizabeth Hawley, considered the world's leading authority on Himalayan climbing, said the avalanche was the most deadly single accident in the history of mountaineering on the peak.

The previous worst accident occurred in 1996 when eight people were killed over a two-day period during a rogue storm while attempting to climb the mountain.

That tragedy was immortalised in the best-selling book "Into Thin Air" written by US mountaineering journalist Jon Krakauer.

"This is the absolutely the worst disaster on Everest, no question," Hawley told AFP.

Kathmandu-based climbing company Himalayan Climbing Guides Nepal confirmed that two of their guides were among the dead and four were missing.

"When our guides left base camp, there was no snowfall, the weather was just fantastic," operations manager Bhim Paudel told AFP.

Dozens of guides from other companies crossed the icefall safely before the avalanche struck, Paudel said.

"We expected to follow them, we had no warning at all," he said.

Every summer, hundreds of climbers from around the world attempt to scale peaks in the Himalayas when weather conditions are at their best.

The accident underscores the huge risks taken by sherpa guides, who carry tents, bring food supplies, repair ladders and fix ropes to help foreign climbers who pay tens of thousands of dollars to summit the peak.

More than 300 people have died on Everest since the first successful summit by Sir Edmund Hillary and Tenzing Norgay in 1953.

Nepal's worst-ever climbing disaster happened in 1995 when a huge avalanche struck the camp of a Japanese trekking group near Mount Everest, killing 42 people including 13 Japanese.

The impoverished Himalayan country is home to eight of the world's 14 peaks over 8,000 metres.

Nepal's government has issued permits to 734 people, including 400 guides, to climb Everest this summer.

In a bid to address concerns of overcrowding on the "roof of the world", the government earlier announced plans to double the number of climbing ropes on congested ice walls near the summit of Everest to reduce congestion and risks for climbers.

Authorities have also stationed soldiers and police at Everest base camp starting this month so climbers can approach officers in case of any trouble following a brawl between commercial climbers and Nepalese guides last year.
COMMENTS
Comments are moderated and generally will be posted if they are on-topic and not abusive.
For more information, please see our Comments FAQ