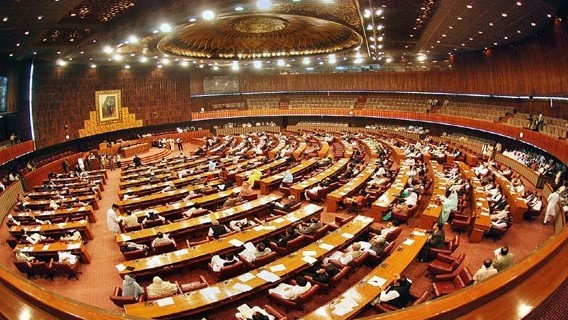 ---
ISLAMABAD: The National Assembly (NA) standing committee on law and justice has approved "The Holder of Public Office (Accountability) bill-2009 with majority.

The committee met here on Wednesday under its chairperson Begum Nasim Akhtar Chaudhry in the parliament house.

The bill was reviewed clause wise. The committee approved to amend section 18(A) of registration act -1908 under which the verification of legal documents by a practicing advocate has been made mandatory. The lawyer should be member of a bar council and fee would be determined by the National Assembly.

The committee unanimously passed to approve that where a woman accused of an offence is refused bail under the forgoing proviso she shall be released on bail if she has been detained for a continuous period of six months and whose trial for such an offence has not been concluded.

The committee rejected the amendment presented by PML-N in clause 25 of accountability commission bill-2009. The amendment proposed by PML-N in clause 26 regarding withdrawal of immunity given to public representatives with reference to accountability was also rejected by the committee members.

The members of committee Saeed Ahmad Zafar, Riaz Fatiana and Shakila Khanam raised objection that the NAB ordinance was also being used for political vendetta and if immunity was withdrawn then no one would be ready to even think of doing any work of public interest as every one would  fear facing cases if they gave someone a job or worked for public welfare.

The committee also decided with majority that a serving or retired judge of Supreme Court or an advocate who is capable of becoming the judge of  the Supreme Court could be appointed as chairman of the Accountability Commission. Anosha Rehman of PML-N opposed this saying that only a serving judge of Supreme Court should be inducted as chairman of the commission.

The committee expressed grave concern over the absence of the law minister in the committee meeting saying if the minister did not attend the meeting of the standing committee in the future the meeting would not be held.