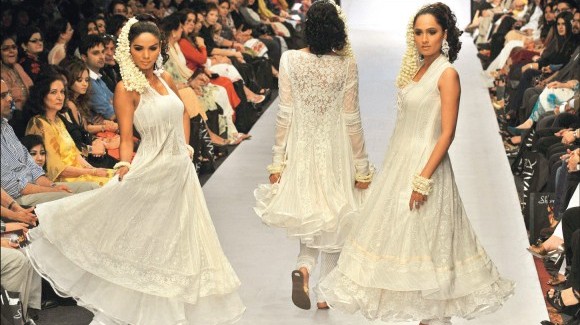 ---
KARACHI: What was on everyone's minds at Fashion Pakistan Week 2010?

Questions of the week:

What are bags doing on the runway?

The Fashion Pakistan design council must learn to cut accessory-specific shows out and merge the bag collections with other designer shows. If this doesn't stop, we'll soon see entire shows dedicated to scrunchie collections.

Why are the shows not edited?

Each show could have been cut down by at least five outfits and some designers were just plain terrible. Fashion Pakistan CEO Ayesha Tammy Haq told The Express Tribune in response, "But we can't decide who should show and who shouldn't!" But when asked why the schedule forced attendees to sit through 10 shows a night, she said, "Well, people want to sit through the entire event and they want to see everything!" Probably true, given the hype in social circles about what really is a rather boring event.

What was a cat doing on the runway?

This can only be categorised as animal cruelty. During Ali Zeeshan's show, Nadia Hussain walked out with a terrified kitten in her arms as an 'accessory'. Shocked by the blaring music, the incessant camera flashes and the long walk, the cat tried to make an escape and almost ended up clawing the leggy model who held on to it for dear life.

Has someone called Peta?

The animal rights activists at the People for Ethical Treatment of Animals (Peta) group are sorely needed at Fashion Pakistan Week. There are plenty of opportunities at the event for them to yell 'Fur is murder!' and throw cans of red paint at offenders. Just 24 hours after a cat almost clawed Nadia Hussain on the runway, Zahid Khan of Kuki Concepts showed deer antlers, and the finale hat was an entire deer head.

Overheard at fashion week:

"This collection is for the working women of today"

This was part of the introduction to Aeisha Varsey's collection. We'd like to let Varsey know that unlike the models she sent out on the runway, working women in Pakistan wear supporting undergarments.

"They should have waxed the back!"

A stylist sitting in the front row was left agape when a male model walked out with a not-so-bare back.

"Of course people will dress up for all five nights ... bohat faarigh qaum hai!" (People have too much spare time)

A fashion editor on whether Karachiites would dig out their designer outfits every night.

"People are so nice here!"

Malaysian designer Eric Chong on his first visit to Pakistan.
COMMENTS
Comments are moderated and generally will be posted if they are on-topic and not abusive.
For more information, please see our Comments FAQ