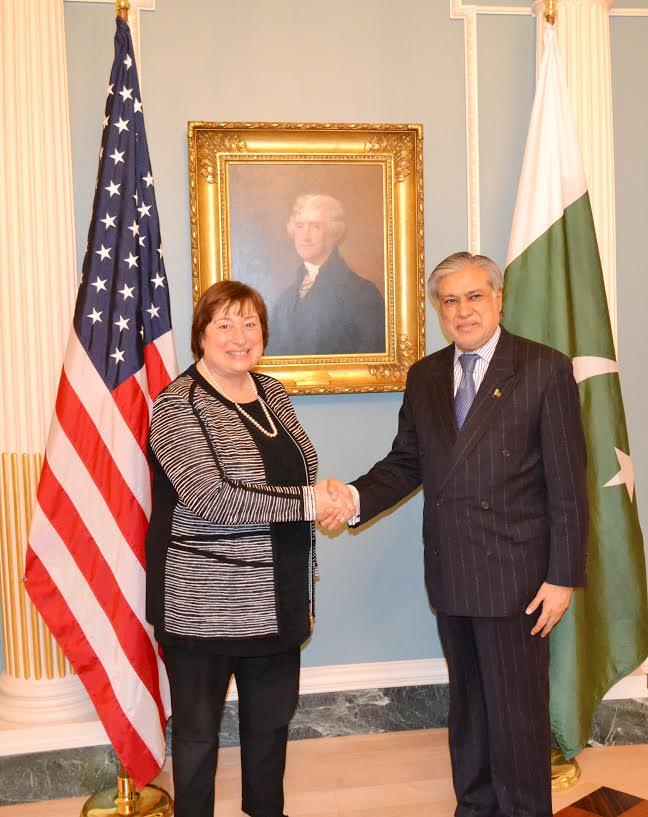 ---
WASHINGTON: Pakistan on Wednesday underscored the importance of US participation in various energy related projects especially Dasu and Diamer-Basha hydel projects during the working group meeting on economy and finance in Washington.

According to a statement on the meeting, both sides reaffirmed their commitment to expanding bilateral trade ties and business links.

Pakistan side was represented by a delegation led by Finance Minister Ishaq Dar while the US side was represented by Under Secretary of State for Economic Growth, Energy, and the Environment, Catherine Ann Novelli. Senior officials from the concerned Ministries and departments from both sides were part of their respective delegations.

The discussions, part of the US-Pakistan strategic dialogue, focused on how the two sides could best work together to deepen economic cooperation with a view to realising the vision outlined by Prime Minister Nawaz Sharif and President Barack Obama in their joint statement of October 23, 2013.

Dar updated the US side on the current state of Pakistan's economy and its ongoing economic reforms.

The US side noted the structural reforms undertaken by Pakistan to implement an agenda for economic growth, reduce the fiscal deficit, stabilise the currency and improve the investment environment. Pakistan's entry into the international bond market was also welcomed.

Both sides reaffirmed their commitment to expanding bilateral trade and business links and welcomed the upcoming United States-Pakistan Trade and Investment Framework Agreement (TIFA) Council meeting in May 2014 in Washington, DC.

The US side further reiterated its commitment to supporting private sector-led growth in Pakistan and welcomed the proposal to regularly convene a Joint Business and Investment Forum, involving the private sector.

Dar said the government had taken steps to improve regional connectivity, especially in trade and energy sectors, including the Central Asia-South Asia electricity transmission project (CASA-1000), Turkmenistan, Afghanistan, Pakistan, India (TAPI) pipeline project and Non-discriminatory Market Access (NDMA) to India.

The minister underscored the importance of US participation in various energy related projects such as Dasu and Diamer Basha hydral projects.

Reaffirming shared interests in further promoting educational and research opportunities for Pakistani students, scholars, and researchers in US institutions, the two sides agreed to consider establishing a working group or sub-group on science, technology and education under the framework of strategic dialogue process.
COMMENTS (2)
Comments are moderated and generally will be posted if they are on-topic and not abusive.
For more information, please see our Comments FAQ