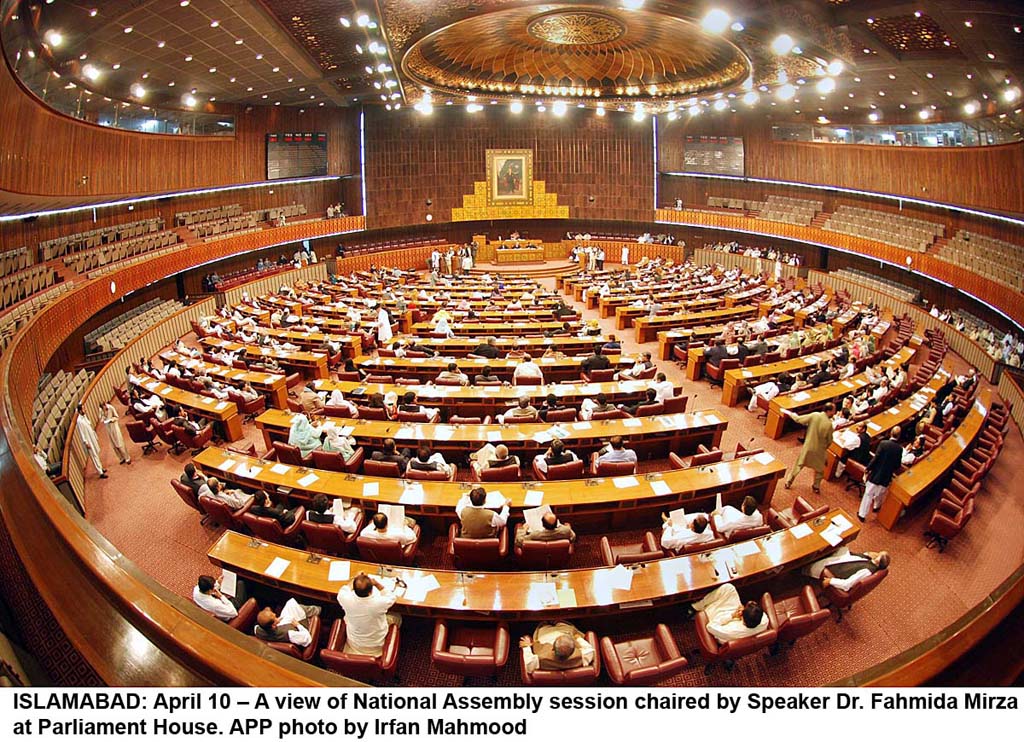 ---
ISLAMABAD:

The floor of the National Assembly was strewn with scraps of paper, the remnants of the Pakistan Protection Ordinance (PPO), passed during Monday night's assembly session amid furore from the opposition against the controversial bill.


Even as Federal Minister for Science and Technology Zahid Hamid claimed the opposition was taken into confidence before the bill was tabled, members of the PML-N had to huddle around Speaker Sardar Ayaz Sadiq's seat, protecting him against a crowd of opposition members.

While some, such as Pakistan Tehreek-e-Insaf MNA Arif Alvi shouted, "Disgrace! Disgrace! Zia-era legislation is not acceptable", others were more poetic in their dissent; "Zulm kay zabtay hum nahin maantay," they said (We cannot be coerced into submission).




"It would be against parliamentary norms if consensus is not developed before tabling this bill and if you will pass it in the lower house, then it might not be possible for you to go through with it in the upper house of parliament," warned opposition leader Syed Khurshid Shah. The bill is likely to be thrown out in the Senate.

The opposition first boycotted a resolution, moved by state minister for water and power Abid Sher Ali, which allows the government to extend the Criminal Law (Amendment) Ordinance for 120 days in order to keep checks on electricity theft. Ali criticised the opposition members as 'custodians of criminals'. The treasury benches adopted the resolution in the absence of the opposition, who protested that this was against the spirit of the 18th amendment.




The Jamiat Ulema-e-Islam-Fazlur Rehman (JUI-F) termed the bill 'regressive as a whole' while the PTI's Dr Shireen Mazari said the government should declare itself a 'civilian dictatorship' if it planned to run the country through ordinances. "This is a black law and it is an extra-constitution move," said the MQM's Farooq Sattar, who warned that the law 'will be used for political victimisation'. Additionally, he said, "It is not understandable for us that the government has released terrorists in the name of dialogue but such legislation is being made in the name of protection of the country -against whom will you implement this law?"

Qaumi Watan Party leader Aftab Ahmad Sherpao said the law was 'worse than the Frontier Crimes Regulations' and warned that it would go the way of the Anti-Terrorism Act, 1997, also passed by Nawaz Sharif and later dismissed largely as unconstitutional by the Supreme Court.

Published in The Express Tribune, April 8th, 2014.