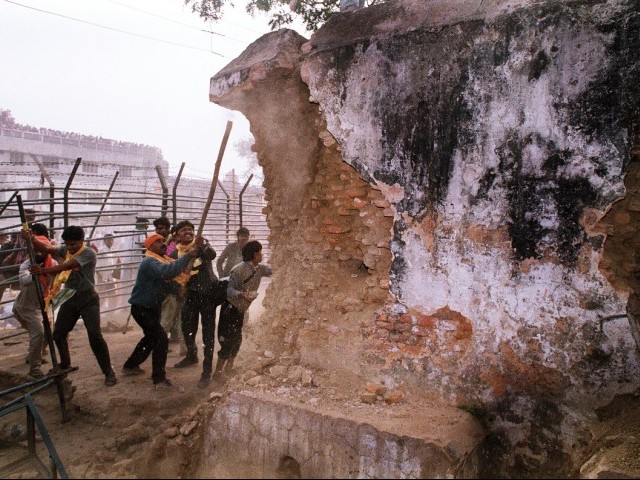 ---
NEW DELHI: The demolition of the Babri mosque on December 6, 1992 in Ayodhya was planned and top Bhartiya Janata Party (BJP) leaders  knew about the plot to knock down the mosque, The Times of India reported, basing it on the investigation carried out by the investigative website Cobrapost.

According to the investigation, senior leaders such as L K Advani, th then Uttar Pradesh chief minister Kalyan Singh as well as former Congress prime minister P V Narashimha Rao were aware of the plot.

The mosque was razed in 1992 by Hindu mobs, sparking clashes between Hindus and Muslims in which nearly 2,000 people were killed.

Hindus and Muslims have quarrelled for more than a century over the history of the Babri mosque. Hindus claim that the mosque used to stand on the birthplace of their god-king Rama, and was built after the destruction of a Hindu temple in the 16th century.

A detailed sting operation was carried out by Cobrapost on the 23 people who were part of the the Ram Janambhoomi movement. The operation claimed that the demolition was planned by the various organisations of the Sangh Parivar, which is a family of different organisations of Hindu nationalists and was not the result of a mob getting out of control.

The Times of India further reported that the demolition was carried out by trained volunteers.

Cobrapost quoted a leader of the Ram Janmabhoomi movement Santosh Dubey as saying, "He (Advani) had agreed on the idea of felling the structure. It was he who led the processions, addressed the meetings and talked about it everywhere he went. You broke it or not, but you gave a call and prepared people for the job."

Mahant Ram Vilas Vedanti, another leader of the movement is also quoted by Cobrapost claiming that, "On the night of December 5 Kalyan was informed. He was told that if need be the structure would be felled."

Further, after the demolition of the mosque there were allegations against Rao that he had tacitly supported the destruction of the mosque. According to the Cobrapost sting operation leaders of the movement such as Vinay Katiyar, B. L. Sharma, Santosh Dubey, Sakshi Maharaj and Vedanti explicitly recognise the support of the former Congress prime minister.

The Times of India makes it clear that it has no autonomous confirmation of the claims made by Cobrapost.
COMMENTS (31)
Comments are moderated and generally will be posted if they are on-topic and not abusive.
For more information, please see our Comments FAQ