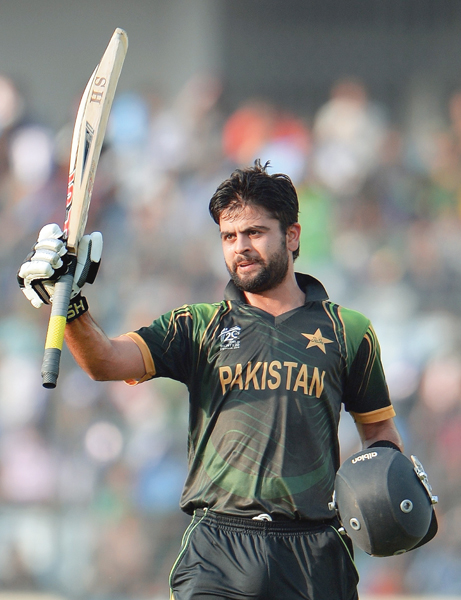 ---
KARACHI: Dashing opener Ahmed Shehzad stole everyone's thunder on Sunday as he became the first Pakistani player to smash a century in the Twenty20 format and record tons in all three formats of the game.

Before Sunday's match, Shehzad's previous best of 98 not out against Zimbabwe at Harare in 2013 was also the highest by a Pakistani batsman in the Twenty20 International format.

In the early part of his career, Shehzad was under the microscope for mainly  disciplinary issues. In 2008, he was spotted at a nightclub in Nairobi along with fast bowler Anwer Ali during Pakistan Academy's visit to Kenya. The team management came down hard on him, imposing a two-match ban on him and fining him $400. His erratic performance and less than gentlemanly conduct did not pick up much in 2009 despite several outings with the national team.

In 2011 he violated discipline during a short spell in the team. He was banned for a first class match for showing displeasure and arguing with the umpire over the latter's decision. He also had a quarrel with one of his fellow players in Dubai. Shehzad's close circles say he is trying to improve his discipline.

In the last two years, Shehzad has worked hard to put all this behind him. His blossoming into one of the team's better batsmen has certainly helped. There are a still a couple of issues he needs to sort out first. Some more consistency with the bat would probably silence some, if not all, of his detractors.

Since his 98 runs against Zimbabwe in 2013, this is the first time that he has been able to cross the 50-run mark in Twenty20 cricket. While his 111 not out against Bangladesh on Sunday shows his talent, his unimpressive average of 12.55 in the nine previous matches stands out like an eyesore.

Just a few days back, he scored a century against Bangladesh at the very same venue in the Asia Cup one-day. In the current  tournament, however, he has been able to only post 22 runs against India and five runs against Australia.

Both these performances triggered harsh criticism against Shehzad. That is why he has dedicated his century to his critics.

Shehzad, who is a Pathan, lives in Lahore. That is why most people think he hails from Punjab.

In the national team he is very close to Shahid Afridi. His career was also established during the period when Afridi led the team. He has also participated in the Caribbean and Bangladesh leagues, and is a friend of Chris Gayle. In the current World Twenty20, he has been spotted often with Yuvraj Singh. His company consists of players who are aggressive like him.

Despite Shehzad's match-winning innings, Pakistan still has a tough road towards the final. To qualify for a spot in the semi-finals, it must beat the West Indies on Tuesday.

Although the green shirts are proud of their spinners, their final opponents in the group stage are coached by former Pakistan spinner Saqlain Mushtaq. His advice may provide West Indian batsmen like Gayle a counter to Pakistan's bowling attack.

Published in The Express Tribune, March 31st, 2014. 
COMMENTS (7)
Comments are moderated and generally will be posted if they are on-topic and not abusive.
For more information, please see our Comments FAQ