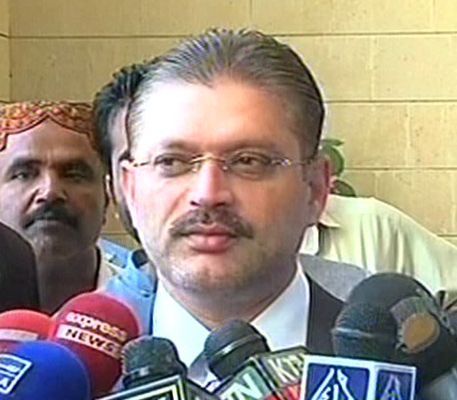 ---
KARACHI: Taking a jibe at the federal government for holding talks with the Tehreek-e-Taliban Pakistan (TTP), Pakistan Peoples Party (PPP) leader Sharjeel Inam Memon on Tuesday said the government was not negotiating but begging TTP to spare their lives.

Speaking to the media in Karachi, Memon said it was saddening to see the government was trying to reason with the very people it should be fighting.

"The terrorists should be eliminated; the ones who have spread chaos in the country."

Pointing out the various segments of the society targeted by the TTP, the minister said "they have attacked our army, attacked our schools, our madrassahs, our shops, our imambargahs and our mosques."

Memon lamented that pro-talks political parties were calling these attackers patriots and brothers.

Admitting that all parties had given the mandate to hold talks, Memon said innocent lives were still being lost while the government negotiates.

"I do not condemn the peace talks nor do I approve of them," Memon added.

Thar tragedy

The PPP leader stated that the federal government had promised to provide aid to the victims of the Tharparkar drought, but making promises and following through on them are two different things. He claimed that the Sindh government had not received a single paisa from the federal government, even though the prime minister had promised that funds would be provided for the victims.

When asked about progress of relief activities in the district, Memon said that wheat was given to all of the drought victims. "The government is carrying out relief work in all locations affected by the drought," he stated.

In response to an accusation that he was passing the entire blame on to the federal government, Memon said that this was a natural calamity and no one could be held responsible for the deaths in Tharparkar.

"It is a bitter fact that child mortality in Pakistan is the highest in the world", Memon stated, adding that 600 children die in the country every day.

Express News reported that two more children succumbed to hunger in Thar, taking the death toll to more than 182 infants and children in the drought-hit district in the last four months. The government, however, accepts only about 100 of these deaths.
COMMENTS (22)
Comments are moderated and generally will be posted if they are on-topic and not abusive.
For more information, please see our Comments FAQ