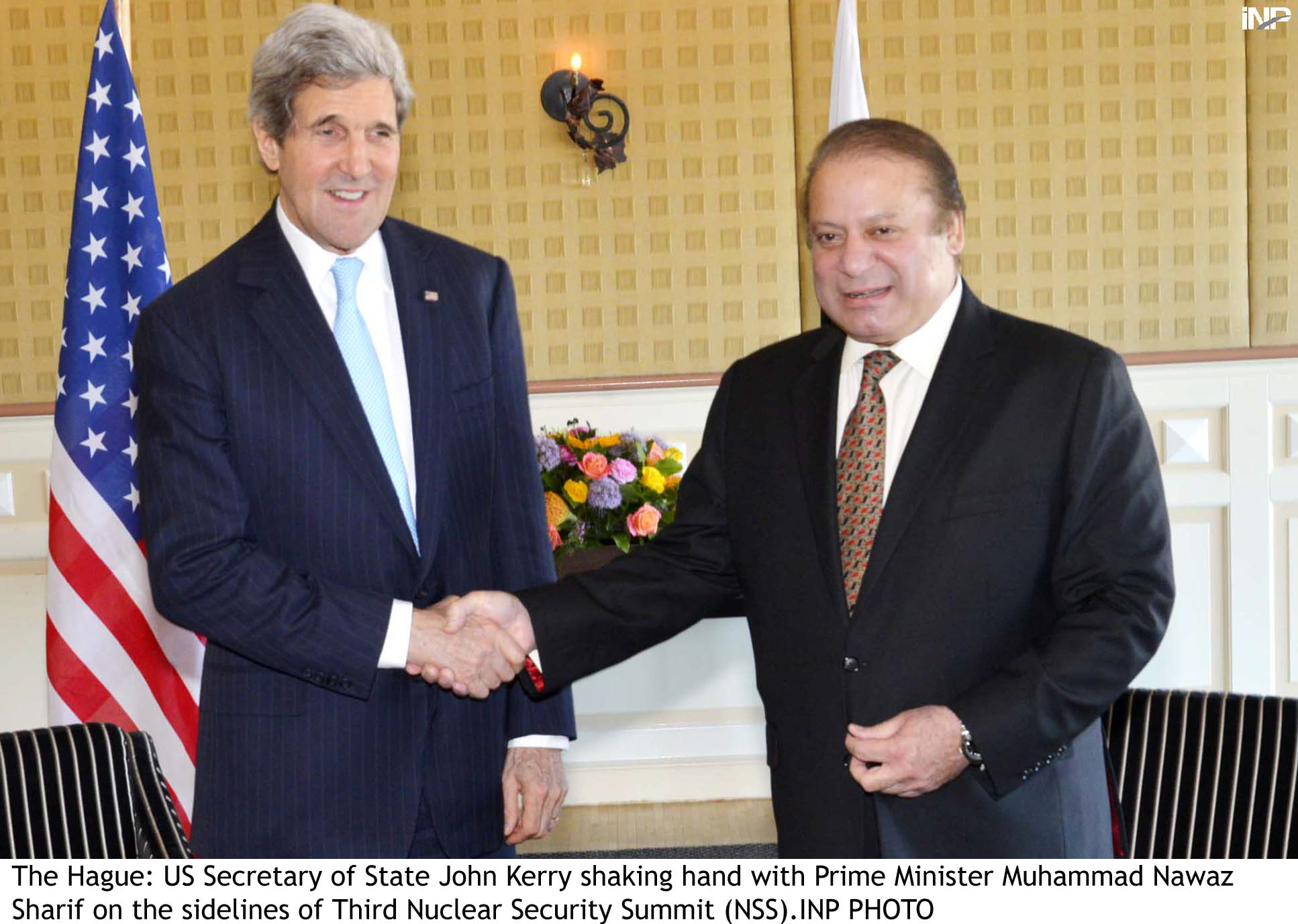 ---
THE HAGUE: Blaming India for hesitating in resolving the Kashmir issue bilaterally, Prime Minister Nawaz Sharif on Monday asked the US will have to play its role in normalising ties between the two countries.

After a meeting with US Secretary of State John Kerry on the sidelines of the nuclear summit at The Hague, Nawaz said that India was hesitating to resolve the Kashmir issue bilaterally.  In a scenario where India was not willing to include a third force in resolving the issue, US then would have to play its role in bringing the situation to normal.

Talking about Afghanistan, Nawaz said that peace in Afghanistan was in the interest of Pakistan and the region.

The premier said Pakistan wanted to talk to Afghan Peace Council to maintain peace in the region, adding that the improved relations between Pakistan and Afghanistan should not be derailed.

The prime minister appreciated the US policy of discontinuation of drone strikes in Pakistan and said it must be continued.

Meeting with John Kerry

Earlier, Nawaz met with US Secretary of State John Kerry and both of them reaffirmed their desire to continue the strategic dialogue, covering a wide range of areas.

Kerry reaffirmed US's confidence in Pakistan's nuclear security and said that the US will continue to work with Pakistan in fighting terrorism.

In brief remarks to the press, he also assured cooperation to Pakistan to help meet its energy needs.

Kerry said the two countries were "deeply engaged" and said the two sides will focus on the issue of terrorism, counter terrorism, global energy besides Afghanistan and the bilateral Pakistan-United States relations.

Nawaz also mentioned his meeting with US President Barack Obama a few months ago in Washington DC and said the dialogue with the US will continue.

Kerry mentioned his meeting in Washington with the Advisor to Prime Minister Sartaj Aziz recently and said he was looking forward to his meeting with Finance Minister Ishaq Dar soon.

The Prime Minister is accompanied by Special Assistant to the Prime Minister, Syed Tariq Fatemi and Foreign Secretary Aizaz Ahmad Chaudhry.