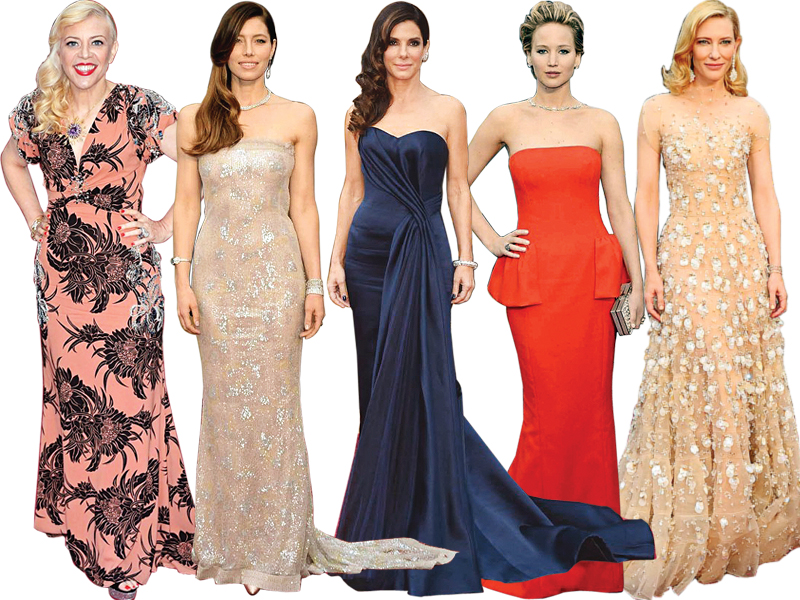 ---
The Oscars red carpet is one of the most watched fashion moments of the entire year. Need proof of how much work goes into one Oscar winning gown? Let's take Cate Blanchett's Oscar winning yellow Valentino number in 2005 — it was made by 10 seamstresses, took nearly three weeks of eight-hour days to make, used 11 yards of silk taffeta, and was delivered by 'the one person that Mr Valentino approved'.

These dresses cost a fortune. Here is a roundup of the most expensive Oscar outfits this year, with figures taken from Vogue Australia.

1. Cate Blanchett




Jewellery by Chopard: around $18 million

• Earrings of 62 opals with a combined 33 carats

• Brown diamond bracelet

• Pear-shaped diamond ring

Dress by Armani Privé: around $100,000

TOTAL: $18.1 million

2. Charlize Theron




Jewellery by Harry Winston: $15.8 million

• Diamond necklace — $15 million

• Diamond stud earrings — around $800,000

Dress by Christian Dior haute couture: around $90,000

TOTAL: $15.89 million

3. Sandra Bullock




Jewellery by Lorraine Schwartz: $8.2 million

• Platinum and diamond cluster earrings — $1.8 million

• Bracelet — around $6.4 million

Dress by Alexander McQueen: around $40,000

TOTAL: $8.24 million

4. Margot Robbie




Jewellery by Forevermark:
$8 million

Dress by Saint Laurent: around $12,000

TOTAL: $8.012 million

5. Jennifer Garner




Jewellery by Forevermark:
$5 million

Dress by Oscar de la Renta: around $25,000

TOTAL: $5.025 million

6. Jennifer Lawrence




Jewellery by Neil Lane: $3.5 million

• 100-carat necklace — $2 million

• 10-carat diamond stud earrings — around $500,000

• Diamond and platinum ring — $1 million

Dress by Christian Dior haute couture: around $80,000

TOTAL: $3.58 million

7. Amy Adams




Jewellery by Tiffany & Co.: $1.4805 million

• Rhodochrosite, lapis and turquoise earrings with diamonds in 18k yellow gold — $35,000

• Square modified brilliant yellow diamond bracelet in 18k yellow gold — $1.4 million

• Fire opal, pink sapphire, yellow diamond, and spessertite bead ring with diamonds — $40,000

• Six diamond band rings in 18k yellow gold — $5,500

Dress by Gucci Première: around $30,000

TOTAL: $1.5105 million

8. Jessica Biel




Jewellery by Tiffany & Co.: $525,000

• Round diamond wide bracelet in platinum — $120,000

• Round and princess-cut five row diamond bracelet in platinum — $165,000

• Round and marquee diamond cluster necklace in platinum — $240,000

Dress by Chanel haute couture: around $100,000

TOTAL: $625,000

9. Catherine Martin




Jewellery by Tiffany & Co.: $417,000

• Jean Schlumberger arrows brooch — $65,000

• Red spinel ring with diamonds in yellow gold — $140,000

• Pink and white diamond hinged bangle in platinum — $95,000

• Cushion-cut pink sapphire and diamond flower ring in platinum — $65,000

• Jean Schlumberger diamond X bracelet in 18k gold and platinum — $52,000

Dress custom made by Prada: around $25,000

TOTAL: $442,000

Published in The Express Tribune, March 17th, 2014.

Like Life & Style on Facebook, follow @ETLifeandStyle on Twitter for the latest in fashion, gossip and entertainment.
COMMENTS (1)
Comments are moderated and generally will be posted if they are on-topic and not abusive.
For more information, please see our Comments FAQ