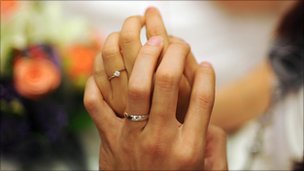 ---
ISLAMABAD:



Pakistan's top constitutional body responsible for giving legal advice to the legislature on Islamic issues has said Islam doesn't prohibit underage marriage (Nikkah) – but consummation of marriage (Rukhsati) is allowed only when the couple – both husband and wife – reaches puberty.




The decree came at the end of a two-day meeting of the Council of Islamic Ideology (CII) on Tuesday. CII Chairman Maulana Muhammad Khan Sheerani presided over the session.

The council suggested removal of a clause in the Child Marriages Restriction Act 1929 that prohibits a child from going against the will of his/her father and maternal grandfather, who have arranged an underage marriage for him/her.

CII members suggested that after reaching puberty, the child should have the right to undo the decision of his/her father and grandfather on underage marriage.

Under the 1929 marriage laws, a couple can defy their underage marriage if it is contracted by their relatives, but they cannot go against the decision of their fathers and maternal grandfathers.

A source, who attended Tuesday's meeting, told The Express Tribune that most CII members agreed that children should be given the right to undo their underage marriage after reaching puberty, if they desire so.

The CII members believe that the modern-day children are comparatively more aware and mature to take a decision about their marital life, therefore the 1929 marriage laws need to be amended and the specific clause relaxed, the source said.

The Shia Ulema told their CII colleagues that according to Fiqa-e-Jaferia, the clause is not binding since it is not against any principle of the Sharia law.

Meanwhile, Dr Nafisa Shah, the coordinator of PPP's Human Rights Cell, expressed concern over a statement of the CII chief about second marriage. Maulana Sheerani said on Monday that a male Muslim does not need a written approval from his existing wife/wives in order to contract another marriage.

"Why is the CII concerned with men's four marriages and why they have done nothing to ensure that women get their right in inheritance as enshrined in Islamic law? Or why have they failed to stop practices such as Vani, Swara and Karo-Kari? Or stop rape, and acid crimes against women?" asked Dr Shah.

"Unfortunately, Islam has been misinterpreted over a period of time by a mindset and a particular school of thought. Islam and modernism are compatible provided progressive scholars interpret the religion," she added. She called upon the government to induct progressive Islamic scholars in the CII so that women's rights are also protected.

Published in The Express Tribune, March 12th, 2014.