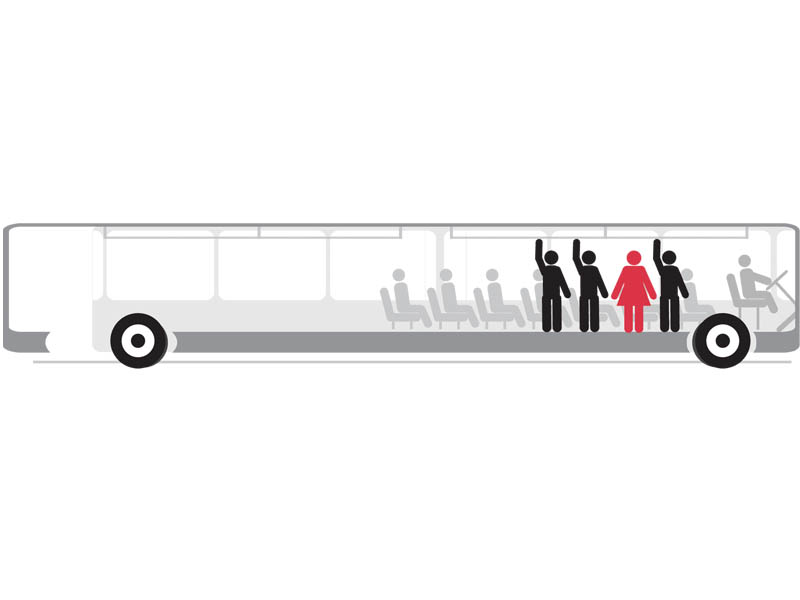 ---
KARACHI:



For women taking the bus to work in Karachi, verbal and physical harassment may be a common occurrence but, by no means, is it acceptable.




It is fairly common for jam-packed buses to hear comments, such as: "What is this nonsense? Don't you have females at home?" This often follows with: "Sorry Baji, it was an accident. May I please have the fare?"

Women taking the bus admit this is typical of all public transportation. "We are used to this. Sometimes we tolerate silently but, when driven to it, we react with a slap," said Shaheen Akhtar, a 30-year-old woman. She travels in public buses every day for over an hour between Malir and the Old City area to reach her office.

During the journey, she comes across passengers, drivers and conductors who try their best to get hold of her. "The drivers stare at us through mirrors and pass comments, while the passengers are silent spectators," she said, adding that they have no other choice as she cannot afford travelling in taxis or rickshaws. "Mostly, I retaliate. But school or college-going girls stay quiet, afraid of creating a scene."

"Buses are usually filled right up to the roofs giving habitual harassers an opportunity to make room on the female side," said Nahid Aziz, a lawyer and a regular minibus passenger. "We already have limited seats. Such scenarios create difficulties for us."

Aziz also dislikes loud music played inside buses and feels there is an absence of complaint centres or help lines on which women can lodge complaints.  "From the conductor and the driver to polished men and male students, all of them try to harass women in one way or another."

Social Research and Development Organisation (SRDO) president Abdul Qadir Bullo told The Express Tribune that they had conducted a survey in Karachi that revealed that female commuters aged between 19 and 45 years are subjected to inappropriate touching, sexual comments and stares of male passengers. "Due to the law and order situation, people ignore such incidents and the police do not take road-side harassment of females seriously."

He shared that around 65 per cent of working women and female students use public transport and the rest either have private cars or travel by rickshaws, taxis or company-provided vans. Qingqis and six-seater rickshaws have become popular among students due to less chances of harassment.

Recently, Karachi's traffic police launched a campaign against audio and video players in public transport vehicles. Sindh Traffic Police deputy Inspector General Arif Hanif directed traffic police to fine drivers who play music in buses, minibuses, coaches, rickshaws and taxis. On its first day, they claimed to have seized 327 music players from public transport vehicles and fined 424 vehicles.

"Fixing extra mirrors inside the bus isn't necessary. It is illegal and immoral to play loud music and we do tell our drivers about it," shared Umer Zada, a supervisor of Muslim Minibus Stand. "The drivers and conductors avoid having their say in women harassment incidents because they get in trouble with the troublemakers.

Laws most wanted

The country has no laws for women harassment in public transport, shared Legal Right Forum's chairperson Malik Tahir Iqbal. The federal government has passed a law for women harassment at workplaces — the Protection against Harassment of women at the Workplace Act, 2010. "But it says nothing about harassment in public transport and public places," he said.

He further added that after the 18th amendment, each province should amend this act and include separate sections for protection against harassment of women in public transport and public places, specifying strict penalties for violators.

The minister for women development and social welfare, Rubina Qaimkhani, explained that amendments are being made in the act and discussions are being carried out on the draft of the bill to be presented in the provincial assembly. "We are including separate sections in the bill covering harassment in public transport." Women need to be aware of the laws against harassment, which already exist in the country, in order for them to be used, she said.

Published in The Express Tribune, March 7th, 2014.
COMMENTS (5)
Comments are moderated and generally will be posted if they are on-topic and not abusive.
For more information, please see our Comments FAQ