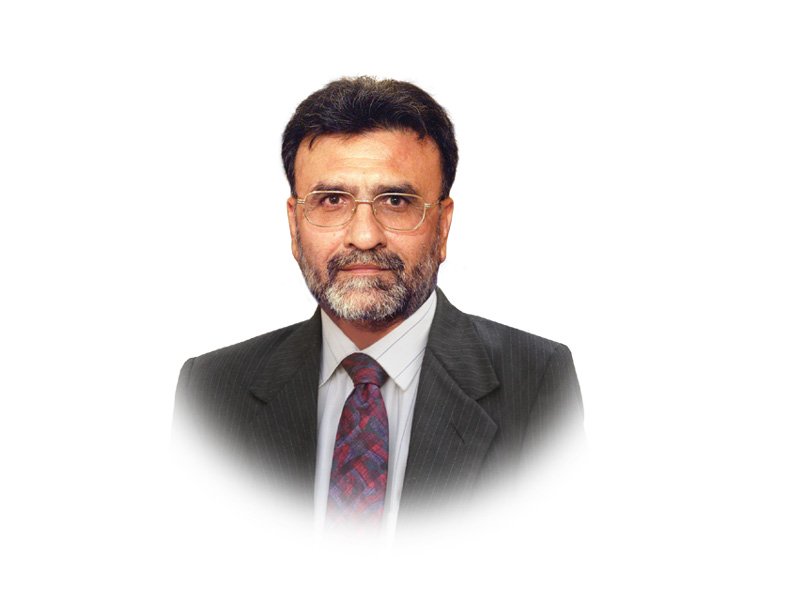 ---
Even while sitting among friends I tend to get provoked and react rudely if some serving or retired person from the civil and military oligarchy questions the capacity of our representatives when it comes to discussing things strategic, forget taking full command over them. After watching the proceedings of Wednesday's sitting of the national assembly, however, I now feel guilty about this habit.

The house was to start discussing the National Internal Security Policy (NISP) that the third Nawaz government proudly flaunts as a first-ever attempt to take control over things strategic by elected civilians. The interior minister remained missing on this important day and so were most of his front-ranking ministerial colleagues. The vacant seats of ministers looked embarrassingly bare due to the lack of noticeable attendance on ruling party benches.

Mehmood Khan Achakzai remains a firm supporter and ally of the Nawaz government. Yet the passionate democrat in him could not cope with such reckless indifference. Taking the floor he bluntly wondered with a hurt heart whether anybody should seriously consider what was being discussed in a half deserted national assembly.

Although fully sharing Achakzai's concerns, I have to add that the opposition legislators were equally responsible for the farcical-looking proceedings of Wednesday. As the opposition leader, Syed Khurshid Shah should have initiated the general discussion on NISP. If not feeling comfortable regarding the subject, he had every right to depute two or three nominees from his party who could have discussed the 100-page document after a diligent scanning of it. He heedlessly failed to deliver on this count.

Imran Khan always pretends as if bursting with a flood of fresh and creative ideas for restoring peace in the country. He also had savored the exclusive privilege of listening to our khakis' thinking over issues related to national security by holding a lengthy meeting with General Kayani, before agreeing to attend an All-Party Conference in September last year. Why he also felt so shy of sharing his thoughts on the NISP document by speaking in the house Wednesday?

The PTI leader was definitely wrong in presuming that Dr Shirin Mazari was the most competent person from his party to speak on the proposed NISP. Doctor Sahiba is a dear friend and an acclaimed academic. But discussing NISP in the national assembly Wednesday, she sounded but utterly confused and inarticulate. "Typology" was a term she appeared too hooked to and kept rubbing in the point that the document tabled by Chaudhry Nisar Ali Khan had not cared to focus on it.

Far more embarrassing was Maulana Sherani. He represents the JUI-F, another ally of the PML-N government. Maulana Fazlur Rehman had managed his appointment as Chairman of the Council of Islamic Ideology by the previous government. He retained the job even after change of the government thanks to Machiavellian management by his leader.

In spite of representing a "friendly party" of the present government, Sherani was almost blunt in claiming, "by killing non combatants through aerial bombing, our armed forces were alienating the residents of tribal areas and this may lead to the break-up of Pakistan." Hardly a person dared standing up from the ministerial benches to remind Sherani that the interior minister had owned the same strikes by describing them as "precise and surgical."

Don't blame the reporters, therefore, if most of them preferred to find the latest on a developing story that Jamshed Dasti had triggered by proclaiming the officially provided and furnished residential quarters for our representatives in Islamabad as "dens of vice and debauchery."

A seven-member committee of the national assembly was holding its inaugural meeting to look into the material that Dasti had provided to substantiate allegations hawked by him. Instead of attending its meeting, he kept sitting in the house. Twice, he tried to take the floor to justify his non-cooperation with the probing committee. For a change, the Speaker behaved somewhat firm in telling him that he should put his objections only to the committee concerned.

A juicy but almost true-sounding story was also doing rounds to explain the reason behind Dasti's no-show at the 7-member committee. It speaks of a usual lackey of an honorable member of the national assembly who allegedly had tried to sneak into the parliamentary lodges along with a woman. Many had witnessed an unpleasant scene, when this lackey adamantly refused to provide identification details of the lady accompanying him. Irfan Dogar, another member of the national assembly from Sheikhupura had also been around and he presumably had named names, in writing, for the concerned committee. Let's see how Dasti will handle this dramatic turn in a salacious story promoted by him.

Published in The Express Tribune, March 6th, 2014.