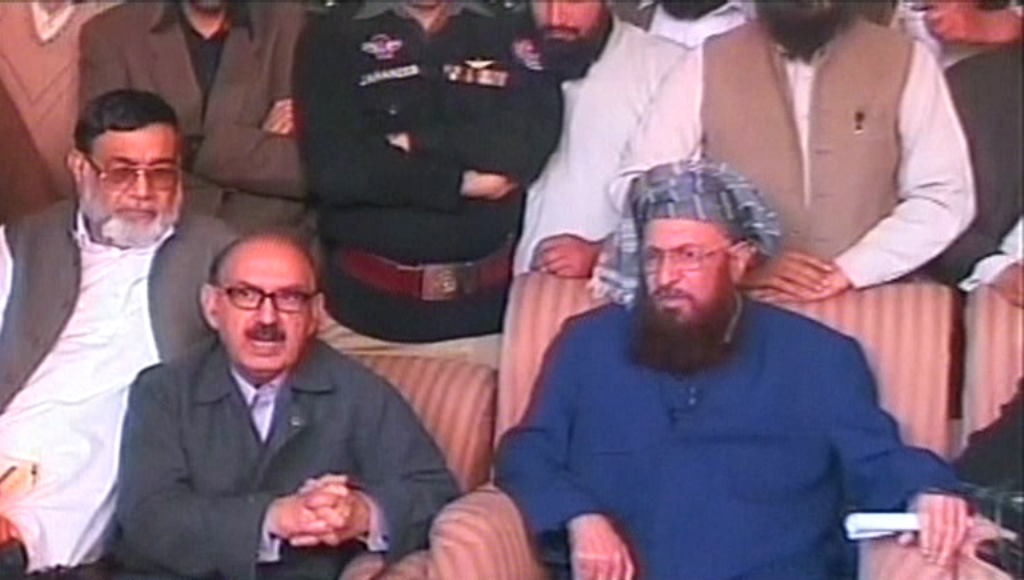 ---
NOWSHERA/ ISLAMABAD: Attempts will be made to sabotage the efforts of the intermediary committees with regards to the peace talks, stated Jamiat Ulema-e-Islam-Samiul Haq (JUI-S) chief Maulana Samiul Haq while speaking to the media in Nowshera on Wednesday.

He said that "the third enemy" will definitely do something to create obstacles, adding that USA, India and Afghanistan do not want the peace negotiations to be successful.

Negotiators for the government and the Tehreek-e-Taliban Pakistan (TTP) met today to restart peace talks that stalled more than a fortnight ago, sources said.

The meeting in the northwestern town of Akora Khattak comes after the TTP announced a month-long ceasefire at the weekend, despite a major attack in Islamabad on March 3 claimed by a splinter group that killed 11 people.

Speaking to the media, the JUI-S chief also said that the TTP has not asked for changes to the Constitution of Pakistan or the existing system.

Haq also remarked that the intermediary committees had to open the door for the dialogue process and they have successfully done so, further stating that it is now up to the government and the TTP to make decisions.

The JUI-S chief expressed his stance against the operation by the government, saying that a military operation is not the solution and it should not be done regardless of any pressure from various powers.

Haq also that the intermediary committees should be autonomous in making decisions with regards to the talks.

Second stage

Coordinator of the government committee Irfan Siddiqi, while talking to the media in Nowshera, said that the dialogue process has reached its second stage i.e. the decision making process.

He added that Prime Minister Nawaz Sharif has advised them to proceed with the peace talks.

He also stated that there has been no firing going on in the country because of the efforts made by the two committees.

Peace talks

More than 110 people have been killed in militant attacks since the PM announced talks with the TTP in late January, leading some observers to question the dialogue strategy.

Prior to the meeting, an official close to the government delegation had told AFP that "the government committee will ask about the recent attacks, particularly the one in Islamabad, and they will also talk about how to make the ceasefire effective."

Talks began last month but broke down after the Mohmand Agency of the TTP claimed responsibility for the killings of 23 kidnapped Frontier Corps personnel.

The military responded with a series of air strikes in the tribal areas that killed more than 100 insurgents, according to security officials.