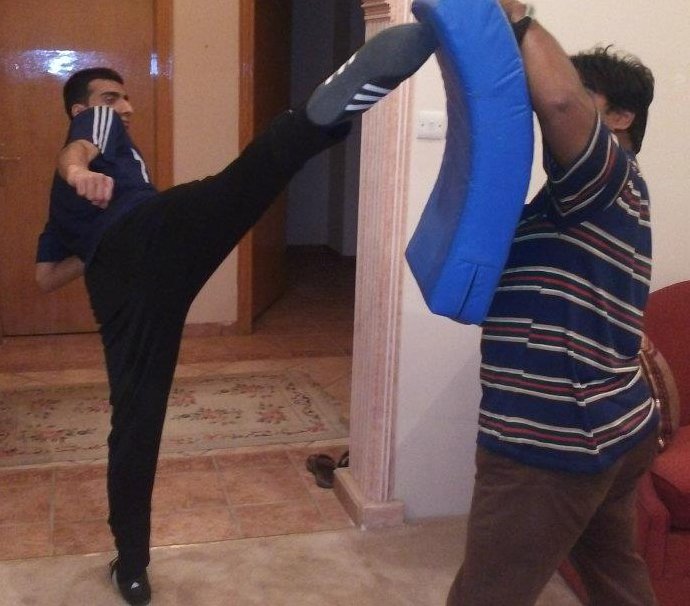 ---
KARACHI: Pakistan's Ahmad Amin Bodla merited his experience by successfully breaking three Guinness World Records in martial arts on Monday in Lahore.

The 20-year-old bettered his own world record by landing 835 kicks in three minutes using one leg. He improved from 783 kicks that he had performed in Saudi Arabia in August last year.

Bodla also broke the record of the most kicks in a minute which was held by America's Raul Meza, by landing 355 kicks.




He also broke the record for the most punches in one minute, which was previously held by Australia's Mick Faber. Bodla punched 325 times using one hand.

"It's an aim for me to make more records as a Pakistani," Bodla told The Express Tribune.

"I train every day for three to four hours. Preparing for these performances is tough, but I've been doing it independently.  I already have 26 Guinness world records."

Bodla recorded these feats in the presence of an audience and three judges who counted the kicks and punches at the Legends Martial Arts Club Engineer Sports Club.

According to one of the judges Shafiqur Rehman Khattana, Bodla's achievements make him an asset for Pakistan.

"It's an honour," said Khattana. "He is the only Pakistani to break into the field with so many world records. Before him there were only foreigners who have held these records .

"He is an inspiration. When new athletes come to train for martial arts they have a role model in Bodla," said Khattana.

'My ambition to create records started in 2011'

Bodla stated that his ambition for creating world records began in 2011, when he saw a video of a Spanish master making a world record with the most kicks in a minute.

According to him, he took up taekwondo as his father's guard had been a black belt in martial arts.

"I was 14 at that time," he said. "My father had a guard who was trained in taekwondo. That was the inspiration for me. I trained with him initially before being certified as a black belt.

He further stated that in order to verify his credential for Monday's records, the footage will be sent to the Guiness World Record headquarters in the UK, which would take three months.

Published in The Express Tribune, March 4th, 2014.

Like Sports on Facebook, follow @ETribuneSports on Twitter to stay informed and join in the conversation.
COMMENTS (1)
Comments are moderated and generally will be posted if they are on-topic and not abusive.
For more information, please see our Comments FAQ