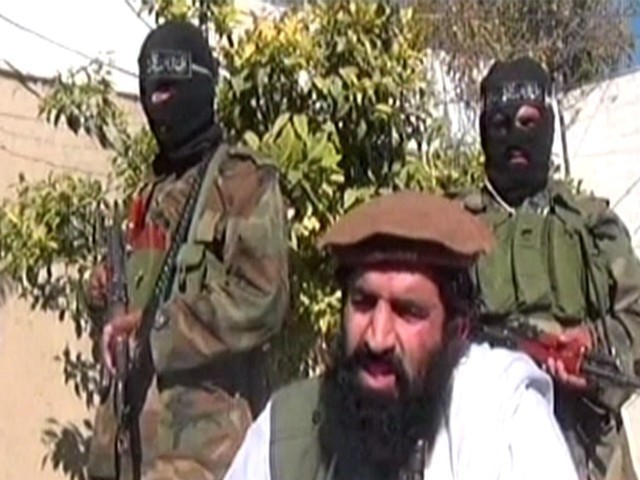 ---
NOWSHERA/ PESHAWAR:



The Tehreek-e-Taliban Pakistan (TTP) on Saturday announced a one-month ceasefire to allow the resumption of peace talks that had collapsed following last month's slaying of 23 paramilitary soldiers by the group's Mohmand chapter.




"After taking into consideration appeals of religious scholars, the TTP announces a month-long ceasefire in the best interests of Islam and the country," the group's spokesperson Shahidullah Shahid said in a statement.

"The TTP senior leadership advises all subgroups to respect the call for a ceasefire and abide by it and completely refrain from all jihadi activities in this time period," he added.

Shahid said the government has responded positively to the Taliban's suggestions conveyed through their intermediaries for a ceasefire and for breaking the deadlock in the peace talks. The government has given an assurance that the suggestions would be implemented.




Shahid said the TTP has entered into peace talks with the government with all seriousness, sincerity and with good intentions. "The TTP is an organisation of principles and its decisions are taken with consensus in the Shura and with the consent of its Ameer (chief)," he added.

The TTP spokesperson said they hoped that the government would take the truce offer seriously and would take forward the peace process by keeping it free from politics.

The TTP's Mohmand chapter extended full support to the ceasefire. "We are a part of the TTP but some analysts have been trying to sow discord among us. We want to make it clear that the TTP Mohmand Agency chapter completely backs the ceasefire call," the group's spokesperson Umar Khurasani said in a statement.

"The government and its secret agencies had been involved in extrajudicial killings of Mujahideen during the talks," he said. "This time again one of our colleagues, Abdur Rehman, a resident of Machni who was arrested in 2008, was martyred last night," he added. "Another colleague, Maulana Hafeezullah, was martyred five days ago by secret agencies in Karachi," he added.

Despite these incidents, Khurasani said the TTP Mohmand Agency chapter was bound to obey all commands of the central leadership, including the ceasefire announcement.

Hours earlier Taliban's chief intermediary Maulana Samiul Haq revealed to Interior Minister Chaudhry Nisar Ali Khan that the TTP have accepted their suggestion to declare a ceasefire. In their telephone conversation, the two agreed on a strategy for peace talks, according to a press release issued on Saturday.

Maulana Samiul Haq, who was leaving for Saudi Arabia, voiced hope that the government would take advantage of the ceasefire and create an atmosphere conducive to talks. The two agreed to arrange a meeting of the two negotiating committees within the next two days.

Published in The Express Tribune, March 2nd, 2014.
COMMENTS
Comments are moderated and generally will be posted if they are on-topic and not abusive.
For more information, please see our Comments FAQ