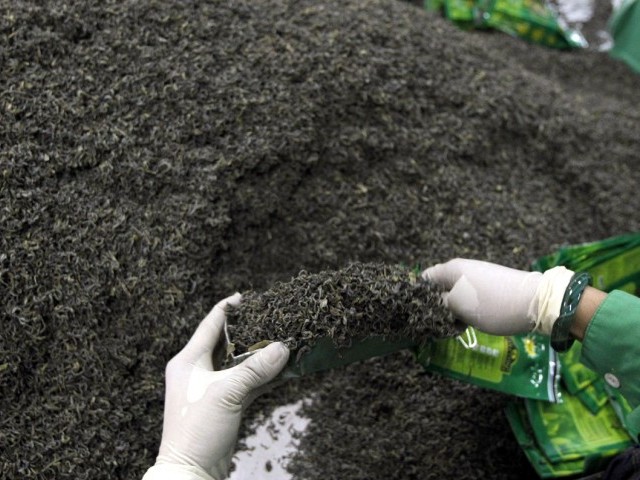 ---
ISLAMABAD: Something somewhat strange appeared in the import data of the Pakistan Bureau of Statistics (PBS) for the July 2013–January 2014 period.

Import bill for tea dropped 36% to $162.6 million in the seven months compared with $221.69 million in the same period of the previous year.

This should have meant a sizeable decrease in imported quantity. But there was a reduction of only 0.26% to 73,834 tons from 74,027 tons in the comparable period of the previous year.

There are two possible explanations for the phenomenon.

"That's where smuggling is playing its part," said Hamid S Khawaja, former chairman of Pakistan Tea Association (PTA), which represents all the major importers. "There was an impact of international price reduction but depreciation of rupee neutralised that."

At over 120,000 tons a year, Pakistan is one of the world's largest importers and consumers of tea. Almost the entire preferable hot beverage demand is met through imports from African countries, Vietnam, India and England.

But traders say the high level of taxes on imports has encouraged smuggling over the years. "This difference you see in the PBS numbers reflects that the high-priced, better quality tea is being smuggled," said Khawaja.

The government collects a total of 38% in taxes from tea sales. This includes sales tax, import duty and other charges. All of them are levied ad-valorem, which means on the value, in percentage terms.

"So we are leaving a large incentive for traders to smuggle the expensive variety and increase their margins by avoiding taxes," said Khawaja. "Instead of the 38% taxes, the smugglers pay 12% to 15% bribe and transportation charge, pocketing the remaining difference."

According to PTA, around 100,000 tons of tea is smuggled via Quetta and Peshawar from Afghanistan every year. In recent months, smugglers have also started using the Taftan-Quetta route.

Other traders say that the tea import bill shrunk because prices have crashed in Kenya.

"They have the largest output. Average price has come down to $2.3 per kg this year from $3.5 per kg last year," a leading importer said. "Price doesn't seem to be stabilising. It might go further down in the next two months."

But this decrease has not affected the retail price of the tea in Pakistan, indicating that everyone from large brands to loose-tea sellers is making a hefty profit.

Curbing the menace

Industry people say only way to discourage smuggling is to cut taxes. They insist this strategy has already worked.

The Pakistan People's Party (PPP) government slashed sales tax on tea import to 5% in the 2012-13 budget, which led to the immediate decrease in retail price and increased imports through formal channels.

"Unfortunately, the branded tea companies didn't keep their word for long and retail prices were increased after a few months," said another trader. The sales tax was revised upwards by the interim government after only few months.

Some industry people that smuggling has become so entrenched in the market that it would take years for the government to control it.

"We have actually accepted that smuggled products are a part of life. Every tea cup you drink at the roadside cafes or restaurants in Peshawar and Quetta is made from smuggled tea," said the trader.

Do we even need tea?

According to the State Bank of Pakistan, the country spent $372 million to import tea in fiscal 2012-13. In the food group of import list that is only second to palm oil.

Hanif Janoo, another ex-chairman of PTA, says tea is part of the daily diet for millions of Pakistanis.

Government also classifies tea as a necessity and uses it in the consumer price index. "Yet the quantum of taxes is so high. This doesn't make sense," said Janoo.
COMMENTS (1)
Comments are moderated and generally will be posted if they are on-topic and not abusive.
For more information, please see our Comments FAQ