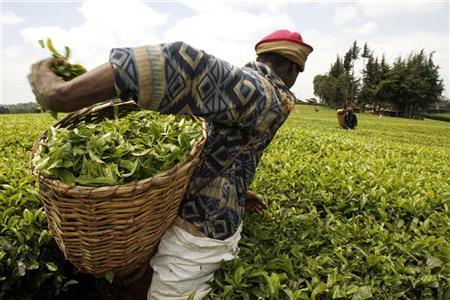 ---
KARACHI:



If it were not for the Kenyan auctions held on a weekly basis in Mombasa, tea would cost more and taste worse in Pakistan.




The price and quality of Kenyan tea of the type Pakistani's demand is so better than those from neighbouring China or Sri Lanka that a bulk of Pakistan's imports comes invariably from the African continent every year.




According to the World Trade Organization (WTO), out of tea worth $361.3 million that Pakistan imported in 2012, 61.2% – or $221.1 million – came from Kenya alone.

In contrast, the share of tea imported from China, Vietnam, Sri Lanka and India – the other major tea exporting nations – remained 1.1%, 4.2%, 4.3 and 9.9%, respectively, in the same year.

So what makes Kenyan tea more popular than, say, Indian or Chinese tea in Pakistan?

"You can't be sure about the quality of the tea imported from Vietnam and China. Their tea is generally not of a standard, uniform quality — it's a blend rather than garden packed," said Ghazanfar Iqbal, who works as an indenter for tea importers.

Secondly, the auction process for Kenyan tea is far more coordinated, transparent and efficient than that in other tea-exporting countries, like China or Vietnam, according to Iqbal, whose business is based in one of Karachi's oldest trading centres, Jodia Bazaar.

Kenyan auctions

Pakistani companies take part in Kenyan tea auctions through their representatives/suppliers in Mombasa. While major importers of tea with established brands in Pakistan often operate through their dedicated representatives, others prefer to import through indenters — middlemen who facilitate tea imports by coordinating between the local party and Mombasa-based representatives.




The number of indenters in Pakistan is fairly small. About a dozen such professionals operate in the country mainly out of Karachi's decades-old trading centres.

No wonder the share of Kenyan tea grew on average 13% per annum between 2008 and 2012, according to the WTO. On the contrary, the share of Chinese tea in Pakistan's total imports shrank 16% every year during the same five years.

Types of tea that are most popular in Pakistan include BP1, which is known as danedar in local parlance, PF1, which is a mixture, PF2, PD and D1, which is known as choora chai in the local tea market.

Tea is imported in lot sizes of 20, 40 and 60 packages. The amount of tea contained in each package varies according to the type of tea. For example, each package of Kenyan origin BP1 type contains 62 kilograms of tea, PF1 (68 kg), PD (75 kg) and D1 (79 kg).

"Until 10 years back, Kenyan brokers would send their printed catalogues to clients in different parts of the world for teas to be offered in upcoming auctions. But now the dissemination of such kind of information takes place online," Iqbal said.

So shouldn't things be hunky-dory for tea importers in Pakistan? After all, the retail price of a 250 gm packet of super quality tea increased on average 21% annually between 2007-08 and 2012-13, according to a report compiled by a consultancy firm KPMG Taseer Hadi and Company.

However, tea importers that claim to play by the rules say their margins are shrinking because of two reasons — smuggled tea from Afghanistan and the misuse of commercial importers' licences.

Speaking to The Express Tribune, a tea importer and retailer said the vast difference in duty structures imposed by Pakistan and Afghanistan, coupled with a porous international border, has dwarfed the business of honest tea dealers.

He seems to have a point. The equivalent ad valorem tariff – which is assessed as a percentage of the value of an import -- applied by Pakistan to Kenyan tea was 10% in 2012, according to the WTO. In contrast, the tariff was only 2.8% in the case of Afghanistan in the same year. Keeping in view the porous border we share with Afghanistan, it is least surprising that tea smuggled from Afghanistan is so cheaply available in Pakistan like so many other commodities.




Furthermore, in order to encourage the sale of packaged tea in the country, the government has given a number of tax relations to commercial importers' licence holders.

But allowing the misuse of their licence, these companies often let smaller players import tea on their documents. "After paying a small 'commission' to the commercial licence holder for using his name, a small player can save at least Rs5 per kg. I believe 90% of tea imports in Pakistan are carried out through the questionable use of these commercial licences," he added.

Published in The Express Tribune, February 24th, 2014.

Like Business on Facebook, follow @TribuneBiz on Twitter to stay informed and join in the conversation.
COMMENTS (2)
Comments are moderated and generally will be posted if they are on-topic and not abusive.
For more information, please see our Comments FAQ