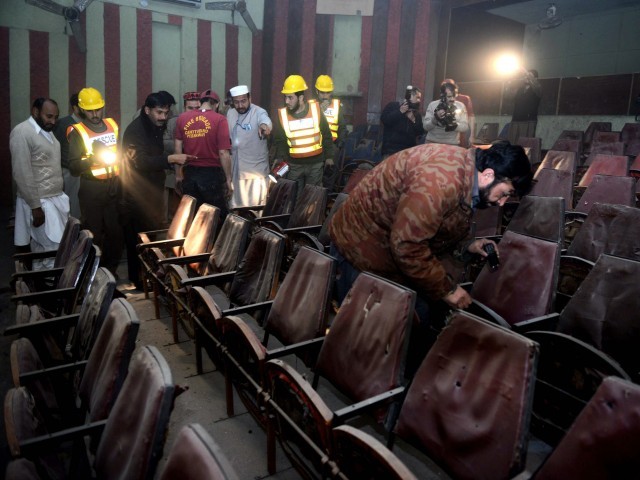 ---
PESHAWAR: The alleged perpetrators of the Shama Cinema blasts had taped hand-grenades to their thighs before entering the cinema, SSP Peshawar Najeebullah revealed on Thursday afternoon, Express News reported.

According to the SSP, one of the suspects is 15, while the other one is aged 18 to 19 years of age.

The suspects paid for their tickets and took up seats at the back of the main hall of the cinema. There were nearly 60 people were watching a film at the time. Half an hour into the film, the suspects took out the grenades, removed their pins, and threw them towards the people sitting in front, the SSP informed.

The police managed to apprehend one of the suspects, Hasan alias Israr, who was injured in the explosion and had been under medical treatment since the attack.

Hasan hails from Bara Qambar Khel in Khyber Agency and this was allegedly his first involvement in such an activity.

On February 11, three explosions occurred inside the Shama Cinema in Peshawar at 3:40pm killing 13 people and injuring dozens. Security forces and the Bomb Disposal Squad (BDS) reached the scene shortly after the incident. Rescue teams reached the location and the injured were taken to Lady Reading Hospital.

It was the second attack on a cinema house in Peshawar this month. According to officials of the Bomb Disposal Unit (BDU) three Chinese hand-grenades were used in the attack.

After a similar attack at Picture House Cinema in Peshawar on February 3, law enforcement agencies had assessed security of cinema houses in the city and put out an advisory.
COMMENTS (3)
Comments are moderated and generally will be posted if they are on-topic and not abusive.
For more information, please see our Comments FAQ