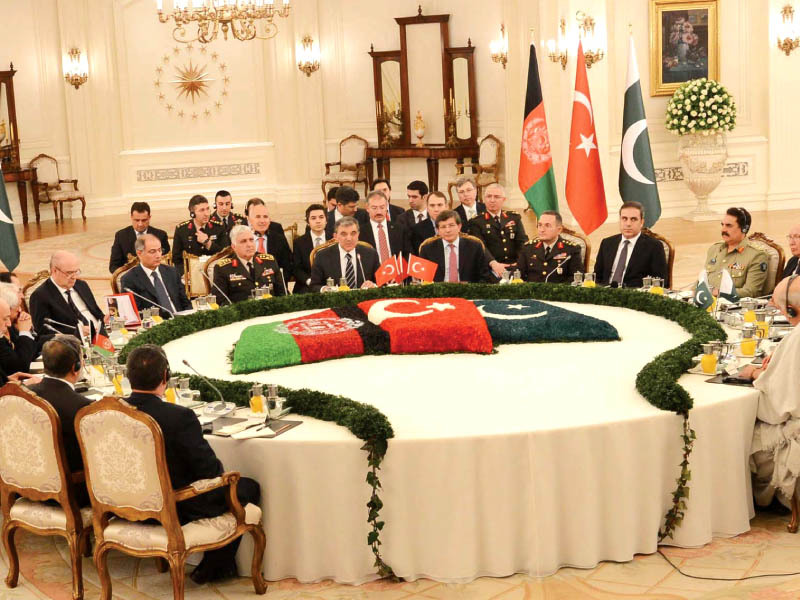 ---
ANKARA/ ISTANBUL:



Pakistan, Afghanistan and Turkey, while reiterating their common resolve to combat terrorism in all its forms and manifestations, stressed the importance of a political settlement and urged the Afghan Taliban to join the peace process. 




Adopting a joint statement at the conclusion of the eighth Trilateral Summit on Thursday – that was issued by the Ministry of Foreign Affairs on Friday – Prime Minister Nawaz Sharif, Afghan President Hamid Karzai and Turkish President Abdullah Gul reiterated that both Turkey and Pakistan attach importance to maintaining stability and unity of Afghanistan.

The statement emphasised the pivotal importance of a political settlement within the framework of the Afghan Constitution to ensure durable peace in the country and it also called upon the Afghan Taliban to join the peace process.

The summit called on the international community to continue supporting an Afghan-led and Afghan-owned political solution. Moreover, it also asked for increased assistance in bolstering the Afghan National Security Forces.

Terming the talks significant and successful, the statement said, "These [talks] were held at a time when the Heart of Asia is going through a decisive period [...] and significant developments, which may have [an] impact on efforts to promote peace and security in the region, are expected to take place."

The joint statement stressed on how important the ongoing Afghan electoral process is in securing a smooth and successful political transition in the country.

The talks emphasised the value of enhanced cooperation between Afghanistan and Pakistan as immediate neighbours and the need to take practical steps in supporting the Afghan Peace and Reconciliation Process. The three leaders also underlined the necessity of enhancing close coordination for the effective management of the Pak-Afghan border.

Pakistan's decision to extend the stay of registered Afghan refugees until December 31, 2015 was also welcomed, but at the same time, the international community was asked to assist the two countries for "the timely and honourable return of Afghan refugees and their sustainable reintegration in Afghanistan".

The leaders, accompanied by three Ministers of Foreign Affairs and high-level security officials, recognised the contribution of the Trilateral Summit Process to regional dialogue and reaffirmed their determination to continue close consultations among "the three brotherly countries".

The joint statement also recalled the leaders' commitment at the first trilateral summit held in 2007 "to deny sanctuary, training and financing to terrorists and elements involved in subversive and anti-state activities".

Energy crisis: Turkish investment invited

PM Nawaz invited the Turkish business community to invest in Pakistan, particularly in energy sector.

Holding meetings with leading Turkish businessmen and industrialists in Istanbul on Friday, he said the world has observed a marked improvement in the law and order situation of Pakistan since his party came into power in May last year.

The government was ready to offer a conducive environment to their business community along with full protection and support, the premier emphasised. 

Published in The Express Tribune, February 15th, 2014.