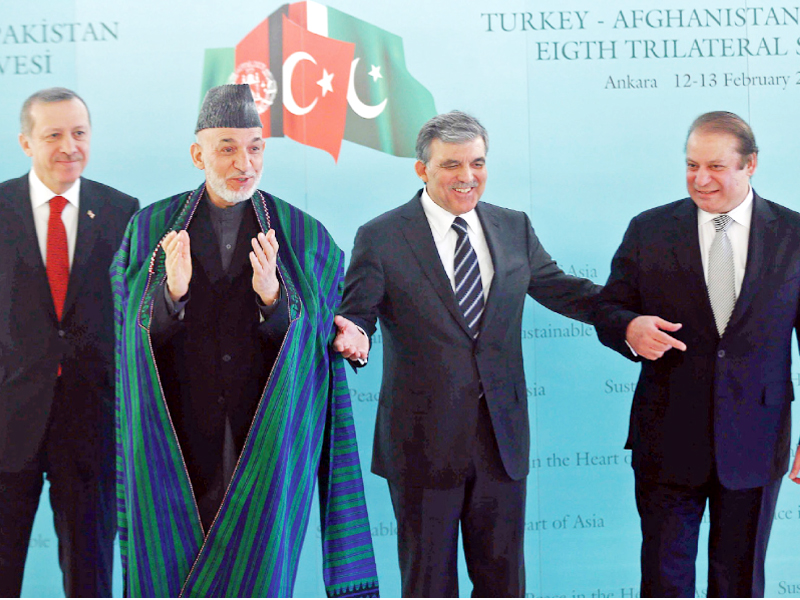 ---
ANKARA:



Pakistan and Turkey declared their staunch support for Afghanistan on Thursday as their officials prepared to draw a fail-safe mechanism for their neighbour's security and stability ahead of the drawdown of US troops later this year.




Without the cooperation of neighbouring countries, it is impossible to maintain security and stability in Afghanistan," Turkey's President Abdullah Gül said on the sidelines of the 8th Turkey-Afghanistan-Pakistan trilateral summit, which opened in Ankara. Inversely, he said, it is not possible to maintain stability in the region without maintaining peace in Afghanistan.

"Afghanistan today is at a defining moment in its history. Together we are working to build a new chapter in Pakistan-Afghanistan relations," Prime Minister Nawaz Sharif said, addressing a joint press conference with Turkey's President Abdullah Gul at the 8th Trilateral Summit in Ankara.

It was decided that foreign ministers of Pakistan and Turkey would visit Afghanistan after the latter's presidential election scheduled in April to extend their cooperation to Kabul.

According to officials, the summit discussed ways to promote political dialogue and security cooperation among the three countries. The leaders also discussed intelligence sharing and training for the security and law-enforcement agencies.

Political and security transitions

This year's summit is taking place against a backdrop of important political and security transitions in Afghanistan, including the presidential and provincial council elections on April 5 and the withdrawal of Nato forces by December 2014. The main topics of this year's summit are security in Afghanistan after the Nato troop pullout, efforts to negotiate with the Taliban and measures to restore peace and promote reconciliation in the country and the region.

"It is also clear that such common challenges are best resolved through common endeavours at the regional and international levels. Commonality of purpose creates new opportunities," PM Nawaz said.

Pakistan and Afghanistan are on the same page, he said, adding that he was happy to discuss the challenges with the Afghan president.

The joint statement to be issued after the summit reflects the path we intend to take, he added. "We are very pleased with this outcome and would remain constructively engaged to see our Afghan brothers succeed and thrive in the months and years ahead."

Turkey pledges assistance

Turkish President Abdullah Gul, extending his country's assistance, said, "Afghanistan and Pakistan, in this tough period, will always see the support of their brother Turkey nearby, in all its sincerity."

He said that Afghanistan, Pakistan and Turkey are tied in strong bonds of Islamic brotherhood.

Referring to the establishment of the summit, Gul noted that from the very beginning the aim of the trilateral talks was to further enhance cooperation among the countries. "We have also included our ministers of foreign affairs, interior, economy and intelligence in this process. With [...] this mechanism, we have succeeded in creating a mutual understanding among our institutions."

The Turkish president also said that Pakistan has gone through a critical period last year as it passed the democracy test successfully. "We believe that Pakistan will again be successful in economic development and the fight against terrorism," he said, giving his vote of confidence.

Afghan and Pakistani leaders thanked Turkey for its support in disputes between Afghanistan and Pakistan over security and terrorism issues, saying, "We feel like we are in our homes."

Afghan President Hamid Karzai said that 2014 is very important for the country and he hoped that close relations and discussions would continue to resolve regional challenges. He said that state and non-state actors encouraging and causing insurgency were also discussed.

Chief of the Army Staff General Raheel Sharif who was also on an official visit to Turkey held separate meetings with the Commander of Turkish Land Forces, General Hulusi Akar and Chief of Turkish General Staff General Necdet Ozel.


Published in The Express Tribune, February 14th, 2014.