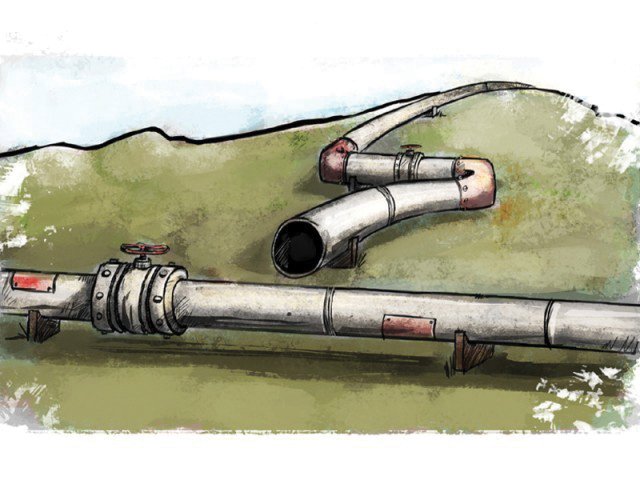 ---
ISLAMABAD:



The great game of gas politics in which global powers want to reshape this region, seems to be hitting the economy of Pakistan. The United States and some Muslim countries are in a race to reshape policies in the region and force Pakistan to import gas from the countries of their choice.




Iran, China and Russia are apparently one force against the US and its allies and want Pakistan to strengthen its ties with Tehran whereas Washington is pressing Islamabad to purchase gas from Qatar and Turkmenistan to meet domestic needs.

In this scenario, two blocs are in the process of making – one comprising Russia, Iran, Pakistan and China if the Iran-Pakistan (IP) gas pipeline project gets under way. Russia and China are in favour of Pakistan opt for this project

According to experts, the US wants to strengthen ties among Pakistan, Afghanistan and India by pushing them to work on the Turkmenistan-Pakistan-Afghanistan-India (TAPI) gas pipeline.

This rivalry has put Pakistan in a tight spot as it cannot ignore its pressing energy needs and must import gas to tackle the crisis. The country is eager to shift its power plants to cheaper gas to give a boost to the faltering economy.

Big oil and gas companies are also putting their weight behind the two blocs and are vying for a share in the multi-billion-dollar contracts. Despite the US-Iran tensions, these companies are continuously playing their role. US firm ConocoPhillips has been given shareholding in a joint gas field between Qatar and Iran from where liquefied natural gas (LNG) is being exported to the entire world.

In a scenario where Iran and Qatar are operating a joint field, it is interesting that the US pushes Pakistan to go for gas import from Qatar and shelve the gas deal with Iran.

Pakistan is going to negotiate the LNG price in upcoming talks in Doha for striking a deal. Though Qatar has designated Qatar Gas for talks, the gas supplier will be ConocoPhillips.

"A former US secretary of state is a member of the board of ConocoPhillips and is playing a role in helping Pakistan and Qatar reach an agreement," a senior government official said.

Headquartered in Houston (Texas), ConocoPhillips has operations in about 30 countries and holds a 30% share in the oil and gas reserves being explored under the Qatar Gas-III project in the North Field near the Iranian border from where LNG will be supplied to Pakistan.

TAPI or IP pipeline

Iran, Turkmenistan and Qatar are three major gas suppliers in the world. In TAPI deal, participating countries have selected the Asian Development Bank (ADB) as a transaction adviser to help raise funds for the project.

Turkmenistan does not allow foreign firms to have a role in contracts for developing gas fields, but it has come up with a swap arrangement for US-based firms by offering offshore fields. Two US companies – Chevron and ExxonMobil – have been shortlisted and they are striving to win the contract worth billions of dollars for laying the TAPI pipeline.

Though the US claims that it is continuously helping Pakistan to overcome energy shortages, the tension between Iran, Saudi Arabia, US and Israel has put the IP pipeline in jeopardy.

Russia and China, which were quite interested in the project, could not lend their support. A Chinese bank backed out of financing the project because of the risk of US sanctions while Moscow's way was blocked by political and civil bureaucracy in Pakistan.

The global powers are waging their war at the cost of gas imports by Pakistan. The government needs to stand firm and take a bold decision like the European Union, which laid a gas pipeline from Russia to meet domestic requirements despite fierce US opposition. The economy will collapse if the country's interest is compromised by giving way to interference in its affairs by foreign countries.

the writer is a staff member

Published in The Express Tribune, February 10th, 2014.

Like Business on Facebook, follow @TribuneBiz on Twitter to stay informed and join in the conversation.