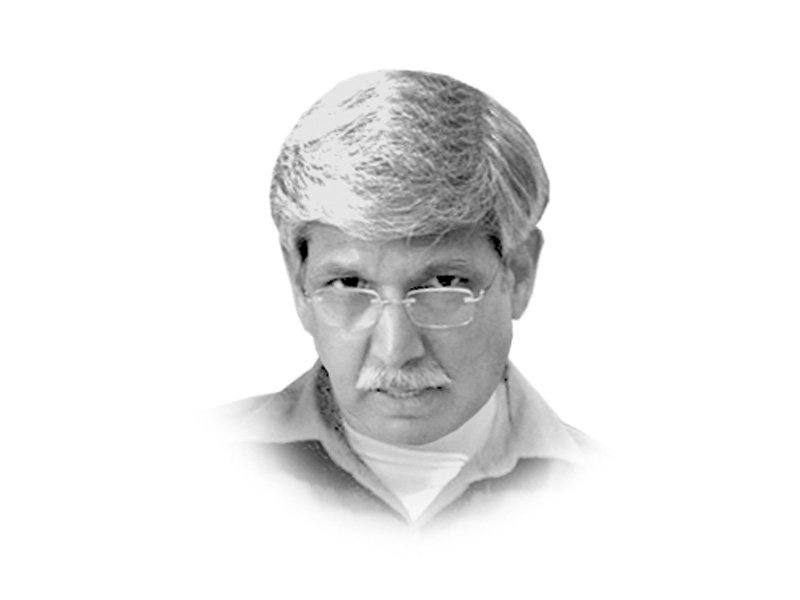 ---
A CEO once advised me to leave matters aside if adjudication was better avoided in a complicated issue; given time, the matter would resolve itself. Saner words were never spoken except that it usually deprived me of my sleep. I had but no option than take the bull by the horns and either lose it or win it. I, at least, slept well. Mian Sahib in his newer avatar, third term PM and all, seems to have internalised the essence of a 'muddling through' style of leadership; and importantly, still sleeps well.

Built around this profound South Asian principle of 'muddling through', Pakistan was about to slide into the much dreaded military operation against the militants, till, of course, the groups spokesman struck; this time with words, and a backhanded offer for dialogue. The Pakistani state accepted it with both hands, and considerable glee. Events, rather than conscious decisions, God forbid, almost led this nuclear nation of 190 million to a confrontation with the insurgent groups of Fata; a default fait accompli for an abdicating state and a government even when these have diligently avoided a real war while shouting hoarse that they were in one.

The government of the day has perpetually disowned hard decisions, while the military was happy with what it won in Swat. Slowly, but surely, as the state emaciated and the insurgents dominated the available space, violence became a pervasive reality. The militants attacked the people, the government and the military uninhibitedly as the people searched for those who were meant to keep them safe according to the fundamental covenant between them and their state. As the state withered, so did the credibility of its founding contract with its people. If this wasn't a coup in political terms by the militants, what else is? I have maintained for a long time that there is a far deeper method to this madness. This isn't just about bombs and bullets, it is something far sinister. It is about managing perceptions; of creating this belief in the people that their state is incapable and unwilling to take care of their needs; of suggesting to them, very subtly, to explore alternatives.

Take note of the proposed structure for dialogue that the militants have devised. There is one organic political committee of militants composed of its primary leadership that will oversee the talks and provide guidance to the second consultative committee that will actually dialogue with the government. And who is the operative dialogue committee composed of? Three politico-religious parties of Pakistan — the JUI-F, the JUI-S, the JI — and the PTI. Added is Maulana Aziz of the Lal Masjid fame for his known commitment to impose Sharia. Talk about clearer objectives?

By pursuing this methodology, one, the militants do not yet honour Pakistan's chosen committee with personal hearing; two, they through Pakistan's recognised politico-religious entities enable a sound anchor to their demands of specific nature to their movement, and those that relate to system transformation — such as the need to impose Sharia as per their definition; and three, convert their 12-year long armed struggle into a bona fide political movement with the capacity to return to their armed base when a situation so demands. Why have the politico-religious parties fallen for the ploy? Simply because having failed by themselves to make an ingress into what has been a traditional vote bank, they can now piggy back on the dynamics generated by an armed struggle and hope to make a political impact. Neither may happen, but none has ever died for trying. Politically, the state stands trumped.

Not that it matters though to anyone in the state. The political leadership has perpetually abstained from its basic functions of controlling, managing, far less shaping an environment of peace, or war, with such niceties left to the whims of time and what it unfolds to this hapless nation. It just so happens that the militants have now offered peace; and, hence this four-man peace committee that will talk peace for us. Good luck to them.

Don't get me wrong. Peace through dialogue is a material possibility. Except that it happens to be a science, and not a mundane patching of a family feud. The ongoing insurgency is a 21st century phenomenon of a fourth generation war; its resolution will, therefore, need necessary technical, intelligence and policy accompaniments. There is a pre-conflict resolution stage, followed by an intra-conflict resolution, and then the post-conflict stage. Each will have its own set of objectives and strategies that must intermix to form intermediate stages. What do we have instead? A daily celebration by the members of the government and now the politico-religious militant sympathisers who celebrate their elevation to the process through frequenting the evening television, each with their respective views. There is no harm in getting a more informed view on conflict resolution and management from those specialised in the field to ensure we get sustainable peace.

Some pearls: Fata will once again be restored to its ways of the riwaj; a euphemism for dark ages without even the possibility of embracing what subsequent times have to offer. In adversity lies opportunity, but not here. No chance ever of integration with the rest of the country, equal opportunity, or a share of equal resource with rights and responsibilities that will put them at even keel with the rest of Pakistan. I don't even know whether the FCR is good or bad.

Next, the army may need to withdraw — and that is a tough one. As 2014 recedes and newer determinants of regional security emerge, Pakistan will be hard-pressed to secure its western borders away from the laissez-faire approach till date because of ethno-nationalist sensitivities. With the rapid drawdown of Nato/Isaf, human, arms and drug trafficking will increase according to a pervasive regional concern. It will be important to control these borders. Militant remnants out of the pale of dialogue might find it convenient to disperse to the borderlands across and use that as a base for operations against Pakistan. They will need to be tamed. Pakistan will need to keep its military deployed in Fata even when peace returns.

Published in The Express Tribune, February 9th, 2014.

Like Opinion & Editorial on Facebook, follow @ETOpEd on Twitter to receive all updates on all our daily pieces.