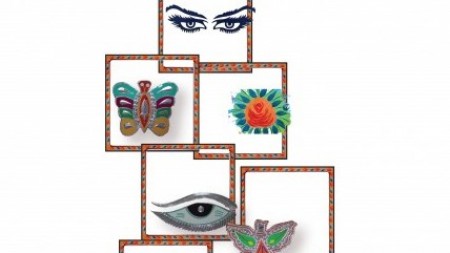 ---
KARACHI: "So, what's the most beautiful thing in your shop," I ask Sheikh Muhammad Kashif in his truck art shop at the KMC Market in Garden. His answer comes faster than a conductor's slap on a minibus's rump. "You."

His two assistants bow their heads in embarrassment at their boss's flagrant flirtations with me. In a bid to change the topic, one of them pulls out a pressure horn and squeezes its rubber bulb. Another one turns on a mechanical one in an effort to compete for my attention. "This is very popular, madam," he says, as its fruity dance makes the blood in my ears do a somersault.

They pull out all their merchandise amid bells and jingles, confused as to why a woman with a Suzuki Cultus has wandered into their shop. A few truck drivers stop by to pick up a Mazda steering wheel cover replacement and make a lewd joke, something about the W11 and a free ride.

As much as I would like to believe Kashif, I am not the most beautiful thing in his shop.Curved neon 'parr' or wings for hubcaps line the footpath in front of the shop, their arches reminiscent of the carved carrots that decorate Chicken Manchurian at Dynasty. My favourite are the jet-black feather plumes to adorn the top of a bus because they turn these mad, moving Mexican shrines into regal Roman chariots.

Kashif shows me a 'jhaalur' that bus drivers string like a curtain along the inside of the bus. The beaded fringe tinkles as the assistant shakes it for added effect. One of the latest accessories is the 'parandah' or tassel modeled on the type women use to plait their hair. But the decorations are limited to certain parts of a minibus. "You won't find them in the back," Kashif says as if laying down the law for interior decorating truck art 101. "No sirree. All of this is meant for the ladies compartment. Haven't you ever noticed?"

All the bright colours, bells, flashing lights, poetry, stickers, loud tooting are meant to impress women? "10 or 12 years ago they even put up bangles," says one of the assistants. "It's all there to attract the women with things women like." The truck drivers are fond of the decorations that serve as welcome distractions for men stuck in their trusty steed all day long. "Bas, wo dekh dekh kar un ka dil khush hota he," says Kashif. (They just like looking at the stuff).

"I mean, what else will you do if it takes you four days to drive to Lahore from Karachi?" These small fancies aren't very expensive. Prices range from Rs10 for stickers (Road ka Raja, Lush Push) to Rs600 for a filter 'zanjeer' or a hanging decoration made with a car exhaust filter. Nonetheless, Kashif and his assistants have the look of men who know business will never be as good as it used to. "[A few years ago] it was so busy in this shop that if you had come in I would have told you to buzz off," Kashif says. "It would be packed with drivers. But, you know, diesel prices have gone up."

The trans-country coaches used to provide fans, drink holders and ashtrays for each passenger when diesel was cheaper. Not any more though. But the economy isn't the only influence on this business. Another, more subtle culture is making inroads. Muslim Abbas is famous in the Garden market as the only chamak-patti wallah or neon-sign maker who can draw from memory Nawab Akbar Bugti, the Baloch chieftain who was killed in the mountains while leading the nationalist fight for the separation of the province. "But I won't do it any more," Muslim says. He leans against the counter and stares out into the distance, avoiding my face.

When I ask why, he shifts uncomfortably. "Just 'cos." Someone recently told Muslim that it was haram or forbidden to make images of human beings, especially dead ones. As a Baloch himself, Muslim didn't want to risk divine wrath especially when it came to his revered Nawab, so he gave it up. He won't even make a sticker on order any more.

"The guys down the street have stopped making even animals and fruit and are sticking to calligraphy," he says and pulls out one of his own pieces. "I designed this Masha'Allah sign but then someone said that the teardrops at the bottom weren't good. You shouldn't have tears near the name of God."

The chamak-patti makers still have a prototype image of Nawab Akbar Bugti on their computers and you can find prints of Amir Baloch and other chiefs. One shop has even managed to copy the famous photograph of the Benazir Bhutto as she lifted her palms in prayer upon landing in Karachi after ending many years of self-exile.

The political and the poetic are on equal display – Pakistan Peoples Party arrows, the evergreen pair of seductive veil-framed eyes, Masha'Allah (God be praised), Dekh Magar Pyar se (Look, but with love), Wash Rang (Welcome) and Zakhmi Dil (Wounded Heart). But you can even commission your own art as coach drivers often do. "The most popular sticker is 'Jhoolay Lal'," says Muslim, barely able to conceal his relief that at least up till now Sindh's historic journey with mystic Islam hasn't been offloaded yet.