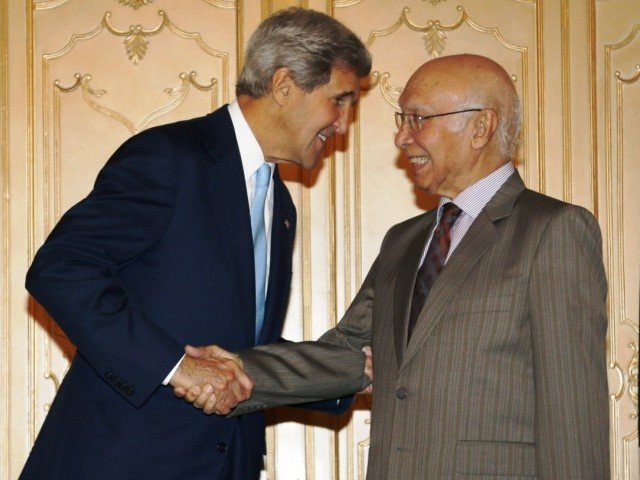 ---
WASHINGTON: Adviser to Prime Minister on Foreign Affairs Sartaj Aziz has left for Washington to participate in the strategic dialogue between Pakistan and US, which begins on Monday at the US State Department.

Aziz is being accompanied by Defense Minister Khawaja Asif.

The ministerial level meeting between the two countries is expected to cover a wide range of bilateral issues. The top diplomats from both countries will review progress achieved in the working groups and discuss proposals and opportunities for partnership on diverse subjects' including defense' energy' economy' law-enforcement and counter-terrorism.

The Pakistani Foreign Office says it will use the opportunity to highlight priorities for economic development and the expansion of trade and investment.

Talks about much more than just Afghanistan: US State Dept

Ahead of the meeting, a US State Department official said in a background briefing that the dialogue covers five areas of cooperation and detailed discussions at the level of working groups on energy, defense, strategic stability, economic and finance, and law enforcement and counter-terrorism.

Leaders from both countries will work to "put together a blueprint of where we can take this relationship over the course of the next six months to a year."

The State Department spokesperson emphasised that Washington-Islamabad cooperation spanned a wide range of issues and was not just confined to Afghanistan or the pullout of US and NATO forces from there.

"I don't think Afghanistan's going to go away. It's kind of permanently there on Pakistan's northwest frontier. So I think it will maintain an element," said the spokesperson. "But as I said, we're very interested in Pakistan's relationship with India and seeing improvements in that. We'd encourage both sides in that regard."

There are significant cooperative economic, security and energy ties between the two nations to be taken care of, she said. The US is interested in the strengthening of Pakistan's economic and democratic institutions.

"We have a direct bilateral economic relationship with Pakistan. We're Pakistan's largest market. We have an interest in Pakistan's economic development. And we have an interest in Pakistan's domestic security. Pakistan is a large populous, nuclear-armed nation, and it's important that its constitutional order and democratic processes continue to be strengthened. We've made a major investment in that. The Kerry-Lugar-Berman money is not tied to Afghanistan. It's not tied to the security relationship. It's really a bet on civilian rule, on democratic rule. We're pleased that that investment is beginning to pay dividends in terms of consolidating that democratic rule."

"The last Strategic Dialogue at the ministerial level was held in 2010 but afterwards the process faced a stalemate due to 2011 setbacks in the relations. "

"First-name basis sort of thing"

The spokesperson noted that Pakistan and the United States have vastly improved their relationship since 2011, when a spate of incidents subjected it to severe strain, and that Nawaz's visit to US and Kerry's visit to Pakistan were both constructive and comprehensive.

"So at a personal level I think people are comfortable with each other, they've gotten to know each other, and the dialogue can be very candid, a first-name basis sort of thing."

Trade and energy 

"We're not looking for specific deliverables at this dialogue, we're just looking to continue to strengthen and deepen the ongoing discussions and work towards kind of concrete dates in the future and particular areas of cooperation that we can make as pragmatic as possible."

On energy cooperation between the two sides, officials said the US has helped put another 1000 megawatts of power to the national grid in Pakistan.

"But we're really looking at regional solutions as well. Making sure that Pakistan is well integrated into a regional approach and this includes a $15 million commitment we made to CASA-1000.

"Also looking at the underlying policy reform issues that are so critical to address the energy crises that are ongoing in Pakistan. Obviously the Pakistanis in particular have really tried to move this relationship to a much more trade-based one as opposed to just assistance.  So we will continue to talk with them."

"There will be, hopefully one thing which we'll agree upon is the next trade-related meeting which the trade representative will hopefully be a key part of. Those are the TIFA talks. And we're looking at ongoing ways to increase trade and creating the next business opportunities meeting."
COMMENTS (16)
Comments are moderated and generally will be posted if they are on-topic and not abusive.
For more information, please see our Comments FAQ