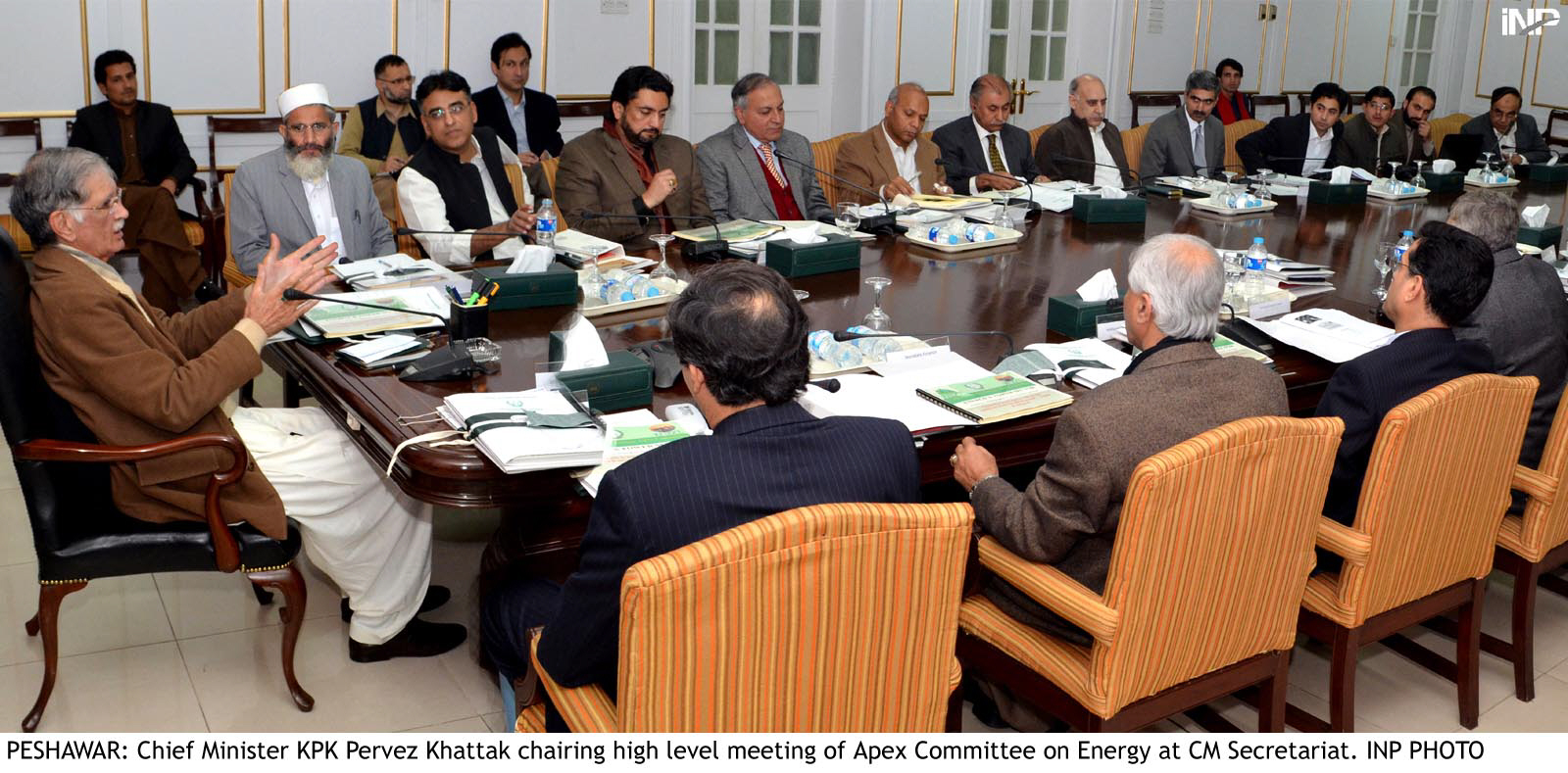 ---
PESHAWAR: The Khyber-Pakhtunkhwa (K-P) government has approved an energy plan that will involve giving Rs10 billion to K-P's oil and gas companies for energy exploration in the province.

The approvals came during  a meeting of the apex committee on energy, under the chair of K-P Chief Minister (CM) Pervez Khattak at the CM Secretariat on Friday. K-P Minister for Finance Sirajul Haq, Chief Secretary Muhammad Shahzad Arbab, Additional Chief Secretary Khalid Pervez, secretaries of finance and energy and power, among others, were present in the meeting. Khattak also approved establishment of a consultancy firm to evaluate and overview investment opportunities for alternate resources in the energy sector. This firm would also look into the potential handing-over of Peshawar Electric Supply Company (Pesco) to the province by the federal government.




"It is the provincial government's priority to explore natural resources of the region and bring them to utilisation," said Khattak, pointing out that previous governments had not paid attention to the energy sector which had led to the present crisis. He said the government intends on taking immediate action on energy in the province. He added they were going to initiate the process by setting up small power houses across K-P with an investment of Rs12 trillion.

The meeting was told that the apex committee on energy, headed by Khattak, would work as a policy-making institute. The newly-formed Pakhtunkhwa Energy and Development Organisation (PED) and Pakhtunkhwa Oil and Gas Company Limited (POGCL) will implement and act upon policies prepared by the committee.

Speaking on the occasion, PED Managing Director Bahadur Shah said according to the short-term plan, three hydro power projects worth Rs12 billion would be completed in three years. These projects, he said, would have a power capacity of 56 megawatts (MW).

Shah said the mid-term plan was for eight power projects worth Rs1.30 trillion, with a capacity of 626MW, to be completed in eight years. Similarly, in the long-term, PED would complete 18 power projects in the province over 10 years, costing Rs10.38 trillion, with a power production capacity of 25,760MW.

"356 localities have been earmarked for the construction of small hydropower units in the province, for which 80% of funds will be released by the K-P government while the remaining will be borne by the local population," informed Shah. He added that a summary had been approved in this regard.

POGCL Chief Executive Officer Raziuddin said his department has a plan for production of 40,000 barrels of oil per day in 2014, 48,400 in 2016, 70,862 in 2018 and up to 1,114,125 barrels in 2020-25.

Raziuddin said their plan envisaged gas production at 380, 460, 556, 673 and 1,084 million cubic feet of gas per day in years 2014, 2016, 2018, 2020-25, respectively. He added during the same years, the company has chalked out a programme to produce 14, 30, 66, 144 and 1,007 tonnes of light petroleum gas per day.

Published in The Express Tribune, January 25th, 2014.