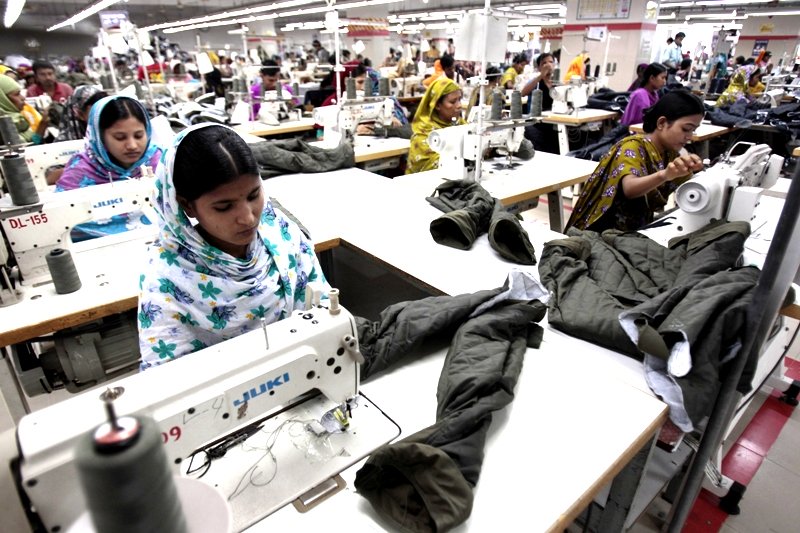 ---
Nearly 40 percent of garment factories in the Bangladesh capital were failing to pay a new minimum wage announced last year for workers stitching clothes for Western retailers, an industry head said Thursday.

Bangladesh's government agreed last November to raise the minimum monthly wage for the country's four million garment workers to $68, an increase of 77 percent, after protests and strikes in the crisis-hit industry.

But almost 40 percent of factories surveyed in and around Dhaka were still not paying the new amount, while the figures were much higher for the port city of Chittagong, the Bangladesh Garment Manufacturers and Exporters Association said.

The association surveyed the $20 billion industry, the world's second largest and a mainstay of the Bangladesh economy, to determine which of the 4,500 factories were paying the new legally required wage.

"We have done a survey on 594 factories situated in Dhaka and its outskirts. Of them 62 percent paid their workers under the newly hiked wages," association vice-president Shahidillah Azim said.

"In Chittagong only five percent factories could (afford to) pay the new minimum wage," Azim told AFP without giving further details of the survey, which has not been made public.

He blamed deadly unrest in the run-up to the January 5 general election - which saw opposition-led protests and transport blockades - for a drop in export orders that forced factories to postpone implementing the wage.

"It's a very bad situation. Western retailers have cancelled or diverted orders. As a result, new recruitment in the factories has almost stopped. Workers also understand the situation," he said.

However government figures show a boom time for the world's second largest garment export industry.

Garment shipments grew an impressive 20 percent in the six months to December compared to the same period last year, data released in January showed.

Union leader Babul Akter disputed the association's figure on the number of factories complying with the hike, saying separate research by union groups showed only 20 percent were paying workers the new wage.

"Workers were downgraded from experienced category to trainee just to make sure that the manufacturers don't have to raise wages that much," Akter said.

The government pledged to raise wages after strikes in September saw tens of thousands of workers take to the streets, torch factories and clash with police.

In November, a government-appointed panel voted to raise the minimum salaries to 5,300 taka ($68) from 3,000 taka, following the protests and a series of disasters that highlighted appalling conditions.

Most unions accepted the hike following requests from the prime minister and the manufacturers.

The pay rise still makes Bangladeshi garment workers among the lowest paid in the textile sector in the world.

Protests over poor wages, benefits and working conditions are frequent in Bangladesh, but gained intensity after the collapse of the Rana Plaza factory complex in April last year, which killed 1,135 people.