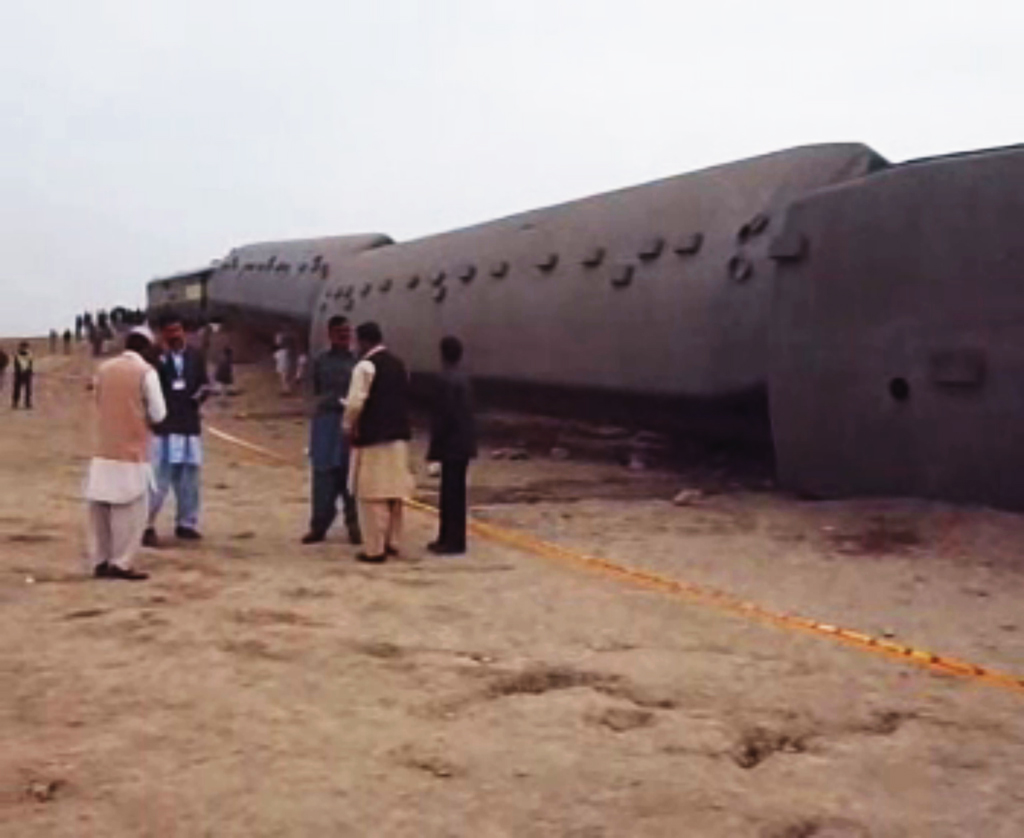 ---
MULTAN:



Four people were killed and 65 injured on Friday when a passenger train derailed following a bomb explosion on its tracks in southern Punjab. The Baloch Republican Army (BRA) claimed responsibility for the attack.




The Khushaal Khan Khattak Express – which was en route to Karachi from Peshawar – was chugging past the rural area of Omar Kot, in Rojhan sub-district of Rajanpur, when the attack took place, officials said.

A timed device planted on the track went off moments after the locomotive crossed it. All seven wagons, carrying around 400 passengers, derailed and four of the wagons fell into a nearby nala.

The blast created a huge crater under the track, creating difficulties for rescuers. "The blast ripped apart 640-foot-long track, which will be repaired within 48 hours," said Shahrukh, the deputy superintendent of Pakistan Railways (Multan Division).




Soon after the incident, Pakistan Railways' technical and rescue teams were rushed to the scene from Jacobabad and Sukkur, officials added.

The injured were driven to different hospitals of Rajanpur district. Those with critical wounds were shifted to the District Headquarters Hospital. "We received 11 injured passengers and all of them are in critical condition," Dr Hameed, the deputy medical superintendent of the hospital, told The Express Tribune.

SP Railways Police Raja Zaheer Arshad said the last wagon carried 12 cartons of a weapon dealer from Peshawar. "But apparently, they were not the target," he added. FIR of the attack was lodged at Omar Kot police station.

Railways Minister Khwaja Saad Rafique ordered an inquiry into the incident and announced Rs500,000 compensation for heirs of each of the dead and Rs100,000 for each injured.




The railway track between Kot Mithan and Kot Behran sections is used only by Khushaal Khan Khattak Express. All other trains use the tracks within the urban area of Multan and Bahwalpur division.

BRA claims responsibility

BRA spokesperson Arbaz Khan claimed responsibility for the attack.

"We will continue to attack train tracks until the army operation in Balochistan is called off," he told The Express Tribune in a phone call from an unknown location.

Pakistan Railways' Dera Ghazi Khan Division spans over a 400-kilometre area, starting from Kashmor district in Sindh to Kot Addu in Muzafarhgarh district in Punjab. However, only 94 persons are deployed for the security of the tracks by the railways.

Published in The Express Tribune, January 18th, 2014.