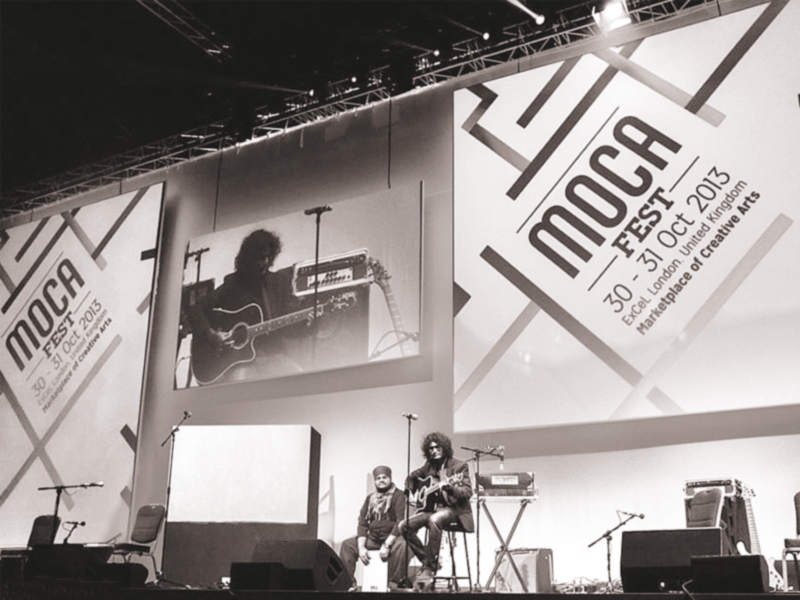 ---
LONDON:
It is rare for emerging Pakistani musicians to get international recognition in a short period of time, and even rarer for them to be invited to a summit that clubs heads of states and artistes from the Muslim world together.
Asif Sinan, a guitar virtuoso whose unique style of playing is fast gaining international recognition, was one of the ten global artistes invited to perform at the 9th World Islamic Economic Forum (WIEF) held at ExCel London.
The Express Tribune
catches up with Sinan to learn more about his performance.

Q. With luminaries, such as Prime Minister Nawaz Sharif and Prince Charles attending the WIEF, why do you think the arts and artistes were accommodated at the event?

Sinan: It was the first time that the WIEF was held in a non-Muslim country. London is already a world centre for Islamic finance and the idea was to promote direct engagement in Europe. WIEF is aware of the power of the creative and cultural sectors of our global economy as well as the role that art, culture and creativity play in bringing people together. Hence, this forum brought together artistes and audiences from around the world with performances from a diverse range of artistic genres comprising music, cinema, poetry, graffiti, calligraphy, visual arts and much more.

Q. How did your selection as one of ten global artistes come about?

Sinan: I have already represented Pakistan, its music, art and culture, earlier this year in the United States and Germany, and after my rendition of Pakistan's National Anthem went viral, I am constantly being invited to showcase my unique style of playing.

Q. How did the audience react to your style of playing?

Sinan: It is actually very interesting to see people's reactions. When I get on stage with my guitar, people probably expect something different. However, they are amazed when the guitar starts sounding like a sitar and eastern classical sounds start emerging from a western instrument. My favourite part is the hush that comes about when I start doing 'alaap'. It's the most 'wow' moment for the audience — they never, ever expect anything like this. Everyone after the performance wants to know how I do it. I wish there was some formula I could tell. I just play from the heart — that's all.

Q. You have told us the crowd's 'wow' moment — what was yours?

Sinan: My 'wow' moment was when I opened my performance with Pakistan's National Anthem! There were more nationalities in that hall than I could ever fathom and it was a moment of immense pride and honour for me.

Q. Tell us about any interesting observations that you made at the WIEF?

Sinan: I observed that leaders of Africa, the Middle East and Asia give immense importance to the promotion of arts. Art engages people positively — makes them happy and keeps them involved. It spiritually uplifts them, opens them up to diverse perspectives, and contributes to the development of a tolerant society. If you only have a utilitarian approach in life, you will be soulless.

Q. You've talked about the soulless — what about the presence of 'soul' at the summit?

Sinan: Oh yes, there was loads of it! There were film-makers from Bosnia, poets from the US, photographers from Singapore and many other supremely talented artistes with such an amazing vibe and positivity about them. Everyone's face shone because they had the honesty of art in their heart. My favourite person was Kilema Clements, a musician from Madagascar who is a master of his country's native instruments. He performs professionally yet invests a lot of time in teaching children the wonders of music, as well as sparking their creativity by helping them create instruments from discarded objects.

Q. Apart from the performances, what did the summit entail?

Sinan: There was a very interesting presentation on 'Strings of the Muslim World'. Various stringed instruments like oud, kora and shourangiz were introduced along with their history and importance. It was also great to meet female artistes from various genres, as well as non-Muslims who are promoting Islamic culture in their own spheres. You could fully experience the spirit of pluralism at the summit.

Q. Did you give any other performances while in London?

Sinan: Immediately after the WIEF, I performed at the Kilburn Studios in collaboration with the Rumi's Cave in London. This was followed by a workshop and performance at Love & Etiquette Foundation in Lancashire. My last performance of the tour was a fundraiser for Welfare Society for Patient Care (WSPC). They provide free kidney and dialysis help to the underprivileged in Pakistan.

Q. So, what's next for Sinan?

Sinan: I have two tours lined up for 2014 already, but I am also giving my album recording priority. I was content with releasing singles, but now I would like to have an album, too. The video of my single Nadya will be releasing in January, as well. To be honest, I have not charted this journey, so I can't predict what's next. God has been most kind to me and I am just grateful for whatever He plans for me.

Published in The Express Tribune, January 18th, 2014.

Like Life & Style on Facebook, follow @ETLifeandStyle on Twitter for the latest in fashion, gossip and entertainment.