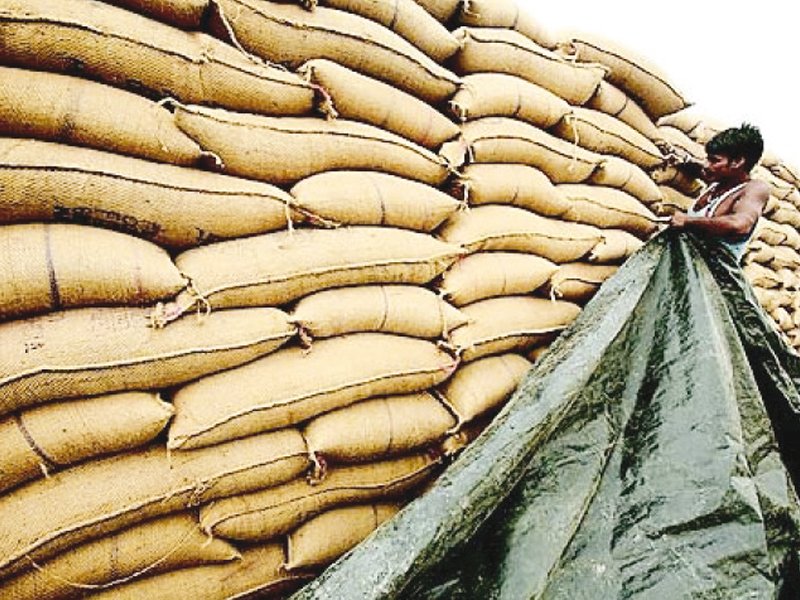 ---
KARACHI: It came as a shock to officials of the food department when they found husk, dust and farm waste packed in gunny bags of wheat meant to be distributed to various areas of Karachi for the production of flour.

The fraud was uncovered following joint raids conducted by food department and anti-corruption officials at government godowns in Quaidabad and Landhi. The action was taken after the officials received a tip-off that 51,000 gunny bags filled with wheat had gone missing.




The official sources in the department told The Express Tribune that hardly any godown is spared from this malpractice as officials from lower rank to higher positions are all involved in this scam. Only last year, around 0.2 million gunny bags went missing from various warehouses/godowns of the province.

Meanwhile, an inquiry has been initiated by the department against district food controller of Benazirabad, who is reportedly involved in the stealing of 60,000 gunny bags worth Rs73, 95,000.

However, the relevant officials of food department managed to escape when the raid was conducted on Tuesday at Landhi godown. Briefing the media, Food Minister Jam Mahtab Dahar said that around 30,000 metric tonnes of wheat was procured and stored in the godowns in Khairpur Mirs, from where it was supplied to Landhi. "Out of the 5,800 bags we have found, 1,362 were filled with dirt.  We have started inquiry into the matter and would arrest the officials responsible for it," he said.

The officials of food department are of the view that the same practice persists in other districts of the province and a departmental inquiry has been initiated in this regard.

"Thousands of metric tonnes of wheat and a large number of gunny bags have reportedly been stolen from godowns in other districts of the province," said Dahar, adding that they have constituted teams to conduct surprise raids before taking strict action against the corrupt officials. The provincial minister also blames food inspectors and district food controllers for it.

"Some elements in the government always create an artificial shortage of wheat. This thing happened last year too when thousands of wheat bags were taken away," the minister added.  He said that they have referred many cases to anti-corruption departments and would disclose the findings of the inquiries to the media soon.

It may be mentioned here that the procurement target for wheat set by the food department is 1.3 million metric tonnes. But it does not have the warehouses and godowns to store this much wheat. They either store the wheat stocks in rented godowns or put the same in warehouses built by flour mills, whom they supply the wheat for the production of flour.

"Out of a total 1.4 million metric tonnes, we can store around 0.63 million metric tonnes of wheat in our own godowns. The rest is stored in rented warehouses," said an official of the food department, adding that they have been working towards a viable solution to resolve this matter and build their own environment-friendly godowns.

On the other hand, the minister for anti-corruption, Manzoor Wasan, told the media that more than 20 cases against food inspectors and district food controllers have been initiated since a year. He said that thousands of bags have been found missing in every district, including Sukkur, Ghotki, Larkana, Khairpur, Mirpurkhas, Hyderabad and Karachi.

Published in The Express Tribune, January 17th, 2014.
COMMENTS
Comments are moderated and generally will be posted if they are on-topic and not abusive.
For more information, please see our Comments FAQ