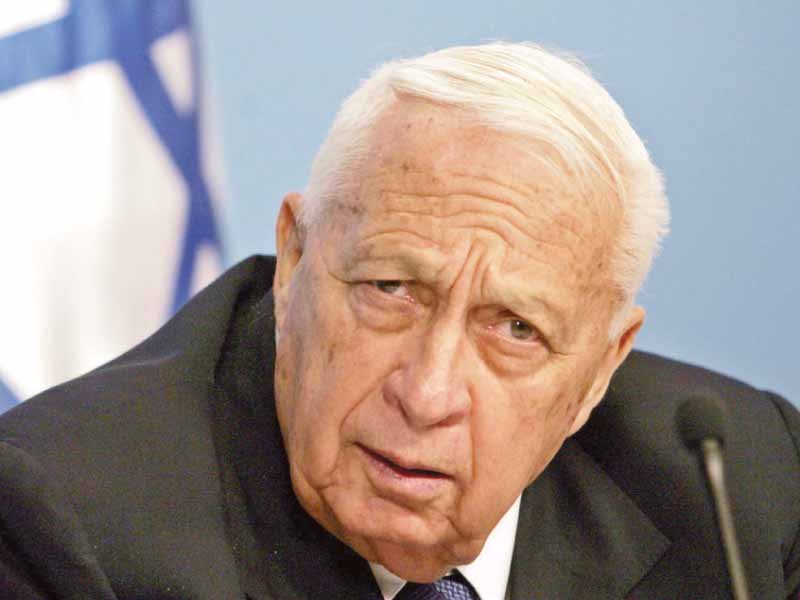 ---
TEL AVIV:



Former Israeli premier Ariel Sharon died at a hospital near Tel Aviv on Saturday, aged 85, after eight years in a coma, officials and his family said.




"The Sheba medical centre in Tel HaShomer announces with sorrow the passing of former prime minister Ariel Sharon that was determined approximately an hour ago," Professor Shlomo Noy told a news conference.

Sharon has been in a coma since January 4, 2006 after suffering a massive stroke. His condition took a sudden turn for the worse on January 1 when he suffered serious kidney problems after surgery.

Despite multiple efforts to stabilise him, he passed away on Saturday afternoon at around 1200 GMT, the hospital said.

"He's gone; he went when he decided to go," his son Gilad told reporters at the hospital, in remarks carried by Channel 2 television.

Sharon was one of Israel's most controversial political and military leaders, whose ruthless methods earned him the moniker 'The Bulldozer'.

News of his death was welcomed in Palestine, with a senior official expressing regret he was never taken before the International Criminal Court.

"Sharon was a criminal, responsible for the assassination of (Palestinian president Yasser) Arafat, and we would have hoped to see him appear before the International Criminal Court as a war criminal," said Jibril Rajub, a senior official of the Fatah party.

Hamas, which controls the Gaza Strip, said Sharon's death was a 'historic moment,' marking the "disappearance of a criminal whose hands were covered with Palestinian blood".

Sharon was long considered a pariah for his personal but 'indirect' responsibility for the 1982 massacre of hundreds of Palestinians by Israel's Lebanese Phalangist allies in Beirut's Sabra and Shatila refugee camps.

One of the last members of the generation which founded the Jewish state 1948, he leaves a complex legacy which saw him push through a policy of separation from the Palestinians, orchestrate Israel's unilateral withdrawal from Gaza in 2005 and begin building the sprawling West Bank barrier in 2002.

Published in The Express Tribune, January 12th, 2014.