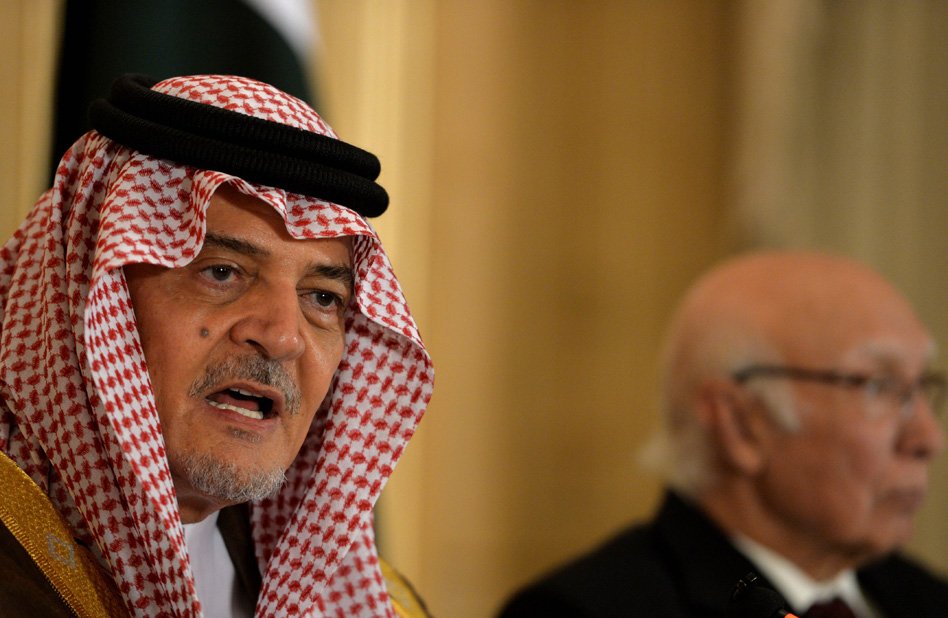 ---
ISLAMABAD:
Appearing at a joint news conference with Prime Minister's Adviser on National Security and Foreign Affairs Sartaj Aziz in Islamabad, the seasoned Saudi diplomat laughed off a question about a possible deal being brokered by his country.

"Absolutely not. I've just talked about the principle of non-interference in the internal affairs of other countries, especially friendly countries," he said when asked if he was 'on a mission' to bail Musharraf out of his predicament.

"I won't call it a 'mission'. I'll call it a visit to a brotherly and friendly country. This visit has taken a long time now in the making," he said, dismissing reports linking his trip to the possible developments in Musharraf's trial.

Prince Saud al Faisal – who is the first high-ranking Saudi official to visit Pakistan in years – met President Mamnoon Hussain, Prime Minister Nawaz Sharif and held formal talks with Sartaj Aziz.

His visit had earlier triggered speculation that Riyadh was making back-channel efforts to secure safe passage for the former military ruler. The Saudis had played an instrumental role in securing a safe exit for Nawaz Sharif when his government was toppled by then army chief Pervez Musharraf in a bloodless coup.

The Saudi foreign minister said he was in Pakistan to deliver a message of 'friendship and cooperation' from King Abdullah bin Abdulaziz.

Although publicly both sides denied discussions on the fate of Musharraf, sources suggested that the Saudi visitor did advise the government to avoid any internal conflict that could destabilise the country.

During formal talks at the Foreign Office, the two sides discussed a wide range of issues from bilateral cooperation to the regional and international situation, particularly in Afghanistan and Syria.

The Saudi foreign minister told reporters that Afghanistan was coming to a 'turning point' in the wake of US-led Nato forces' withdrawal from the war-torn country. He said both Pakistan and Saudi Arabia urged the Afghan people to set aside their petty differences and think about the larger interest of the country.

He said both the countries wanted no forces to exploit the possible vacuum created in Afghanistan as a result of the drawdown. He said efforts should be made to prevent Afghanistan from slipping into civil war.

Saudi Arabia is upset over the lack of action from Western powers against President Bashar al Assad's regime. The Saudi foreign minister said all parties must sit together to put in place a consensus government in Syria. "Bashar al Assad has no right to kill people," he added.

Recently, US Foreign Policy magazine claimed that Riyadh after having lost faith in the Obama administration to oust the Assad regime has begun major initiatives with Pakistan to train Syrian insurgents.

In response to a question, Sartaj Aziz said the two countries would discuss defence cooperation soon but refused to comment on the report.

"The visit of Prince Saud al Faisal, foreign minister of the Kingdom of Saudi Arabia has a special significance in our bilateral relations," Aziz said in his opening remarks at the news conference.  He said the two countries focused on further cooperation in investment, trade, energy and export of  manpower from Pakistan.

According to a Foreign Office statement, Prime Minister Nawaz Sharif informed the Saudi foreign minister about his government's plans to enhance growth, create jobs and reduce poverty to create a brighter future for the people of Pakistan.

He encouraged the Saudi businessmen to benefit from the conducive business environment in Pakistan. "Saudi Arabia's positive contribution to support Pakistan's endeavour for economic development is deeply appreciated. There is a mutual desire to further intensify economic interaction in the years ahead."

It was agreed that the Joint Economic Council of Pakistan and Saudi Arabia would meet within the next two months to further enhance bilateral cooperation in various fields.



Published in The Express Tribune, January 8th, 2014.
COMMENTS (15)
Comments are moderated and generally will be posted if they are on-topic and not abusive.
For more information, please see our Comments FAQ