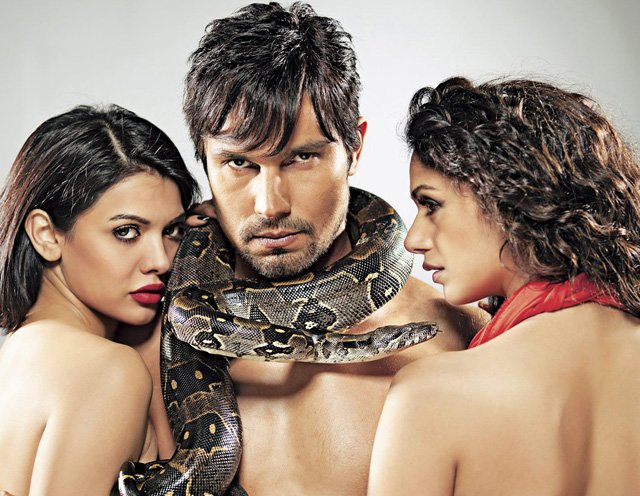 ---
KARACHI: The year 2013 was a rollercoaster ride for Pakistan  both in terms of the political and entertainment domain. While the entertainment industry saw its share of the good and the bad, the shock value of certain events this time around was at an all-time high; there were murders, maddening music and menace all in one year.

As we welcome 2014 we look back at the top 10 shocking moments of our entertainment industry, and hope that the future is brighter than the past.




1.   Ramazan programming



This year, Ramazan programming hit a new low, with nearly every channel trying to cash in on religious sentiment to boost their ratings. The channel owners may have argued that they have to adhere to 'cheap tricks' because they cater to the lowest common denominator, but the fact remains that, this time around, the commercial aspect of Ramazan programming was unfortunately far more dominant over the spiritual one.




 2.  Lamha director commits murder

Perhaps the most shocking news of the year, and rightly so, is that film-maker Mansoor Mujahid shot his friend under the influence of drugs. The cast and crew of Lamha were flabbergasted, and till now, Mujahid is under trial and confined to Central Jail in Karachi. 




3. Taher Shah's success story



Taher Shah's Eye to Eye was not the shocking part of the whole deal; it was simply just another romantic song that absolutely everyone talked about. What was most shocking was the fact that everyone who criticised him for being an absurd pop artiste not only listened to and sang along to the song, but also tweeted it and posted a Facebook status about it. As a result, the song went viral, not just in Pakistan but all over the world. We Pakistanis love to hate people, but this time, the joke was perhaps on us.




 4. Ayesha Omar awarded accolades in music



The last thing we expected this year was to see Ayesha Omar, of Bulbulay fame, to get the Best Music Album award at the Lux Style Awards.  Her inability to sing also landed her a slot in Coke Studio Season 6. Her rendition of Lagay Re Nain actually made us wonder what exactly was Rohail Hyatt up to this year?




5. Naya Pakistan:  The Vital Junoonians disappoint big time



We just didn't expect the stalwarts of our music industry to put their genius minds together only to bring forward what can safely be called a completely forgettable anthem. Given that those behind Jazba Junoon and Dil Dil Pakistan (with Junaid Jamshed making a special compromise on his curfew on singing) we never expected that the result would turn out to be more of a disappointment than a throwback to the glory days of the '90s.




6. Waqar Zaka chanting 'vote for me!'



As if his being Pakistan's daredevil was not enough, the newly buffed-up Waqar Zaka decided to stand in the 2013 elections, and also offered up his own political doctrine. This was such a big shocker because it simultaneously celebrated democracy in its truest form and made us lose faith in it.




7. Cornetto Music Icons: Shahi Hasan's insignificant talent hunt



After the success of Coke Studio by Rohail Hyatt, we expected something incredible from the other Vital Signs band member Shahi as he got Walls on board for a musical talent show. However, it turned out to be a project that gave far more attention to the mentors than the participants, and had an audio visual quality which was simply unbearable.




8. The acting failure of Amna Ilyas



One of the most promising and well-dressed models currently in the industry, Amna Ilyas had our complete attention as we eagerly waited for Zinda Bhaag's teaser to translate into a film. The wait proved futile, as her much-hyped performance turned out to be an epic disappointment as she failed miserably to impress with her monotonous dialogue delivery and flat expressions.




 9. How Sarah Loren killed us all in Murder 3



This Pakistani diva might have grabbed everyone's attention with her post-cosmetic surgery look and exhilarating performance in the new Q mobile commercial, but it was really her overall look and performance in Murder 3 that almost gave us a heart attack; we never expected her to give a stellar acting performance, but she even failed at being just eye candy. She really needs to be careful with the roles she chooses.




10. SAAMPT closes down

Pakistan's only institute focusing on offering film education closed down after a clash of interests between the owners and the faculty. The South Asian Academy of Motion Picture Arts and TV (SAAMPT) was offering diplomas and external programmes in association with the Columbia Film School. The students who were enrolled at the academy are clueless about the fate of the institute, and are busy assisting different directors and producers in the industry while they wait to hear what will become of their diplomas.

Published in The Express Tribune, January 2nd, 2014.

Like Life & Style on Facebook, follow @ETLifeandStyle on Twitter for the latest in fashion, gossip and entertainment.