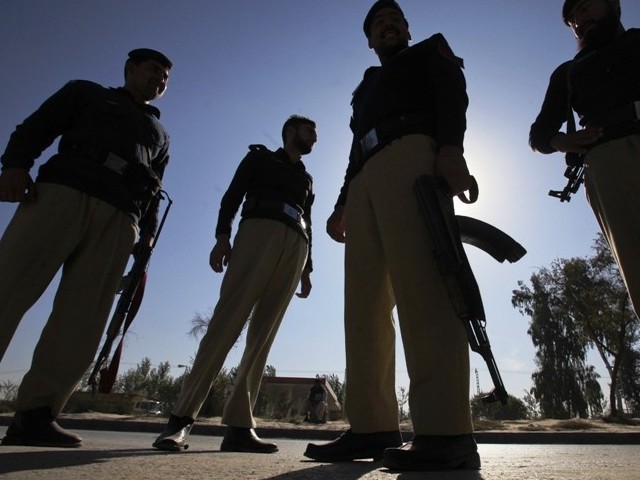 ---
KARACHI: The police have started investigations into the murder case of three Muttahida Qaumi Movement's (MQM) men whose bodies were found on Monday.

The victims' bodies were found blindfolded near Ansari Pul on Super Highway within the limits of Gadap City police station. The bodies were kept at the Edhi morgue, Sohrab Goth, where the families identified them as Javed, Saleem and Noman Ali on Tuesday.

Police investigators said the bodies bore no torture marks but the hands and legs of the victims were tied with ropes. "They were shot dead at the crime scene. We have found empty shells of the bullets," said district Malir SSP Emran Shaukat while talking to The Express Tribune. Javed was nominated in various cases of target killings. He was arrested by Rangers in June and handed over to the Pirabad police station but later he was released. "I cannot comment over their involvement in crimes until I obtain the details of their criminal records."




The empty shells found from the crime scene have been sent to the forensics division of the Sindh police. "For us, the murdered is the victim and the murderer is the criminal," asserted district Malir Investigations SSP Abbas Rizvi while talking to The Express Tribune. He promised to investigate the case, adding that it might take time but they will trace and punish the culprits whether they are criminals or law enforcers. "The victims were all abducted from Orangi Town on different days. We have asked the relevant police stations to submit their missing persons report and criminal records, if any."

The MQM, while condemning the incident, termed their murders an act of "extrajudicial killings" and demanded the higher authorities, including the president, the prime minister and the Chief Justice of Pakistan, to take notice and order probe into the incident.

All the three victims were residents of Orangi Town. On Wednesday, their funeral prayers were offered in Kali Pahari, Iqbal Market and Orangi Town No.8 separately and later they were laid to rest in separate graveyards in Orangi Town and New Karachi.

A family member of Ali had also filed a petition in the Sindh High Court after his arrest. "There should be a difference between the law enforcers and the criminals," said Ali's friend. They should be produced before the court if they were criminals, he demanded.

A protest was also staged as their bodies reached their homes in Orangi Town. The protesters condemned the incident and blamed the Rangers for their deaths, but an official of the Rangers denied their involvement in the triple murder case.

Published in The Express Tribune, December 26th, 2013.
COMMENTS (5)
Comments are moderated and generally will be posted if they are on-topic and not abusive.
For more information, please see our Comments FAQ