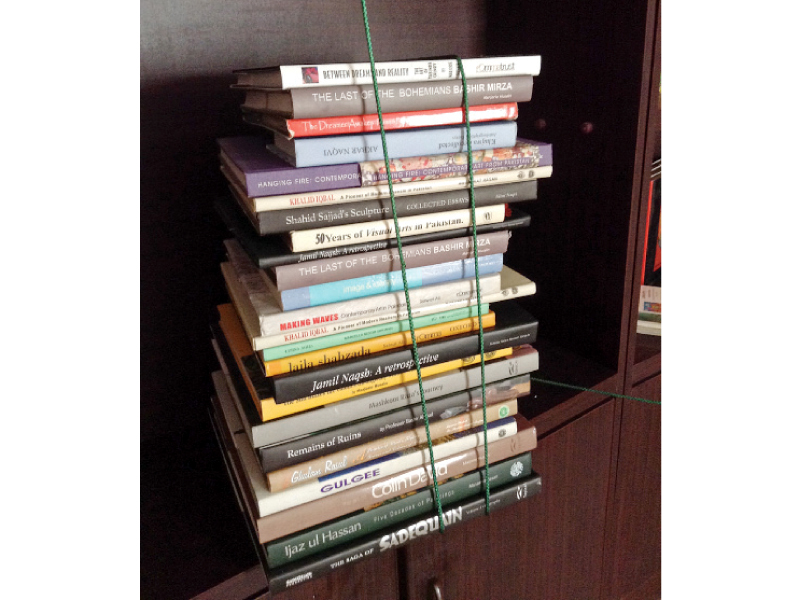 ---
KARACHI:



Spread across 11 galleries in the city, Sumaya Durrani's Shahkaar is a unique two-day exhibition which kicked off on Friday. What makes the exhibit unique is the leap of faith taken by the curator and the galleries who allowed the artist to display her works prior to their review.




The display, which is part of Durrani's doctoral research at the College of Fine Arts, University of New South Wales, Australia, started at the Foundation of the Museum of Modern Art. It is also being showcased at ArtChowk, Gandhara, Koel, Arts Council of Pakistan, Farrar Gallery, Unicorn Gallery, ZVMG Rangoonwala Community Centre, Canvas Gallery and Chawkandi. Her works include paintings, installations and de-installations.

The curator, Amra Ali, and ArtChowk director Shakira Masood did not see the work beforehand and will view it with other visitors.

When asked if her work was connected with religion, the artist told The Express Tribune that religion was a part of everything, adding that it is with all of us and is also a part of her work.

The curator said that the work was completed by Durrani in only 15 days across the 11 galleries.

"What I really like is that the visitors do not know what they will get to see," said visual artist Imrana.

Unicorn Gallery curator Soraya Sikander believes the artist is very brave for taking this step and called her work monumental.

The curator described the tour as a journey, however, it proved difficult for others who were unfamiliar with the city's galleries and their locations. Many spectators admitted that while they enjoyed the experience, they did not intend to visit all locations. There were other ardent art lovers who were keen to complete the journey and experience all of her works.

When asked about why she chose to place her work at so many locations, the artist said that she intended to connect with friends, artists and like-minded people.

Durrani refused to say much about her work, saying that different observers could interpret it in different manner.

An art critic and writer said that he felt the work lacked aesthetic appeal, adding that landscapes are a true form of art. Another spectator, halfway through the journey, said the exhibition was about trusting the artist and experiencing the work on display at other galleries.

The installation at ArtChowk was a small black and white origami work with a thread linking it to the roof of the gallery, and had the letters 'Ya Seen' written on it.

The one at Koel was a Quran resting on a table in a corner of the gallery and had a string connecting it to the roof and a small metal Koel seated by the window.

The final viewing and discussion was at the Karachi School of Art on Saturday. The display was in the form of drawings made on a wall.

Published in The Express Tribune, December 15th, 2013.